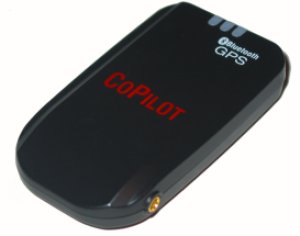 Review by Dave Burrows, Lutz Bendlin
TravRoute recently brought out their new Bluetooth GPS Receiver, and we have a unit here for review. Although the CoPilot Bluetooth GPS Receiver looks familiarly like an Emtac/Socket BT GPS, I have been assured by ALK that it is not, and that it does have a different FCC ID showing it as a different product.
What do you get out of the box ?
When you purchase the CoPilot Bluetooth package it will come in three different flavors. For all flavors you will receive the CoPilot Bluetooth GPS Receiver, a DC Power Adapter and Vehicle Mount. Now for the different versions...
UK/Euro Single Country Version
You will also receive a 128mb QuickStart SD card pre-loaded with UK maps, a European CD unlocked for PC use only (a further license can be purchased to unlock European maps on the Pocket PC).
US Version
Does not include a QuickStart SD card, but does include an install CD and a Data CD covering street level detail for the entire continental United States and Canada.
There is a fourth option, and that's purchasing the receiver separately.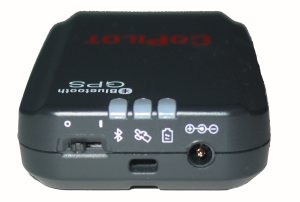 LED Lights
There are three lights on the top of the Bluetooth GPS. The first is the Bluetooth LED which blinks when you have a connection, the second is the Satellite LED which blinks when you have a signal, and the third is the power LED which is yellow while the unit is being charged.
Features
The CoPilot BT GPS comes with SiRF IIe/LP support and can run in both NMEA and SiRF mode. It's size is virtually the same as the Emtac/Socket BT GPS Receivers which means it is small and lightweight. The CoPilot BT GPS also sports an external MCX antenna socket on the right hand side of the receiver, and below the LED's is a whole for a safety strap. One thing Lutz does is have the GPS Receiver hanging on a cord around his neck when outdoors (there's a little opening for that on the receiver similar to the way you can carry digital cameras around). On the base of the receiver are two non-slip rubber strips to help keep the receiver in position when traveling in-car.
Connecting to the GPS
Getting the Pocket PC to connect to the CoPilot BT GPS was straight forward, creating a Bluetooth bond/pairing the Pocket PC and BT GPS together using the passkey 0183 created a successful bond.
Performance
The CoPilot stacks up well compared to the other first edition Bluetooth GPS Receivers. Battery wise, the CoPilot BT GPS under normal conditions remained powered on a full charge for just over 6 hours before the battery would die. TTFF (Time To First Fix) wise, the receiver came in at a respectable sub one minute mark, average TTFF tests came in at around 43 seconds. Comparing it side by side with the Emtac Bluetooth GPS which has proved to be the best receiver and antenna combination in a Bluetooth GPS, the CoPilot BT GPS came in at 1 satellite less than the Emtac when we performed our tests over two Pocket PC's side by side. These tests were 8 foot into a room which shows the CoPilot BT GPS to receive very good signal in hard to reach places. You will see this reflected in the screenshots below.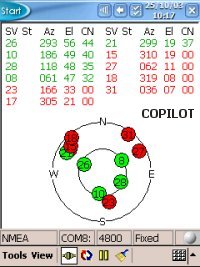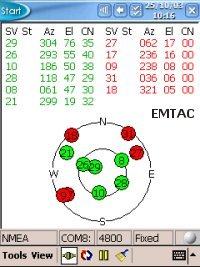 Technical Specifications
Chipset:
SiRF Star II LP

Frequency:
L1, 1575.42 MHz.

C/A:
1.023 MHz chip rate

Channels:
12 Channel all-in-view tracking.

DGPS Source:
Default:None
Programmable: WAAS/EGNOS

System Back Up:
Built-in Lithium-Ion rechargeable battery

Antenna Type:
Built-in Antenna (external antenna optional)

Power:
Built-in rechargeable battery and 5V DC input charging circuit

Operation time:
Default: 6hr. (min.) After full charged, in Continuous mode
Programmable: >6hr.
*Depend on duty-cycle setting in trickle power mode

Device Size:
53(L) x 94(W) x 16(H) mm

Interface:

Connection:
Communicate with Host Platform via Bluetooth(Class2) Serial Profile



Accuracy:(DGPS:None)

Position:
10 meters RMS, 25 meter CEP, without SA

Velocity:
0.1 meters/second, without SA

Time:
1 microsecond synchronized to GPS time

Datum:
WGS-84 (or by demanded)


Reacquisition:
0.1 sec., average

Cold Start:
< 80 sec., average


Warm Start:
< 45 sec., average


Hot Start:
< 10 sec., average

Altitude:
<18,000 meter

Velocity:
< 515 meter/second

Acceleration:
< 4g

Default Protocol: NMEA-0183 (V2.20)- GGA(1), GSA(1), GSV(5), RMC(1) (n): n is the update interval in seconds


Programmable: additional NMEA- VTG, GLL / SiRF Binary
Summary
The CoPilot BT GPS responded very well under our tests, and it's a GPS Receiver on par with the Emtac/Socket BT GPS. If anyone is looking to go for an Emtac/Socket and use CoPilot software, then this certainly is the BT GPS to get. Testing the CoPilot BT GPS under light and heavy foliage did not lose any signal, and it responded extremely well, even indoors near a windowsill.
Please note the versions tested in this review are from a pre-production model