Review by Dave Burrows
Introduction
When the Emtac Sleeve came out back in 2002, we reviewed this as part of the TravRoute CoPilot review. What we didn't do is create a separate review, and we've been receiving quite a lot of response lately asking for a separate review for the Emtac Sleeve, so for all you who asked for it, here it is.
The New Sleeve
The new Emtac sleeve shows it to be very robust and well finished. No sharp or pointy edges and is a lot slimmer than the Navman sleeve. The antenna is angled at approx 45 degrees, when the sleeve is held upright hanging from a vent mount, you'll find the antenna has a perfect view of the sky. For those who want to use an external antenna, or if you have a UV coated windscreen, you'll also notice a little metal socket top left on the rear of the sleeve, this is for the external antenna. Oh yes! You can plug an external antenna into this baby!
At the bottom right of the sleeve is a DC socket to enable you to plug your charger cable directly into the sleeve, no need to mess around with that horrible 3800 iPAQ connector cable anymore! The sleeve also comes with an internal battery. Thought has really been put into this sleeve.
Several Pocket GPS readers have commented that the sleeve looks ugly, and there have also been concern in the GPS user community that having an antenna stick out at this angle could be a problem if it were to fall and catch on something in-car.
We can tell you that this antenna is rock solid, made of very tough plastic, and even if this were to drop, we would hedge our bets that the iPAQ would receive more damage than the sleeve antenna! The antenna may look obtrusive, but when you're walking with it, or have it in a case on your belt, it really doesn't feel obtrusive. The antenna also doubles up as a good stand when you put the iPAQ onto your desk ;-).

Seriously though, the sleeve design makes it as slim as a CF card sleeve, and doesn't skimp on any features!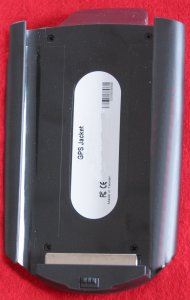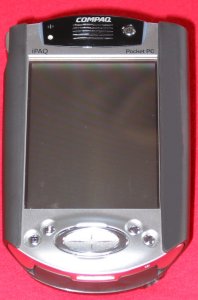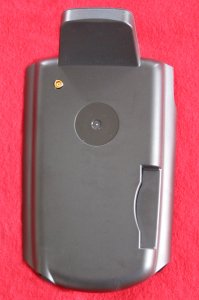 Performance
The Emtac Sleeve pits itself directly against the Navman sleeve, and surprisingly is only the second GPS sleeve available for the Compaq iPAQ. The sleeve itself performs very well and does beat the Navman 3000 sleeve hands down in TTFF's and re-acquisition times.
Mounting
On the rear of the sleeve you'll see a circle, this is designed to be a clean smooth piece of plastic to stick a round button mount. A perfect addition to this sleeve is TheClip.com Vent Mount. You can see some photos from our review below.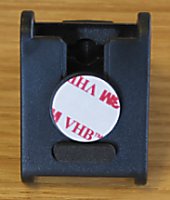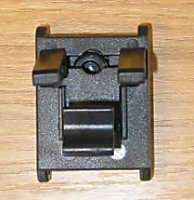 Inside Emtac Sleeve
Here's an opened up photo that shows the circuitry within the sleeve and how the antenna is attached.