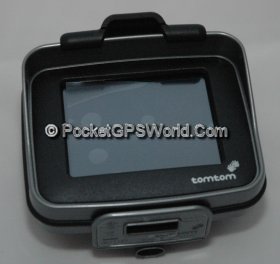 Review by Darren Griffin
Introduction
In the world of motorcycling there hasn't been much choice where GPS solutions were concerned. You either cobbled together a solution based on a handheld GPS or PocketPC solution to protect from the elements or you forked out a huge wad of cash to Garmin for their StreetPilot device. BMW have offered re-branded StreetPilot's as approved accessories for their tourer and GS models.
Recognising the opportunity TomTom re-designed their GO device for use on a motorbike and the RIDER was born. Utilising a similar form factor to the original GO range they added the latest SiRFStarIII GPS Chipset as well as a water resistant case and a Bluetooth Headset.
Possibly the first appearance on a product intended for use on a motorbike is the Mobile Phone hands free facility. This enables a compatible Bluetooth handset to be paired with the RIDER. When an incoming call is received the sound is diverted to the Bluetooth helmet headset and the callers name and telephone number appear on the RIDER display. I don't make calls when riding but it is great to be able to take them and as an ex and Traffic Police Officer I'm used to using communications on a motorbike but I would caution that safety is the first priority and you should not use this feature if it is going to distract you from your primary task of observation.
But what's it like? I've been riding motorcycles since I was 16 which having just celebrated my 40th birthday is now quite some time ago. I've owned and used a StreetPilot in my BMW KT1100 days and so was looking forward to the opportunity to evaluate the RIDER in a real world scenario. By day I'm an IT consultant and use my motorbike whenever possible to visit clients, in so doing I rack up about 15,000 bike miles a year. A GPS solution is a boon to me and as many of my clients are based in London being able to navigate around the metropolis like a cabbie would be great!
So having taken delivery of a shiny new RIDER below is the results of 6 months and 9,000 miles of almost daily usage in the variety of conditions both Ken Livingstone and his ludicrous traffic reduction policies and our great weather could throw at us!

Technical
Aside from the obvious design differences, the RIDER differs in a number of key areas from other TomTom models. These are:
GPS Chipset: The RIDER sports the newer and much more efficient SiRFStarIII Chipset. This receiver far more sensitive than earlier chipsets.

Map data Provider
For reasons known only to TomTom themselves, the RIDER is provided with map data courtesy of Navteq. As some of you may know, every other TomTom product uses TeleAtlas Map data. TomTom have never explained why this situation exists but in reality it makes little difference to the user experience. If anything it puts an end to the many suggestions that Navteq is better than TeleAtlas and vice versa as direct comparisons between a GO running TeleAtlas and a RIDER running Navteq reveal that each suffer from data inaccuracies and missing roads etc.

Speaker: As the RIDER is intended for use on motorcycles, it contains no internal speaker. Instead, voice instructions are relayed to the rider using Bluetooth. The RIDER comes complete with a bluetooth headset intended for installation in a motorcycle helmet as well as a standard ear bud type earpiece for use in other situations. More of this later.

Safety Screen:
Whilst the motorcycle is moving, access to menus is restricted (see image below). Full access to menus is only available when the motorcycle is at a standstill.

Design
The RIDER feels chunky expensive. It gives the impression that is is able to take a few knocks that inevitably arise from day to day use. The case is sealed to prevent water ingress with the only connection being the power contacts at the rear which interface with the cradle. Although TomTom do not state a water resistance level rating (Garmin often give IPX Ratings to their devices) they do say in their marketing blurb, "Water resistant and protected against any wet weather conditions
(test: TomTom RIDER was subjected to a sustained jet of water at high pressure from all directions and suffered no harmful effects)". I have used mine in torrential downpours without any issues whatsoever. On the bottom is a small hatch protected by a rubber seal which conceals the SD card slot, reset button, Mini-USB Port and charge socket which used for charging the RIDER at home. I wouldn't however expect it to survive submersion in water so consider it weather resistant rather than waterproof.
On the left side is a lanyard connector and on the right is the power ON/OFF button. This is concealed in the rubber seal that connects the front and rear halves of the case assembly. So well is it concealed that the first time I took the RIDER out of the box I failed to locate it!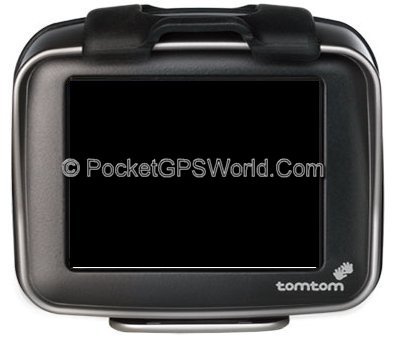 The cradle itself is a simple design with an 'L's shaped bracket which the RIDER sits upon and a black plastic clamp that clips over the top of the RIDER when mounted to secure it. There are lugs on the rear and bottom of the RIDER unit which mate with matching recesses on the cradle to ensure it is correctly positioned. There are also 12v power connections on the cradle. Although the RIDER contains a rechargeable internal battery, there is the option of providing 12v power to the cradle using the supplied cable. When the RIDER mates with the cradle power is automatically supplied to the unit and the internal battery is trickle charged.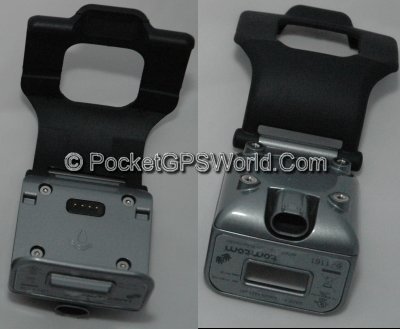 Front & Rear Views of the Cradle
On the rear of the cradle are four threaded sockets that are used to affix it to the supplied mount accessories or third party mount solutions as they appear. At time of writing, RAM Mount already had a system solution that fitted the RIDER cradle.
I have never had any problems with the cradle, no suggestion that it might undo etc. Some users have employed the lanyard mount to create a security loop that would prevent the RIDER from being lost should it becoming disconnected but I have never had any cause to suggest this is needed.
In the Box
Being a solution for motorbikes/scooters etc, the options for mounting the RIDER are very important. TomTom have decided to tick as many boxes as possible right out of the box and so the RIDER comes with a variety of mounts and options that should cater for many users. It is of course impossible to cater for every possible bike and mounting location but kudos to TomTom for trying.
In the Box they supply a carry case, a 12v wiring loom (no in-line fuse so ensure you connect to a fused 12v accessory supply) and the cradle.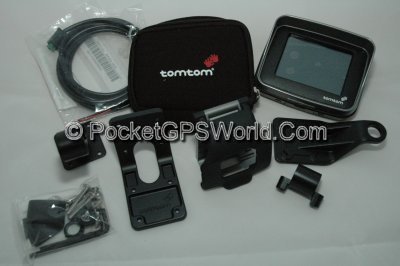 The mounts supplied include RIDER that can be affixed to the clutch/brake lever clamp assembly, RIDER that allows the unit to be clamped to a handlebar, another that allows the unit to be attached to a mirror bracket and a fourth designed to affix the unit to a flat surface such as the top of the instrument cluster.
I opted for the latter as this worked well on my Honda Pan European although in the end I chose to reverse the bracket and affix the RIDER to the rear, see the image below: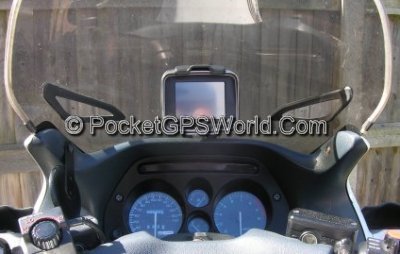 Rider's view of the RIDER!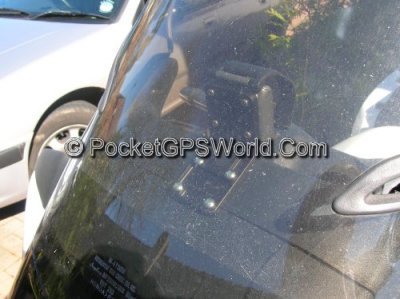 View through fairing illustrating bracket attachment
Tim Buxton, a PocketGPSWorld Moderator and keen biker has had a mount fashioned that allowed him to fit his RIDER to the headstock of his Triumph, see below: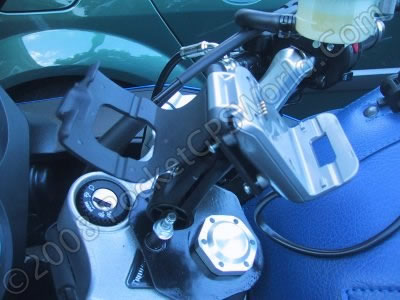 Bluetooth Earpiece
The feature that deserves most coverage here is the Bluetooth Headset system that provides the voice instructions and hands free headset functionality to the rider. The four components that make up this feature are shown below.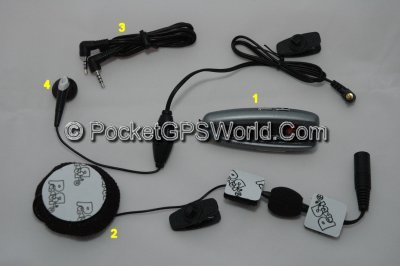 Bluetooth Headset Receiver/Transmitter
This has a charge socket (standard TomTom size) for its internal battery, a 2.5mm socket for the headphone/microphone and power and volume buttons.
Helmet headphone/earpiece assembly
A small velcro backed earpiece connected to an in-line microphone (again secured by velcro) which is in turn connected to a 2.5mm socket.
Cable extension
This cable connects 1 to 2
Ear bud Earpiece/Microphone
A standard earpiece that connects to 1 for use when the RIDER is not on the motorbike.
I found the system worked well but I have some concerns. The wires connecting all the pieces are of a small cross-section. Whilst I never broke them, a few time I forgot to disconnect the helmet when removing it and it tugged at the wires. This could easily result in a broken cable. I also found that for my two helmets the headset (Part 2) did not work perfectly.
In my full face helmet the cable from the microphone to the 2.4mm socket needed to be a few inches longer so I could loop it back and have it exit at the side of the helmet. As it was it exited under my chin.
in my other helmet which has a front section that swivels up I had to secure the microphone at the side, this resulted in conversation being muffled to the other party. A boom microphone option would have been better here.
In use I could hear navigation instructions clearly up to about 65mph after which they volume level was too low to hear clearly. Similarly telephone conversations were perfectly audible at a similar speed but microphone placement was crucial to ensuring the other party could hear me at speed. Over 60mph there was too much background noise for this to work well.
Software
In common with the its elder brothers, the RIDER utilises TomTom's ubiquitous 'Navigator 5' software release which has been covered in depth previously. In summary this includes full UK 7 Digit PostCode support as well as supporting TomTom's .ov2 POI format which means that the ever increasing compilations of user POI set and our very own Safety Camera Database are fully supported. For the benefit of readers viewing this as their first entry into the world of TomTom, our reviews of the TomTom GO 500 are referenced below as apart from the lack of full European Coverage, the RIDER has identical software features including the Bluetooth Hands free functionality.
The one major difference is the safety screen activated once the motorbike is moving, this restricts the menu display to a limited feature set (although there is a simple fix, simply stick some tape across pin 2 f the RIDER itself (second from left as viewed from the rear) which disables this 'feature'.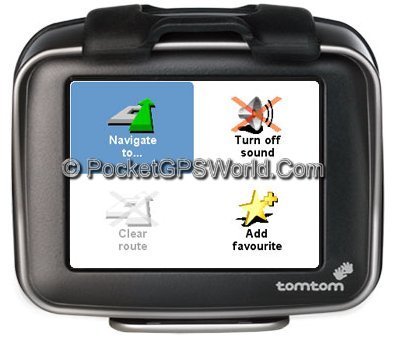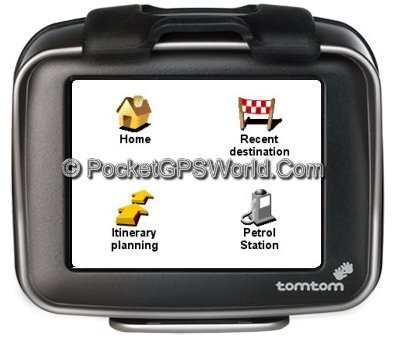 In Use
The Power button has been mentioned already. It is concealed in the rubber strip that surrounds the unit. The photograph below shows the location and the small circular indent that is the only indication that pressing the rubber strip at that point will power the unit ON/OFF. It takes quite some force to do this and doesn't get easier over time.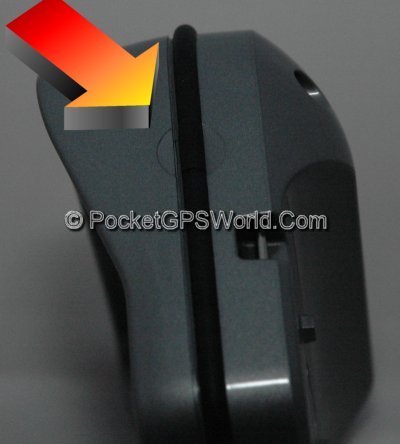 If you are using the RIDER with 12v power supplied from the bike itself (the unit uses 5v as do all the other GO's with the 12v - 5v reduction taking place in the cradle) then there is no LED to confirm power is being received. You can check battery and charge status from the status screen but otherwise, the first you'll know that it isn't receiving power is when the low battery icon appears and begins flashing on the display. As with the ONE, it would have been nice to have a power LED on the unit.

On the bottom of the RIDER can be found the SD Card Slot, Power Socket, Mini-USB connector and Reset button underneath a small hatch protected by a rubber seal.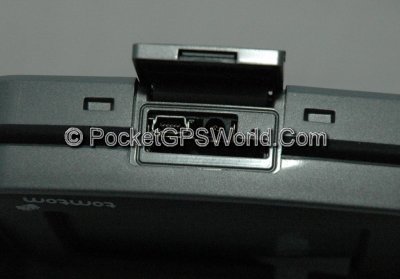 The RIDER in common with the ONE and 300 does not have the Assisted Satellite Navigation (ASN) facility that was present on the classic GO units as well as the 500 and 700 but I have to say thanks to SiRFStarIII I never missed it in testing. Bluetooth is present to allow the connection of a compatible Bluetooth equipped mobile phone and this permits connection to TomTom's PLUS Services such as Traffic, Weather and downloadable maps (additional costs and or subscription fees apply).
Day to day use couldn't be easier. With the earpiece fitted to my helmet and the Bluetooth receiver switched on and tucked into an inside jacket pocket all I need to do was connect the RIDER to the cradle at which point it would auto power. The RIDER automatically connected to my cell phone and the BT Headset and I was ready to go.
travelling into London I no longer needed to be concerned by the 'Toll Charge' alerts as so far Ken Livingstone has not imposed Congestion Charges on motorcycles. My job entails me being contactable at all times so the hands free facility was utilised a lot, callers commented that the call quality was a little noisy but the majority of the time it was perfectly usable.
My choice of mounting location meant that rain is largely kept away from the RIDER unit but crawling through London in a downpour resulted in no problems with water ingress and a few lengthy high speed runs were similarly trouble free.
The proof of the pudding for me is how much I used it, I rarely leave home without it, even when travelling on routes I knew well it was worth having the RIDER for the hands free functionality alone as well as the safety camera alerts!
TomTom have also now released a car cradle accessory that allows you to power the unit using a 12v cigarette lighter charger. Sadly it lacks the hoped for Bluetooth speaker so you would need to use the Bluetooth receivers and ear bud supplied with the RIDER but as many potential buyers will also own a car then it is still a welcome option.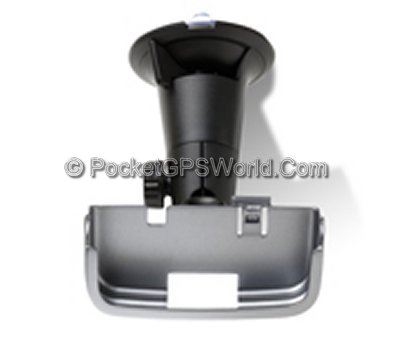 Technical Specification
CPU:
380MHz
Screen:
3.5" 320x240 TFT Colour Touch screen LCD
Memory:
32MB RAM
Battery:
Internal Rechargeable Li-Ion - 5hr Battery Life
Memory Card:
SD including software and maps
GPS Receiver:
Integrated SiRFStarIII 20 Channel Receiver
Sound:
Via Bluetooth Headset (No built-in speaker) , Talk time 10 hours , Standby 250 hours
Power Supply :
12v Supply wiring loom provided for interface with motorcycle electrical system or 240v Mains Adapter (included)
PC Connection:
Via mini-USB cable (supplied)
Dimensions:
115mm x 92mm x 58mm
Weight:
310 grams
Water Resistance
Water resistant and protected against any wet weather conditions
(test: TomTom RIDER was subjected to a sustained jet of water at high pressure from all directions and suffered no harmful effects)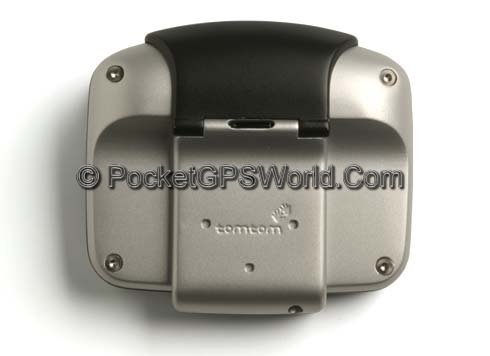 Pros
Slim case and size
Excellent GPS reception thanks to SiRFStarIII
Tried and tested Navigator 5 software
Excellent value for money
Full support for .ov2 format POI's including Safety Cameras
Full UK 7 Digit PostCode support
Cons
Power Button difficult to operate
Bluetooth earpiece cable too short
Bluetooth audio volume occasionally too low
Lack of adapter to allow RIDER and Bluetooth Earpiece to be charged at the same time.
Conclusion
The TomTom RIDER is an excellent solution that works well on a motorcycle. Issues such as the bluetooth earpiece are frustrating but it otherwise works faultlessly. The GPS reception is superb, the design makes it pocketable and easy to hold and the software is the ever popular Navigator 5 with it's POI and PostCode support.
Since beginning the long term test the RIDER has fallen in price and has been joined by another version that contains full European map coverage making it an even better proposition. Version 6 is also around the corner which should add some more features to the unit.