Review by Dave Burrows
Introduction
The Navman iCN630 is a new kid on the block in terms of a complete integrated Street Routing system without the need for any type of PDA. The iCN630 uses a modified version of Navman's newest software (SmartST Professional) and this on the iCN630 this is called SmartMap.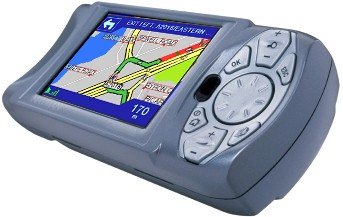 Navman iCN630
With the release of the Navman iCN630, Navman are trying to compete with the likes of Garmin who have had an enormous share of the market with the Street Pilot III because excluding PDA systems and fully installable in-car systems, there has been no real competition for them until now. Although both systems use the same maps provided by NavTech, the interfaces and maps look completely different. When you power on the iCN630 and start looking at the maps, the first thing you'll notice if you've already seen SmartST Pro is how very similar the system looks. In-fact any changes made by Navman for SmartST Pro can be ported to the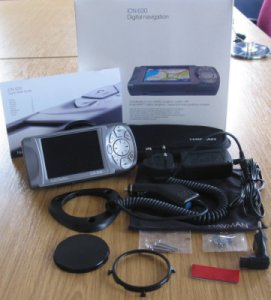 iCN630 and vice versa as the systems are very similar both from a program point of view and also from a hardware/processor point of view. The routing screens are about the only thing that is different, on the iCN630 you don't get the nicely coloured borders around the map that you would see on an iPAQ.
What's in the box ?
Navman iCN630

Windscreen Suction Mount

Dashboard Mount

Mains plug

In-car plug

2-pin converter

Screen wipe

Navman carry pouch

USB cable to connect the iCN630 to your PC via a USB socket

Owners Manual

SmartMap CD with European maps
Storage Space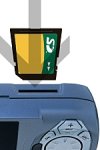 One of the first things I noticed that disappointed me with the iCN630 is not only the price which is more expensive than the Street Pilot III, but you also don't get any storage cards supplied with the Navman where as Garmin supply you with a 128mb storage card. What does this mean ?
If you're looking to put a large amount of maps onto the iCN630 like complete UK maps, then this will not be possible with the supplied equipment as the iCN630 only has 64mb of storage space which will probably get you a couple of maps installed depending on the size of the segments. I managed two myself. So in additional to purchasing the iCN630, you will need to look at purchasing at minimum a 128mb MMC or SD Card. If you are looking to also house the complete European maps, then I would strongly suggest purchasing a 256mb or even a 512mb SD card, because you know you're going to need to use it at some point! SD card prices are constantly coming down in price and you can pick up a 128mb SD card for around £35, so I would have thought that Navman could have chucked this in for free.
Antenna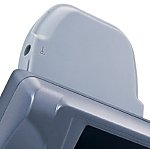 The iCN630 comes with a built in antenna which is multi directional and will increase the availability of the signal and comes supported with an external MCX connector allowing you to plug in an external active antenna if you feel you require it.

One thing I have found under testing, at no point did I have to extend the multi-directional antenna or use an external antenna, I always had the internal antenna folded flat and it always used to receive an adequate amount of satellites to give me a 3D fix even when in the worst of conditions.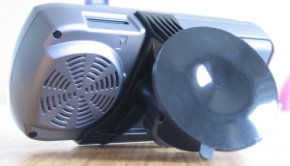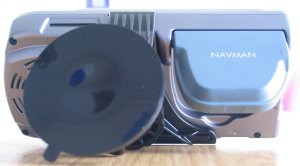 Speaker
The integrated speaker on the iCN630 is very clear even though it is facing the wrong direction. Unlike the Garmin Street Pilot III, the speaker is available within the unit where the SPIII you had to use the supplied car charger/speaker plug. Navman have done well including the speaker into the unit. Voice Navigation is also very loud and can be adjustable within the iCN630 using the keypad supplied (no jog dial). Running the iCN630 side by side with an iPAQ 3630 the speech was much louder and clearer in the iCN630 which is something we were originally concerned about with SmartST Pro, so it's good to see this has been addressed. The Voice Navigational quality is also much better, where SmartST Pro sounds like someone has spoken each word in turn and glued them together, the iCN630 has fluent voice navigation which makes it a lot easier to listen to when driving at speed.
Screen Quality
The screen quality on the iCN630 is outstanding. The colours are rich and the contrast strong. The screen sports a 3.8" TFT QVGA screen for use in-car with anti-reflective coating. The screen dimensions are 320x240 pixels with more than 230,000 colours. Not quite as much as a Pocket PC, but 64 million colours really aren't needed for mapping and 230,000 colours should be more than enough to contend with various shades of colours.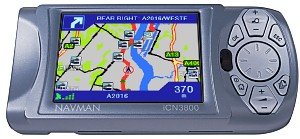 Something the more advanced GPS user may recognise is that many in-car navigation systems includeing the iCN630 are always designed in a landscape mode screen layout (eg longer screen and shorter height), this is the norm for TV's and monitor's, but most PDA based GPS systems are the opposite using a portrait mode system. There's no rhyme nor reason for this really, landscape systems look more aesthetical but in theory will provide less information on screen (height wise). I pitted the iCN630 together side by side with an iPAQ running SmartST Pro in my tests and you did find sometimes you lost a little bit of map data on the height of the screen on the iCN630, but in most cases it was nearly identical. The way Navman have managed to get around this is to reduce the overall size of the maps on screen that you would see, which in a sense is like zooming out. Now because with most PDA GPS Systems you are always facing/travelling up the screen, it does mean that there is a lot of wasted real estate on screen on the left and right hand sides of the screen. It's not entirely wasted as it's always good to see where you are on a map and the more information you have the better, but I would have thought it better to have a portrait system, or even better a system that can switch easily between portrait and landscape modes. I'm sure this will come in later products.
Suction Cup Strength
One thing that Navman customers have constantly complained about with the Navman 3000 and Navman 3400/3420 is the strength of the suction cup. If left in direct sunlight most people would find after a few days their suction cup has fallen to the floor. This can and did happen sometimes whilst travelling as driving over bumps would loosen the suction on the windscreen. One thing I can categorically say, is the windscreen mount supplied with the iCN630 will not have this problem! It's so strong, you can even hang onto the iCN630 whilst it's suctioned to the windscreen and pull it in all directions and adjust the direction it's facing. This newly designed suction cup is much better than previously supplied in the Navman 3000 and 3400/3420 packages so having your prized possession drop from the windscreen is a thing of the past for Navman users!
Time To First Fix and Satellite Information
With the extensive testing I have carried out in this review, I have witnessed no extended TTFF's, in-fact most are sub one minute. The iCN630 didn't ever lose a 3D fix at anytime. With Pocket PC systems I religiously used to check that I had a 4+ sat fix before planning a route, but found myself not having to do this, which makes the iCN630 very desirable, in effect just plug in, switch on and go!
The first GPS Status screen is similar to what SmartST Pro owners would be used to and this shows your co-ordinates, speed and direction, date and time and also a visual large circle indication if you have a fix (green) or no fix (red) and how many green/yellow/red bars you have which suggest the amount of sat fix you have. The second satellite screen you'll see this same information but with signal strength for each satellite which most people will be used to seeing in GPS products.