Review by Darren Griffin
Introduction
Amongst the GPS community Mitac's Mio 168 has been one of the most anticipated handhelds this year and with good reason. The Mio 168 is the first PocketPC to contain a built-in GPS receiver and has already appeared in other world markets. It's first showing here in the UK is courtesy of Evesham Technology who has chosen ALK's excellent CoPilot Live for their offering.
Evesham Technology serves both business and personal user markets and whilst this is their first foray into the handheld market they are a well known and respected PC manufacturer.

So what do you get?
Medion were the first manufacturer to produce a GPS bundle that came with everything you needed to get up and running and it's fantastic to see that Evesham have followed the same course.
Open the box and crammed inside you will find:-
Mitac Mio 168 PocketPC

PocketPC 2003
64 Mb RAM
Intel PXA 255 300MHz Processor
SDIO Compatible SD/MMC Slot
240 x 320 pixel 65k Colour Screen
Dimensions 112.9 x 69.6 x 24.15mm

Cigarette lighter style 12v power cable
Suction Windscreen Mount and Cradle
Slip Case
Stereo Headphones
USB Synch Cable
1 x 128Mb SD card
PocketPC 2003 CD and CoPilot Installation CD
External Magnetic GPS Antenna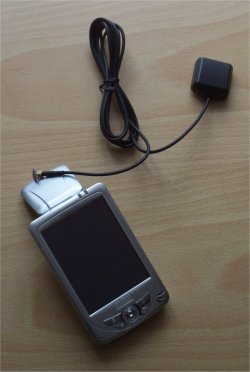 Mitac 168
The unique selling point of the Mio 168 is the integrated GPS receiver. This is an integral part of the Mio's case and is contained in a 'flap' on the rear which can be folded up when needed and stowed when not. The hinge appears to be solid and built to take the knocks and whilst it does make the unit a little thicker when in the stowed position it does double as a handy desktop stand allowing the Mio to be tilted up at an angle.
Mitac have thoughtfully provided an external antenna socket on the receiver 'flap' and an external antenna to go with it, great for those situations were reception is poor or your car has a coated windscreen which shields the GPS signals.
The receiver itself is NMEA compliant and will drive any PocketPC application that accepts NMEA input. In tests it proved very sensitive acquiring a lock from a cold start in under 20 secs which compares well with other devices.
Mitac have bundled some useful additional applications in ROM including (prepare for an overdose of 'e's here) eBackup - an easy to use backup utility, eMenu - a today screen replacement that gives quick access to the most commonly used applications and utilities, eViewer - a utility for viewing image files and MP3 Player (surely that should be an eMP3 Player!) that has a built-in equaliser, a useful addition given that Windows Media Player does not play .mp3 files.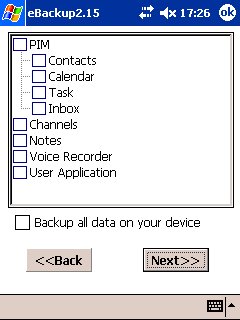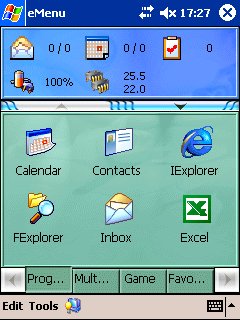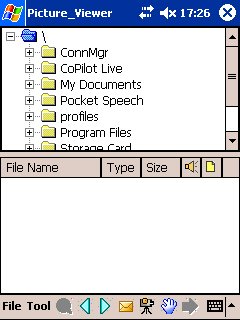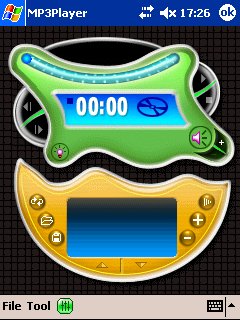 The Mio 168 does not come with a docking cradle, instead Mitac supply a simple USB Cable but this functions well and unless you plan on having the unit docked frequently it is not a problem. The tiny joystick and hardware application buttons work well, the SD slot (SDIO compatible) is located at the top as is now common and an iR port is also present.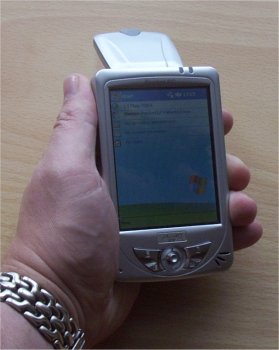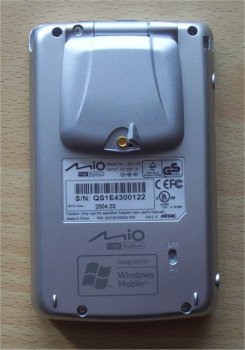 Given all the features it does have it is understandable that some things had to be left out so the 168 does not have a user replaceable battery nor does it have WLAN or Bluetooth. It is difficult to grasp from photographs but the unit itself is very compact, similar in size to a 2210 and looks and feels like a high quality device.
The Mio 168 uses the ubiquitous PXA 255 processor running at 300MHz and together with the built-in 64Mb of RAM and the SD Slot (SDIO Compatible) you have plenty of expansion potential.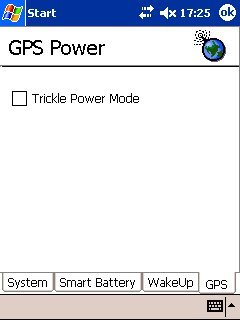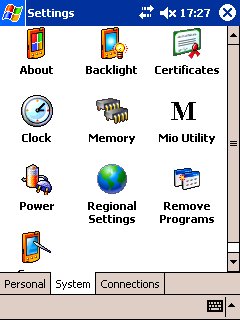 On the GPS side the only options within the OS for configuration are enabling a Trickle Power Mode, in testing the unit ran for 3 hours 50 minutes with GPS active and screen backlight at 50% brightness, with GPS off the unit ran for roughly 4½ hours. The screen itself is typically bright and easy to read both indoors and in direct sunlight.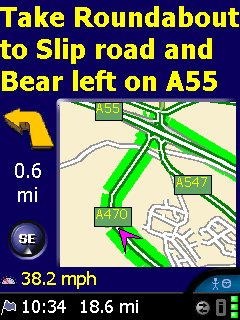 The CoPilot Live! Navigation software has been covered in depth by PocketGPSworld.com before and a full European and USA review is already available so I won't go into detail about it here except to say that it is one of the best.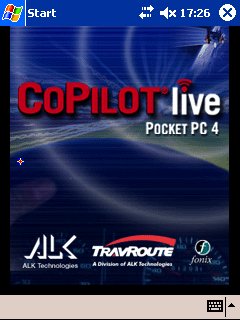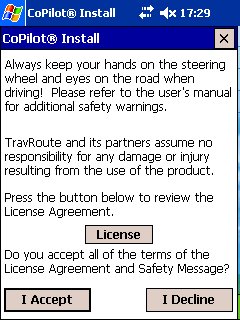 Helpfully it comes pre-installed on a 128Mb QuickStart SD card complete with the UK map data which means that you can be up and running within minutes.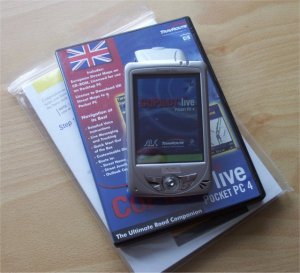 Although CoPilot requires on-line registration to unlock the software it thoughtfully allows a number of days use before you are forced to do so. In addition should you ever be forced to perform a hard reset whilst away from home you can easily re-install from the card.

I Liked
The small footprint
Self contained GPS
Pre-Installed CoPilot software
Completeness of bundle, nothing extra needed to get you going
I Disliked
Lack of user replaceable battery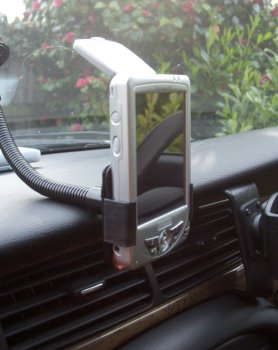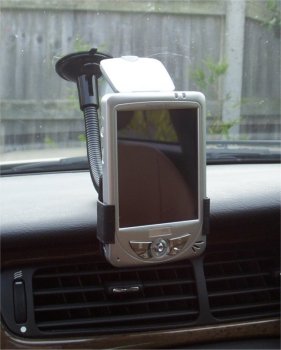 Summary
Evesham CoPilot product provides seamless coverage of the UK, Northern Ireland, Scotland, and Wales using Navteq's latest 2003 maps on a 128mb card and is an excellent package for those looking for an in-car or handheld GPS solution.

The CoPilot software and supplied accessories make this a great package.