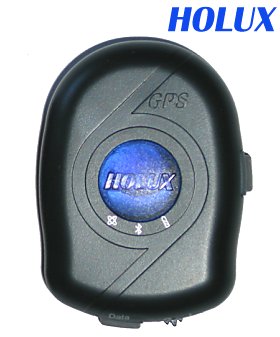 Review by Dave Burrows
Price £199.99 inc VAT
Introduction
Holux are no new comer to the GPS Market. Holux currently operate out of Taiwan, and also have a UK presence at Holux-UK.com . Holux have a complete range of GPS Receivers available for the consumer market ranging from GPS mouse, to Compact Flash, to the new XTrac CF Ultra and even dedicated handheld GPS Receivers. In this review we are going to look at Holux's new Bluetooth GPS Receiver. Currently as of writing this review the smallest Bluetooth GPS in the world.
Box Contents
The version we received direct from Holux is a pre-production model, shipment will commence shortly on the production models as Holux ramp up their factory production. In the box you will find the GR-230, a USB charger cable which terminates in a large USB plug one end and mini-USB plug at the other end. The larger USB plug will plug directly into a mains power plug (supplied) and a car charger plug (supplied). Holux have also thought of everything here as they have also included the plug with various converters to support UK, and European mains power systems! Holux have also included a neoprene gray elasticated case with velcro patch and belt loop allowing you to fasten the pouch to your belt and take the Bluetooth GPS with you without having to take up room in any of your existing pockets.
The Receiver
The GR-230 has a good specification chart including support for NMEA (9600 preferred), it sports a SiRF Star II chipset with embedded ARM7TDMI CPU, 12 parallel satellite-tracking channels for fast acquisition, high speed signal acquisition using 1920 time/frequency search channels, Low Power mode, SBAS (WAAS/EGNOS) and more! The GR-230 also comes with the standard SPP Serial Port Profile which Bluetooth uses to connect to a Pocket PC or PC.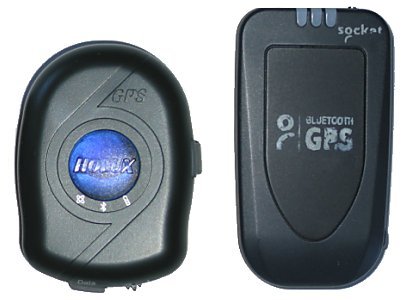 Performance
Performance wise I'm impressed. The GR-230 is a great little GPS and not only looks attractive, but works well! Averaging around 7-9 satellites in average use, TTFF's came in at under a minute. Charging the GR-230, Holux claim greater than 6 hours on a full charge and seeing other BT GPS's and their overstated battery performance in the manufacturer specs, I was expecting a similar experience. I was pleasantly surprised to find I was getting 8 hours consistently out of the GPS before the battery died and this wasn't in trickle mode either! Holux Taiwan have since upped the goal posts on this and quoted 9 hours usage on their page. One of the toughest tests to give a GPS Receiver is under difficult conditions like heavy foliage (tree's), or even inside a building. Performing a test on two iPAQ 2210's, one connected to the Emtac BT GPS which has always come out top on our list with performance, and another iPAQ 2210 with the Holux GR-230, take a look at the screenshots below. You can see by these screenshots that the Holux (much to my surprise and amazement) actually managed to bring in a further satellite (29) compared with the Emtac.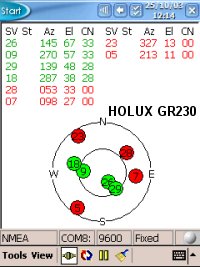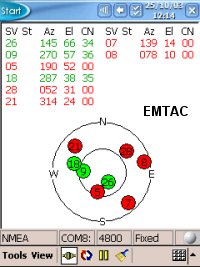 In our Time To First Fix (TTFF) tests, the Holux GR-230 performed very well. The fastest Time To First Fix (TTFF) was 39 seconds with the slowest at 1m 02 seconds which makes this a good all round performer. For full TTFF Tests, check our TTFF Comparison table.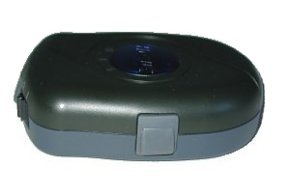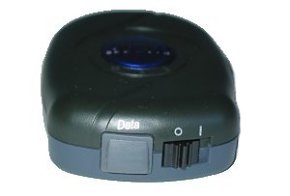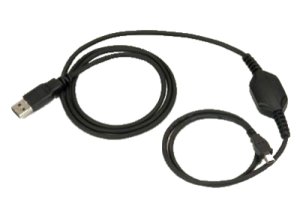 Optional Data Cable
Holux are also selling an optional data cable. This like the charger plugs into the Data port on the GPS Receiver (which has a mini-USB connector), and the other end of the cable has a USB plug. This will allow you to connect the GPS Receiver to a PC. So, pushing the receiver to the limits I decided to connect the GPS Receiver to my laptop, and managed a connection with SiRFDemo. Pleased that this was working, I then decided to attempt to connect my iPAQ 2210 via Bluetooth to the GR-230, and low and behold I also received a GPS connection, so to my mind, this is the first Bluetooth GPS Receiver that can be simultaneously connected to a PC at the same time! I'm not too sure what benefits you would receive from this connection, but I suppose if you are out surveying, or using maps on a PC, and someone also has a Pocket PC with them, you will be able to receive the same data on both devices at the same time. Way to go Holux!
Bundled Software
Holux will also be bundling their GR-230 with several software packages. Here's a sneak preview:-
New Voice Guided Software for the Palm OS
Fugawi UK
Expanded Satellite Navigation bundles that include Dell Axim X5 and iPAQ 2210
Holux Taiwan website also shows the Holux GR-230 being available in three different colours. A black version (which we reviewed), a silver version and a pearl version.



Technical Specification
| | |
| --- | --- |
| General Features | |
| Tracks up to | 12 satellites |
| Receiver: | L1, C/A code |
| Snap Start: | <3 sec(at < 25 minutes off period) |
| Update rate: | 1 HZ |
| Antenna Type: | Built in Patch Antenna |
| Minimum signal tracked: | -175dBW |
| Dimension: | 77.9 x 56.9 x 22.8 mm |
| Weight: | < 70g |
| Power Button: | On/off push button |
| Battery | Lithium-ion battery lasts for more than 9 hours of use |
| Operation Temperature: | -10C to + 60C |
| Store Temperature: | -20C to + 85C |
| Operation Humidity: | 5% to 95% No condensing |
| | |
| Non DGPS (Differential GPS) | |
| Position: | 5 - 25 m CEP without SA |
| Velocity: | 0.1m / sec |
| Time: | 1 usec sync GPS time |
| | |
| EGNOS/WAAS | |
| Position: | <2.2 m, horizontal 95 % of time |
| | <5 m, vertical 95 % of time |
| Reacquisition: | 0.1 sec. averaged |
| Hot Start: | 8 sec. averaged |
| Warm Start: | 38 sec. averaged |
| Cold Start: | 45 sec. averaged |
| | |
| Bluetooth Features | |
| Serial Port Profile: | Compatible with Bluetooth devices with Serial Port Profile (SPP) |
| Version: | Version 1.1 compliant |
| Class: | Class 2 operation (up to 10 meter range) |
| Frequency: | 2.400 to 2.480 GHz |
| Modulation: | FHSS / GFSK |
| RF channels: | 79 |
| Input Sensitivity: | -80dBm |
| Output Level: | 4dBm |
| | |
| Serial Features | |
| Output terminal: | Mini-USB (TTL Level) |
| NMEA Protocol Output: | V 2.2 |
| Baud Rate: | 9600 bps |
| Data Bit: | 8 |
| Parity: | N |
| Stop Bit: | 1 |
| Standard Output Format: | GGA, GSA, GSV, RMC |
| Standard Output Format: | GGL, VTG, SiRF Binary |
| | |
| Other Features | |
| Altitude: | 18,000 m ( 60,000 feet ) max |
| Velocity: | 515 m/sec ( 700 knots ) max |
| Acceleration: | 4G, max |
| Jerk: | 20 m/sec, max |
| LEDS: | Bluetooth , Navigation Update and Battery and changer status Indication |
Summary
The Holux GR-230 is not only the most attractive looking Bluetooth GPS Receiver to date, but it is also compact, very rugged and feels like you can drop it a thousand times and not damage it at all, made of hard durable plastic. Not only that, but the Holux GR-230 is also the clear performer in size, battery performance, satellite reception and acquisition times are equally good. I still have the craving for the Emtac, but Holux have put great thought into this little product both in looks and performance and this really will be a winner! Unfortunately it has been squashed slightly by the loss of the Bluetooth stack when switching protocols and baud rates at the same time, if it wasn't for this, the Holux GR-230 really would be unstoppable.
Addendum - Firmware Fix
We originally reported problems in the review to Holux that when you change the baud rate on the GR-230, it would lose communication via Bluetooth, and the only way to switch back was to use the optional data cable, or to send back to Holux to switch back. Holux have rectified the bug in the firmware and this is no longer a problem on all GR-230's shipped from Holux since 20th December 2003, but may still be a problem with units shipped prior to this date from Holux, or with units from other retailers so if you are purchasing the receiver from a reseller other than Holux, make sure that you have the fixed version. If you have an early version, and the GR-230 is exhibiting this problem, contact your local Holux office.