Review by Dave Burrows
Introduction
Many of you seasoned PocketGPSWorld.com readers know that we have previously reviewed nearly all of Holux's range of GPS Receivers, from the GM-210, GM-270, GM-270 Ultra to the GR-230 Bluetooth.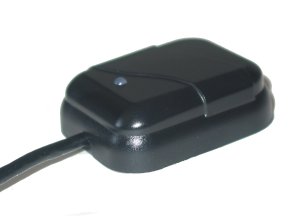 This review is of Holux's latest GPS Receiver, it's going back to the roots to a cabled GPS Mouse, with a subtle difference. It still contains the tried and tested SiRF IIe/LP chipset but it's one of the smallest cabled GPS Mice on the market!
Small is probably not the right word to use, more like tiny at 4.2cm by 3.4cm and 1.4cm deep! It's smaller than most external patch antenna's which are usually pretty small!
In The Box
Holux GR-211 GPS Mouse
PDA cable (depending on the one purchased)
USB socket to Cigarette Plug (universal power plug)
Manual
Cable Set
The Holux GR-211 uses a slightly different style of PS/2 connector compared with the GM-210 which are smaller than the GM-210 connector. It also incorporates a cigarette/accessory plug for use in the car which terminates in a USB style plug. This then plugs into a universal USB to cigarette lighter plug which makes it easy to get replacement power plugs. It also comes in a variety of different versions including:-
DB9 Serial Lead
USB lead
Mitac Mio 528, 338
O2 XDA, XDAII
Palm 500 Series
Palm Treo 600
iPAQ 3800/3900/5400/5500/2200
Sony T Series

WAAS/EGNOS Support
As t he GR-211 uses the SiRF IIe/LP chipset it does support WAAS/EGNOS (or SBAS) as it's known.
Size Matters
One thing to bear in mind is the footprint of the GPS Receiver. Leadtek's were the earlier GPS Mouse available for the PDA which were an admirable size, but in today's standard are quite big and bulky sitting on the dashboard. The Holux GM-210 then reduced the overall size and now Holux have done this again by reducing the size of the GR-211.
Comparing the GM-210 and the GR-211 side by side, you can see the real size difference!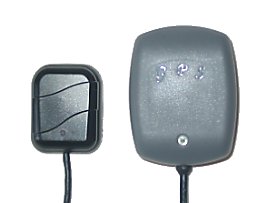 Now size doesn't always matter (as the old saying goes!), and that's true to a certain extent. With technology becoming ever more so adaptable and smaller as years pass by, you can find that sometimes smaller technology are more susceptible to interference solely because all components are that much closer together and without a bulky case, there's less shielding available, also this can reflect on the GPS Antenna in terms of RF interference and actually give poor performance.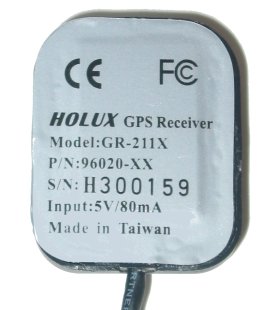 However, I would like to stand up here and put the record straight. The GR-211 does perform extremely well and although it is extremely small, it does not suffer from any such interference or loss of satellite reception due to it's size. In-fact, pacing it against similar GPS Receivers like the Leadtek and Haicom 204e, and it's older brother the GM-210, signal strength is on a par with these satellite receivers in-car, and I am deeply impressed by the quality as it's such a small device! Holux have done a superb job here in making one of the smallest GPS Mouse Receivers and it's even got a magnetic base!
When I received the package and opened up the box, plugged it in and saw the red LED on top light up, my first impression was to er, well, do a Borg impression! For those that are not Trekkie's or don't watch Star Trek, Borg's have technology implants all over their bodies, particularly the face, and placing this receiver up to my eye to see how small it was, and having a red LED that lights up when a fix is being acquired (and flashes when it has a 3D fix) actually reminded me of the light that stems from the implants over the Borg's eyes. So the first thing I did was a borg impression! Now, fortunately for you (actually more for me) I'm not going to show you that image, but I'm sure certain members of the PocketGPSWorld.com team and Holux may be open to bribes for a copy of pictures taken from my web cam, time will tell.... All I can say is I'll match and beat any bribe!
Technical Specification
Tracks up to:
12 satellites
Receiver:
L1, C/A code
Snap Start:
<3 sec (at < 25 minutes off period)
Update rate:
1 HZ
Antenna Type:
Built in Patch Antenna
Minimum signal tracked:
-173dBW
Dimension:
42.8×34.2×14.2 mm
Weight:
< 40g
Weathering:
Waterproof
Power consumption:
<80mA at 4.5- 5.5V input
Operation Temperature:
-40 to + 80 degrees Centigrade
Store Temperature:
-45 to + 100 degrees Centigrade
Operation Humidity:
5% to 95% No condensing
Non DGPS (Differential GPS)
Position:
5 - 25 m CEP without SA
Velocity:
0.1m / sec
Time:
1 usec sync GPS time
DGPS (Differential GPS)
Position:
1 to 5 m, typical
Velocity:
0.05 m/sec, typical
EGNOS/WAAS /Beacon
Position:
< 2.2 m, horizontal 95 % of time
Position:
< 5 m, vertical 95 % of time
Acquisition Time
Reacquisition:
0.1 sec. averaged
Hot Start:
8 sec. averaged
Warm Start:
38 sec. averaged
Cold Start:
45 sec. averaged
Protocol and Interface
Standard:
Baud Rate: 4800 bps
Data Bit: 8
Parity: N
Stop Bit: 1
Format: GGA, GSA, GSV, RMC
Optional:
Baud rate: 9600, 19200, 38400
Format : GGL, VTG, SiRF Binary
Interface:
RS232 + CMOS TTL Level, or RS-232 + DGPS
Dynamic Conditions
Altitude:
18,000 m ( 60,000 feet ) max
Velocity:
515 m/sec ( 700 knots ) max
Acceleration:
4G, max
Jerk:
20 m/sec, max
LED Function
Power On/Off and Navigation
Update Indication
Problems with the GPS Receiver
Well, I do like to test hardware inside out and put it through a number of rigorous tests, but I really couldn't fault the GR-211 in any way. It performed perfectly for me throughout my tests and the review process, and worked extremely well. In-fact, seeing the size of this sitting next to my trusty old Leadtek (may it rest in peace) and my new Leadtek (thanks Richard!) a Haicom 204e on my dashboard, you can really see the advantage of having a GR-211 sitting on your dashboard!
Conclusion
The Holux GR-211 was a dream to work with, it worked flawlessly and always gave me at least a 5 sat fix in my driving even through urban canyons and avenue's with tree's lined either side. Most of the time I was receiving a healthy 7-9 set of sats, which was good to see! The Holux GR-211 is a marvel at it's size, and is a great addition to the GPS Mouse market and the Holux range of GPS Receivers. I for one do like it!