Review by Dave Burrows
Introduction
For a long time JGUI has been writing utilities to help in the day to day use of the Pocket PC. Taking a brief look at www.JGUI.net you will see a plethora of applications, utilities and applets to enhance your life. JGUI for two years has written various GPS add-on applets that allow you to effectively use scrolling maps by downloading maps over the internet and calibrating them (see our earlier GPS Ideas Review) and also to use your Pocket PC like a handheld GPS Receiver, like a Garmin eTrex, or Magellan Meridian.
In this review we are reviewing one of the more recent applications JGUI has written, namely Where Am I.
Where Am I
Where Am I is a program to basically tell you where you are. It's a simplistic application, but many people when purchasing Pocket PC's and GPS Software want to see their position, and also a compass.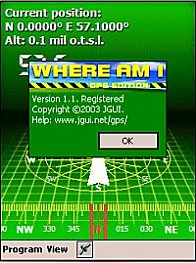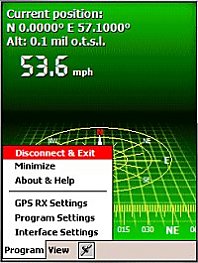 Where Am I simplifies this into one screen allowing you to use Where Am I with any GPS Receiver. You can quickly and easily see where you are, and what direction you are traveling in using the built-in compass to show the direction you have traveled in since your last logged position. It's not a real compass as there's no magnetism, but it does help you if you don't have a compass with you and want a quick readout if you know you have to travel North, or South East, you can check you are walking in the right direction.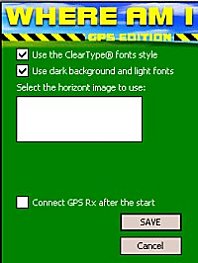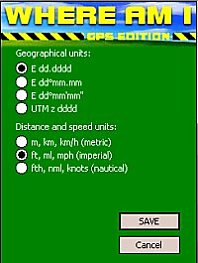 Just like Follow Me, JGUI has added support for the popular geographical units as seen in the above screenshot and various distances and speeds including m, km, km/h, ft, miles, mph, fth, nml, and knots. JGUI has also added ClearType technology into Where Am I, the ability to change the background from dark to light, and the ability to use a background image.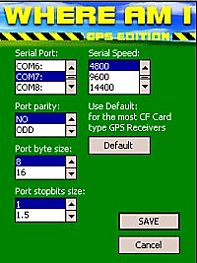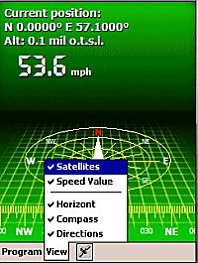 Configuring Where Am I is easy to do, just select the COM port your GPS is sitting on and the relevant Serial Speed (usually 4800 is good for most GPS's). Set the Port Parity to NO, Port Byte Size to 8 and Port Stopbits to 1, save and then connect and you are good to go.
Clicking the VIEW menu will allow you to select what you want to see on the main screen including satellite strengths, speed value, horizontal, compass and direction. Below the circular compass you can also see a horizontal compass that allows you to quickly see the direction in both modes.
If you are looking for a quick compass for the Pocket PC which you can connect to your GPS Receiver that doesn't have a screen, like a Bluetooth GPS or a Compact Flash GPS, then Where Am I is a good choice.
Where Am I Conclusion
Where Am I is a simple but yet effective application to use. If you are after a good compass application, then you may want to check out Where Am I, it plots the direction you are traveling in by taking your current point and comparing it with previous points/co-ordinates, so it's not an electronic or magnetic compass, but as long as you are within GPS range with a good 3D fix, and you keep on moving - it will tell you the direction you are traveling in.
One thing to note, is that like other GPS Applications you can only use one GPS application against one GPS Receiver at any one point in time, this is a limitation of GPS Hardware/Pocket PC Hardware, so you won't be able to use this whilst using another GPS application like a Street Navigation program (unless you own a GPS Receiver that offers multiple data feeds).