Review by Dave Burrows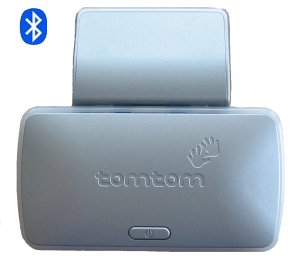 Earlier in March 2003 we announced that Leadtek had created a new Bluetooth GPS Receiver and showed photos of this. In early May we also brought you ground breaking news that TomTom were soon to release a Bluetooth GPS Receiver. It's now the beginning of June, one month later and we're glad to say we have the full TomTom Bluetooth GPS Review and before it's released! An exclusive!
TomTom say that shipment of the Bluetooth GPS Receiver will commence in June 2003.
TomTom have always had strong alliances with Leadtek. Previously TomTom have shipped the 9531, the 9532 and now TomTom have a new Leadtek Bluetooth Receiver (dubbed the 9821x).
Bluetooth is an emerging technology and we're going to see a lot more Bluetooth Receivers over the next 6-12 months. It all started in Q4 in 2002 with the announcement and trials of the Transplant Computing Bluetooth which outside of America has been sold as the Emtac or Socket BT GPS. Since then Fortuna has brought out a new combined handheld Bluetooth receiver and other companies who will be selling Bluetooth GPS Receivers in the near future are Leadtek, Navman and GlobalSat just to name a few.
The TomTom BT GPS receiver we have here is a pre-production version from TomTom. For anyone that hasn't seen the size of an Emtac/Socket BT GPS, it's really hard to explain because no matter how many photos you see, you always think it's going to be bigger than it really is until you see it in the flesh. This is the same with the TomTom BT GPS. It has almost the same dimensions as the Emtac/Socket BT GPS in length (87mm) and width (47mm) but is slightly deeper in height (18mm). For anyone that hasn't seen a Bluetooth GPS Receiver in the flesh, they are small for the technology they have inside.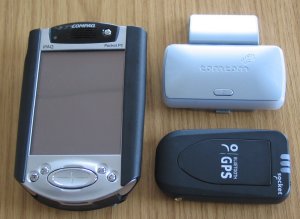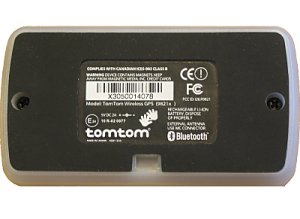 The bit sticking out of the TomTom BT GPS on the first photo above is the docking station. This docking station is also shown below. The docking station is made out of plastic and has two screw holes in the base allowing you to secure it to the dashboard, or to a desk, on the left hand side of the docking station it has a standard power jack socket to allow charging from a standard 5vdc desk or car charger (the iPAQ one works great here). There is also a special 2 pin socket and the TomTom BT GPS comes with a cable to fit this socket to allow you to plumb the power cable directly into the car rather than using an accessory socket which is a very nice touch! TomTom do suggest that you get it wired by a professional if you take this route.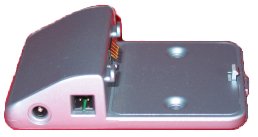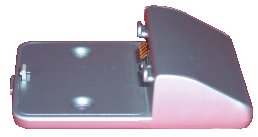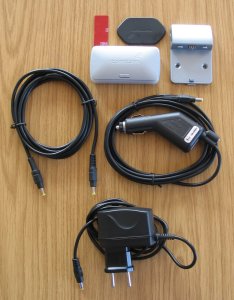 What's in the box ?
As this is a pre-production model we received everything except for the the Euro to UK 3-pin converter, and also the permanent power cable for use in the car.
According to the TomTom BT GPS manual, UK users should get these (they are not optional attachments).
In the box you'll find:-
3M sticky pad

Base magnet for if you just want to use the receiver on it's own

GPS Receiver

Docking Station

in-car accessory plug with extra jack socket on the accessory plug

a jack to jack accessory lead which allows you to connect one end to the BT GPS Accessory Plug and the other end to your Pocket PC to enable power and charging of the Pocket PC at the same time.

the iPAQ version comes with a 3600 to 3800 converter

a 2 pin American AC plug with a euro adapter (UK users should see a UK 3 pin converter).
Accessory/Cigarette Plug
The accessory plug is a new design over existing Leadtek power cables. It's moulded like most, and has a power jack plug on the end of the cable, but notice that the cable isn't coiled ? It's straight. The second thing which is easier to see in the enlarged photo on the right (below) is that it also has a spare power jack socket protruding out of the bottom of the accessory plug. This allows you to plug the extended spare charger cable in to power/charge the Pocket PC.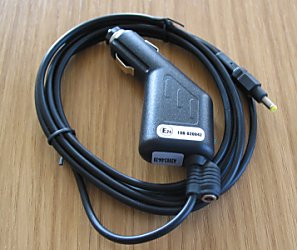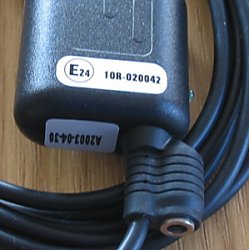 Technical Specification
| | |
| --- | --- |
| Length | 3.38" / 86mm |
| Width | 1.81" / 47mm |
| Height | 0.75" / 18mm |
| Weight | 2.6 oz / 76g |
| Humidity Range | 5% to 95% non-condensing |
| Operating Temperature | -4F to +140F / -20C to +60C |
| Power | 3.5mm female |
| External Antenna | MC female |
| Cradle | Covered connector for power supply by cradle |
| Built-in Battery | Lithium-Ion 600mAh |
| Battery Full Charge Cycle | 2 Hours (receiver off) |
| Continous Usage | 5.5-6 Hours |
| Power Operational Voltage | 3.3V DC +/-10% |
| Power Input Voltage | 5V DC +/-10% |
| Backup Battery Power | 3.3V DC |
| Battery Operational Current | 15-65mAh (Standby) |
| | 95-110mAh (GPS and Bluetooth fully operational) |
| | 110-130mAh (GPS and Bluetooth fully operational with external antenna) |
| Chipset | SiRFStar IIe/LP |
| Frequency | L1, 1575.42MHz |
| C/A Code | 1.023MHz chip rate |
| Channels | 12, All in view tracking |
| Internal Antenna | Patch Antenna, disabled when optional external antenna is connected |
How does the TomTom BT GPS perform ?
The Bluetooth GPS performs very well. The power on and power off mechanism seems a little strange.
Why ? Let me explain. If you compare it to the Emtac/Socket BT GPS you turn on the GPS and within 2 seconds the Bluetooth light will start to flicker, if you switch it off, it immediately turns off.
The TomTom BT GPS is somewhat different. You have to press the power button on top of the receiver to power it on, but just a simple press and release will not power it on which is good as a safeguard, you have to press and hold the button in for about 1-2 seconds and release and then you'll see the unit power up. The Bluetooth light won't light up for about 13 seconds, so it appears to go through a self check before initiating Bluetooth which is a bit of an annoyance. Although 13 seconds isn't long to wait, it won't start talking until this 13 second period is over, which adds time to your TTFF effectively if you could the time from when you hit the power button.
Now to power off, you have to hold the power button in for 3-4 seconds. If you continue to hold the power button it will still remain on, but as soon as you see the green power light go constant, you can release your finger and it will power off. This does seem a little strange, but it does cater for false power on's and power off's.
The Emtac/Socket BT GPS was revolutionary because of the new SiRF chipset it contained and the antenna built into the receiver enabled you to pick up a satellite lock on windowsills where you wouldn't usually be able to pick up satellite locks with the average GPS Receiver. Below you will see two comparative screens where both GPS Receivers were placed on a windowsill which won't give a signal to most Pocket PC GPS Receivers, the first is the TomTom BT GPS and the second is from the Socket BT GPS. Although they have both picked up different satellites, you'll see signal strength and satellite numbers are on a par with each other.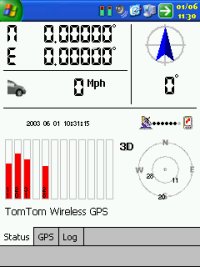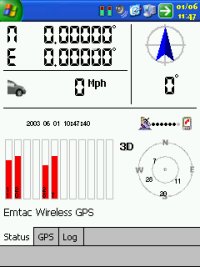 Time To First Fixes as you'll see in the tables below are very respectable mainly coming in below 50 seconds which is what we tend to find on the better Pocket PC GPS Receivers.