So what do the clips look like? How do they Fit?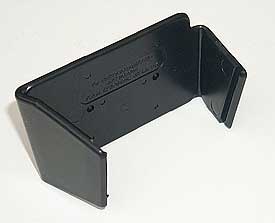 I tried 3 clips: Chrysler Voyager; Ford Probe; and a Universal Clip. All of them are constructed from black ABS plastic and not only look, but are, extremely strong.
Each clip is moulded to fit between the gaps of the joins in the vent or trim of your car. All the ones I tried had a lip which hooked very firmly into the gaps in the trim.
In fact I did my normal trick of making sure that they fitted and worked properly before taking any photos. This meant that I had to remove them to get the pictures. Although it was not difficult to get them off they were very firmly fixed on. This is somewhat gratifying as you really do not want your PDA and GPS dropping due to a badly fitting mount.
The other good thing is that when removed there were no marks indicating that the clip had been installed and removed.
It is difficult to describe exactly what they look like as they will be different for each car.
A common feature to all of them though is two holes in the centre of the face of the clip. I am not sure if this is by design or by accident, but these holes are perfectly aligned for the Brodit PDA holders without the swivel base. I first looked at mounting the swivel base, but there are no predrilled guides so you need to create your own. To do this you need to remove the holder from the swivel base. This was when I realised that the holes matched up perfectly.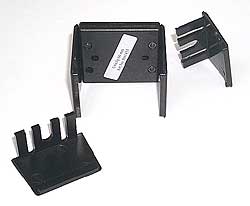 Having discovered this I hunted around and found a couple of nuts and bolts and mated the holder directly onto the clip. I then installed it in the car and found that the angle was perfect. Why bother adding the swivel. When I installed in the second car I found the same thing worked again.
This has resulted in a PDA mounting solution that really feels solid. It could almost be part of the car design. This is particularly true with my ford probe, where with the ProClip I had to wedge a bit of plastic into the clip to keep it stable, with the SmartClip it is completely solid and immobile, just what you want.

The SmartClip is available for most cars, but if you want to install in a non- supported car, or to place the clip in a different location then you can use the universal clip. This has two adjustable arms to expand to your required width, varying from 60mm to 90mm. This clip is supplied with two lengths of arm, allowing a certain amount of adjustment. These clips require gaps in trim/vents which are parallel.