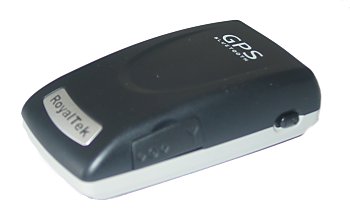 Review by Dave Burrows
Introduction
RoyalTek is already a well known and established company operating out of Taiwan that have brought out great GPS Receivers like the Sapphire (RGM-2000) and also last year brought out the first Bluetooth GPS with Datalogging enabled out of the box (RBT-3000). This time RoyalTek have gone back to basics and decided to bring out a smaller (and lower priced) brother to the RBT-3000, which is called the RBT-1000 or BT GPS mini!
One thing that keeps happening is technology becomes smaller and smaller as months go by, and RoyalTek have created a remarkably small Bluetooth GPS, along similar dimensions to the Fortuna Clip-On, but smaller still! What's more, it also has a removable rechargable Lithium-Ion Battery!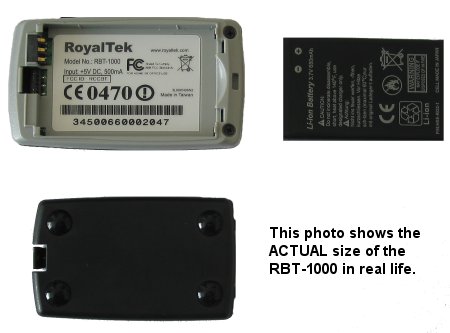 The RBT-1000 weighs in at a staggering 45g and comes in at only 70mm x 41mm x 23mm in dimension which makes this a nice attractive GPS! RoyalTek haven't sacrificed any hardware in the RBT-1000, it still comes with a 12 satellite SiRF chipset, but not a SiRF IIe/LP chipset, but SiRF XTrac 2.0.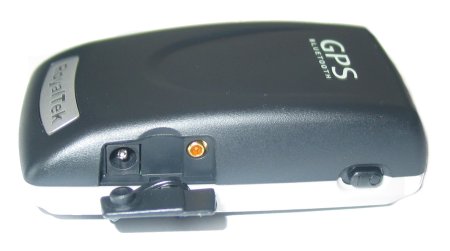 On the right hand side, there's a pull down rubber flap which houses the DC charging socket and the MMCX External Antenna Socket. At the right and rear (far right in above photo) you will see an on/off slider button.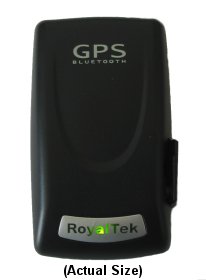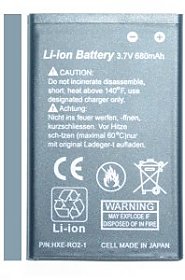 RoyalTek have decided not to put any independent LED's into the RBT-1000, the LED's actually light up behind the RoyalTek badge, above you can see the power green light lit up.
Accessories
The RBT-1000 comes complete with the removable Li-Ion Battery rated at 3.7V 680mAh, and also a car charger. A mains charger is available as a seperate accessory.