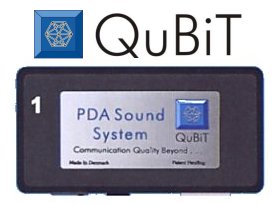 Review by Darren Griffin
Introduction
The low volume of the speakers on many of the latest PDA's is frequently cited as an issue when using them for in-car navigation. As each new model is released to an eager audience it seems that the addition of new features such as Bluetooth and WiFi are added at the expense of a smaller PDA speaker and lower output volumes.
A Danish company named Qubit have recognised this and come up with an innovative and practical solution to the problem. Using their background in cell phone audio mute systems design they have produced a black box sound amplifier for PDA users.
What's in the box?
Open the package and you find the small black system box, a sturdy mobile speaker, a plug & play power connector (more on this later) and an audio cable (only a 3.5mm socket in the review unit but a 2.5mm socket lead will also be included in future packages) to connect to your PDA.
The system box itself is well made and discreet. A feature worth explaining here is their plug & play installation system. Qubit provide the mobile speaker and a cigarette power lead with cigarette lighter so that even the less technically minded user can be up and running in just a few minutes.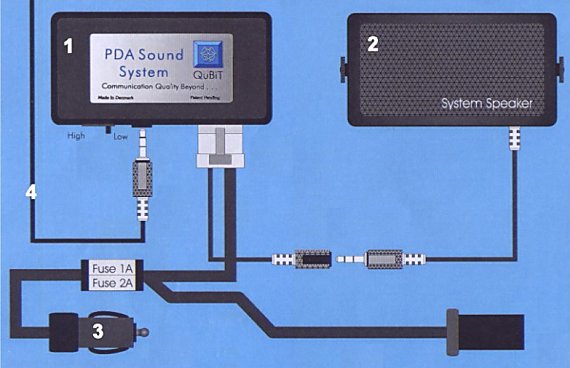 | | |
| --- | --- |
| Key | |
| 1 | System Box |
| 2 | System Speaker |
| 3 | Plug & Play power cable |
| 4 | Plug & Play audio cable |
This works perfectly, plug the power lead into the cigarette lighter socket; connect the mobile speaker to the system box, plug the audio lead into the headphone socket and you are ready to go! Helpfully Qubit even provide a 12v cigarette lighter pass-thru socket so that you don't lose the ability to charge your PDA whilst the Qubit system is using the car's socket. The downside is it is a little messy although the majority of the kit can be tucked behind the dashboard or trim. Although not specifically mentioned in the installation pamphlet it is possible to have this system professionally installed. The system box can be connected to an ignition controlled 12v power source and the mobile speaker dispensed with in favour of a hook up to the in-car sound system.
Most new vehicles provide an input specifically for cell phone car kits and this system will integrate perfectly with them. Installing in this way would automatically mute the in-car audio when your PDA is speaking!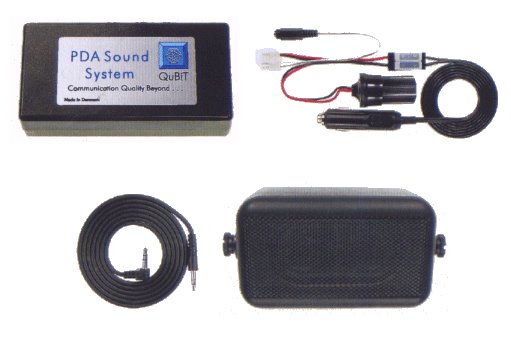 Although the amplifier is constantly connected to a power source it is designed to operate only when it detects an audio output from the PDA. Normally this would result in 'clipping' of the audio where in the fraction of a second it takes for the amplifier to power up after detecting an input the initial sound is lost e.g. the spoken word 'Turn Right' would become 'Urn Right'!. Qubit's device is lightning fast in sensing an audio input and only occasionally can any clipping be detected and even then it is barely noticeable.
The only other control on the system box itself is a High/Low amplification switch. I found low to be plenty loud enough and I imagine High would work on a motorcycle!!
| | |
| --- | --- |
| Specification | |
| Voltage: | 10 - 26 Vdc |
| Current active: | 600 mA / 12 Vdc |
| Current passive: | 40 mA / 12 Vdc |
| DC noise reduction: | > 200 dB |
| Speaker channel: | mono |
| Amp power: | 5W |
| Gain Selector: | High/Low |
| Gain level: | Low = 35% high |
| Signal input: | 3.5mm jack |
Conclusion
I have to say that this system works superbly. Sound can be heard above road noise, in-car audio and even my wife! For anyone looking for a solution to the low volume issue this is it. If you take the time to install the system box behind the dash and power it from a 12v feed it is almost totally hidden except for the mobile speaker which can be fitted in the foot well area. My only complaint was the length of the mobile speaker cable. I tucked the system box behind the center console adjacent to the cell phone control box but wanted to place the speaker on the left of the passenger foot well. The supplied lead is hard wired into the speaker and only 8 inches long which was too short for this install. It is easily resolved using a 3.5mm extension lead but I have since heard from Qubit that following this review they have taken steps to supply a longer lead with the speaker. Owners of PDA's with 2.5mm headphone sockets will also get a suitable 2.5mm lead in future packages so a big thumbs up to Qubit for their rapid response to the two minor issues I have observed.
Qubit have appointed Nemesis as the UK reseller:
Nemesis (GB) Ltd
13 Aintree Road
Keytec 7 Business Park
Pershore, Worcestershire
WR10 2JN
England

Phone: 0870 777 5530


Web: www.nemesisgb.com
Email: [email protected]