Review by Dave Burrows
Introduction
Navman are no newcomer to the GPS Market, and nor is the Navman sleeve, but something's happened recently which many GPS users especially Navman customers will welcome. Navman back in 2001 released the Navman GPS 3000 which contained a Navman designed sleeve for the Compaq iPAQ and also came with bundled GPS software for the Pocket PC. Since then many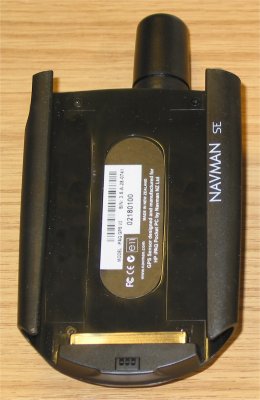 Navman users have not been happy with the GPS sleeve due to performance issues, especially when acquiring a cold fix which could leave you waiting for anything from 5 mins up to 45 minutes if you commenced your journey.
Pocket GPS and Navman users have been trying to get Navman to look at these TTFF problems over the past couple of years since release, and Navman had admitted that most of the problems were down to processor interference where the GPS circuit board was too close to the processor on the iPAQ and was receiving RF (Radio Frequency) interference. Pocket GPS have been working with Navman to alleviate these problems with newer service packs, one solution was for Navman to increase the baud rate of their GPS receiver sleeve so that it could transmit data quicker and put the processor into a wait state which reduced RF interference, the other options was optimising the software through Service Pack 1 on SmartST Pro.
Well, we have to take our hat off to Navman because they've now done something hardware wise to combat this problem many users faced and this appears to be resolved now in the new revised sleeve called the 3450.
The 3450 has a new updated ROM which helps in TTFF timings, Navman say they have also installed a military grade crystal to aid in quicker warm and hot fixes, and if you still are receiving fix problems, whether it's down to the sleeve or outside interference like a heat reflective windscreen, Navman have now built in an external antenna socket onto the sleeve!
The new sleeve is called the Navman SE and you'll see this logo on the right hand side of the new sleeves. The new Navman GPS 3450 comes bundled with the Navman SmartST Pro software and now replaces both the Navman GPS 3400 (UK) and Navman GPS 3420 (US) products.

External Antenna
As you'll see from the photo above, the new Navman 3450 sleeve is on the left with the old 3400 sleeve on the right.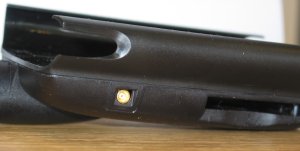 There really isn't much of a difference cosmetically between the two sleeves, the antenna and the label are really the only differences to the sleeve that you'll notice.
The antenna socket that Navman have added to the new Navman 3450 sleeve is an MCX socket. This is a universal socket that you'll find with most patch antennas.
The antenna is sold separately and is available from all good retailers. It does give you an option to either use a Navman antenna or third party antenna without the real need for a true powered re-radiating antenna.
Box Contents
When you open the box you'll find
Navman 3450 iPAQ Sleeve Receiver

two CD's covering European Maps of SmartST Pro

Vehicle windscreen mount for GPS Receiver

Vehicle Power Cable for GPS Receiver

Quickstart Guide
NAVMAN APPROVED - Professional In-Car Mount
A safer and more convenient driving environment for your NAVMAN GPS equipment. The ProClip system offers a safe, secure and flexible method of mounting NAVMAN GPS equipment inside your vehicle. A combination of the unique clip and dedicated GPS mount allows your GPS receiver and/or PDA to be positioned in almost any location in your vehicle giving unparalleled safety, comfort and usability.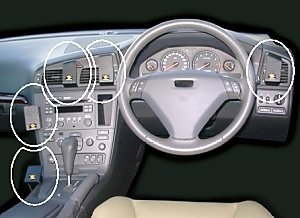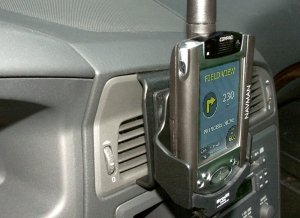 High Quality
The ProClip Mounting Platform has been produced and developed by Brodit AB since 1983. We meet the market's demand on quality products with functional solutions that are easy and convenient to use.
Does not Damage the Interior
The ProClip has a firm fit. The interior of the vehicle will not be damaged as no drilling holes are required and you do not need to dismantle the dashboard.
Saves Time The ProClip saves you time. Installation is easy, with no special tools required. Detailed instructions with pictures are included.

Many Alternatives There are ProClips to suit various positions on the dashboard or console, giving you options for positioning and making several different installations in the vehicle.
The tailor-made Professional NAVMAN Holder has a perfect fit. It holds your GPS safe and steady.

The holder is mounted onto a tilt swivel, which allows you to tilt and swivel the holder in order to avoid reflections in the display.

The holder is manufactured in black ABS plastic which can withstand temperatures of up to 100°C (212°F).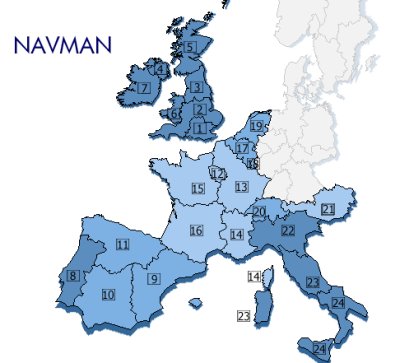 Installing the Maps
You have several options when installing the maps. You can either install by sector, or install the complete maps.
This is now becoming a standard in GPS mapping software for the Pocket PC, and is welcomed that you can choose the complete maps and not have to worry about routing between map segments, or you can install a segment at the time if disk space is a major limitation on your Pocket PC.
The complete UK maps come in at just under 100mb in size
Most of the segments average around 20mb in size, some smaller, some larger, if space is restricted, or you don't run any SD or Compact Flash Card storage, then you may find installing individual map segments better than installing the complete maps.
Tutorial
Navman have chosen to do something special, although the manuals are on the CD, they've introduced a quick start guide / Tutorial when you start SmartST Pro. This can be toggled on and off in the setup screen and gives you a head up of which hardware keys are mapped to which software features, and tells you how to tap and hold to bring up the context menu and also showing you the back and forward buttons. This is a very good feature and helps you get up and running with SmartST Pro in the shortest time possible. Come on, lets face it, everyone put up their hands who reads paper manuals ? You only seem to read these when there's problems, so putting this on screen, does actually help and made us read it!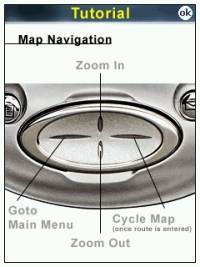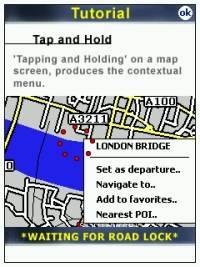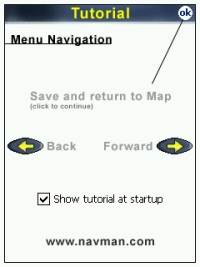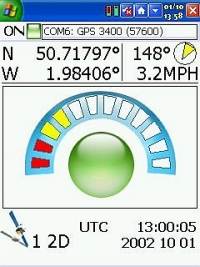 Time To First Fix Findings
TTFF's we recorded from the 3450 ranged from 48 seconds on a cold fix to 1 minute 09 seconds.
All timings were very respectable and I don't think you'll experience any problems here. Re-acquisition times were also very quick, signal strength compared to other BT GPS's seem to be slightly less at around 1-2 sats, but we never lost a fix under our tests until we ran our heavy foliage test.
GPS Status Screen
The GPS Status screen is nicely designed, and gives you 2D and 3D fix information.
Existing Navman SmartST Pro users will remember this screen, and nothing has really changed in the software or the GPS Status screen since previous versions apart from opening up the driver database to all COM ports and baud rates.
SmartST Pro Menu's
When you press your left cursor pad key you'll be taken into the Main Menu. This gives you all the usual features you would expect to see when allowing for features like POI, Re-Routing and Voice Navigation.
In the Main Menu you'll see other sub menu's available. The Quick Nav menu will give you quick navigation options like Return Trip and recent Navigations that you can select.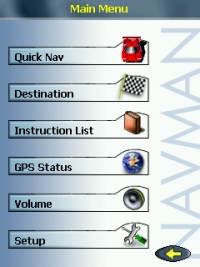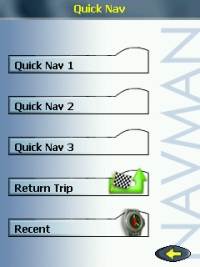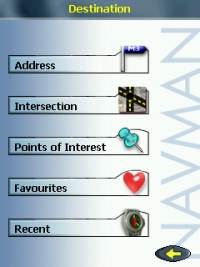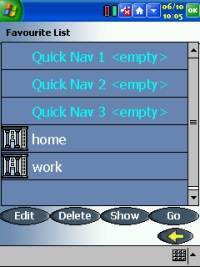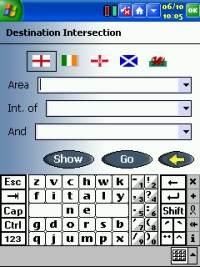 The Destination menu will give you options where you can create a route to a specific address (including door to door routing) allowing you to end a house number which is something that TomTom Navigator lacks at present. You can also specify to create a journey by selecting an area by intersection.
There is also a Points of Interest Screen where you can specify a Point of Interest you want to navigate to which is a very handy feature.
I've always wanted to drive to a hotel and have had to enter either the road, or address and plot to this, with SmartST Pro you can now use the extensive POI database to create your journey.
All of the Destination Menu's will ask you to put in the area, then road, then house. In Area you can specify both Country or City/Town which is invaluable.
Sometimes if the area is foreign to you, you may not know if it's a Town or City, or Country you are visiting, and SmartST Pro is smart enough to recognise either, which cuts down on your route plotting time!
SmartST Pro also have a Favourite screen which allows you to select your Quick Nav saves, and also any locations you've added as favourites.
Finally you will also find a volume screen where you can set the volume of your Pocket PC speaker.
SmartST Pro Setup Screen
When you enter into the Setup screen you will see a plethora of options that you can select.
In the first screenshot you can change the display from a day to night display that makes reading it easier at night, you can change the colour scheme of the maps, and toggle the Tutorial on and off. In the second screenshot you can turn Voice Navigation on and off, and select whether you want a UK male voice or UK female voice guiding you to your destination. You can also change the distance units from Miles to Kilometers.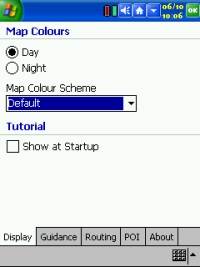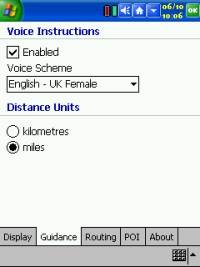 In the third screen, you can change your Routing Type by selecting the Quickest Time, and the Shortest Distance, and you can also tell it to Avoid Toll Roads (which will come in handy when the government start to introduce this in the UK), and Avoid urban Areas, which is good if you want to not take a motorway route, but likewise you don't want to be taken through town centres. There is also an option for Automatic Re-Routing, and a Record Route option. In the Fourth screen you'll see the POI (Points Of Interest) screen where you can toggle these on the maps, and manually select which POI data to see.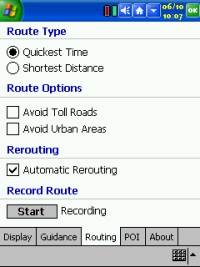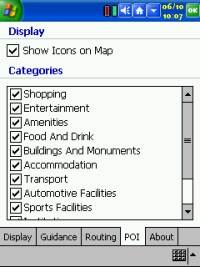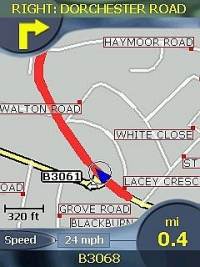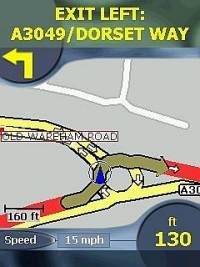 Maps
We've checked a couple of roads that have only been available in the last 8-12 months and these roads do show up under UK maps, so the maps do seem to be fairly up to date, however there have been comments already in our forums about some new roads not being on the maps. Navman say they chose NavTech for their mapping company because they are currently considered the market leader in electronic mapping. As with all maps, there will always be roads that aren't on the maps, however we weren't able to find any in the short period for the review.
The maps are very clear and precise, and all screens have a professional 3D style look and feel which adds to the prestige of the application. Getting used to road names is a little difficult if you've used GPS Street routing software as with most software the road names are written within the road which mean you have to be zoomed in to around 80% before you see a road name, however Navman have overcome this by putting a red dot on the road and coupled with the road name displayed in horizontal form. Although it takes a while to get used to this, you can see why Navman/Navtech have chosen this path, if you compare maps from other GPS software you will see that most are lacking road names at wider coverage levels, where as SmartST Pro still shows most of the street names. This is great if you are travelling along a dual carriageway or an A road and are looking for a side road. Directional turns, speed, distance to next turn and road name and designation are pretty much standard across all GPS street mapping software now, and Navman have made sure that all of these have been included.
No matter what type of road junction you chuck at SmartST Pro, it handles it very well. Take the bottom right screenshot. Not exactly an easy junction to follow, but SmartST Pro got it right first time!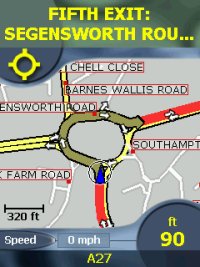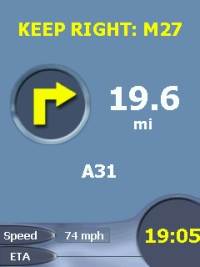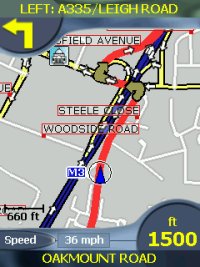 Voice Navigation
Navman have added Voice Navigation to SmartST Pro, and this is a welcome feature. However comparing this to other products, we did find that the way the words had been crafted, there were gaps at the beginning and end of each word, which when strung together made both the male and female voice sound as though it wasn't being read as a proper sentence. Although the gaps on most of the spoken words seem to be only perhaps a couple of milliseconds, it was enough to notice the voice navigation was glueing words together. One other problem we notice with the voice navigation is although it's more than adequate from a decibel level when driving normal roads, when driving motorways, and having background noise from the tyres on the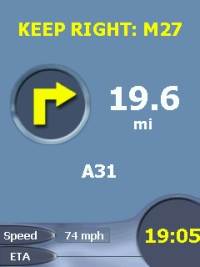 car, and also having other distractive noises like a radio on, and air conditioning, or even a window open slightly, this seemed to drown out the voice navigation. It would be good to see the sound files increased by about 10-15% in volume, which you could usually do yourself if they were WAV files, but Navman have integrated them into a data file, so attempting this yourself would be difficult. We found the Voice Navigation to be a little quieter when compared to TomTom Navigator.
Navigation Safety Screen
The Navigation Safety screen, really does look sexy! It's been well designed with a 3D look and feel, and gives you all the information you would need on following a route. It gives you the next turn you need to take, and tells you in how many miles this will be, and also shows below this which road you are currently on.
Coupled with your current speed, and time, it will also show you an ETA (Estimated Time of Arrival), which is very much welcomed.
The amount of times I have thought I would be late for a meeting, but I've been trying to work out the distance and time according to my watch.
SmartST Pro does all the calculation for you on screen, so if it looks like you are going to be running late for that important client meeting, you can phone ahead and let them know!