NAVMAN Maps
The NAVMAN comes supplied with two CD-Roms. One is the Smartpath Trips CD which includes a general atlas for most of Europe. This will take you down to major A roads in the UK allowing you to plot journeys from A to B (See Fig 4).
The second CD is Smartpath City Maps (Fig 5). This includes 600mb worth of city maps covering over 100,000 cities from the UK and Europe. Most of the City maps are around 500K to 1mb in size and do include neighboring towns and small villages so if you do get lost, and move out of the area of the village or town you are in, then you should be fairly well supported.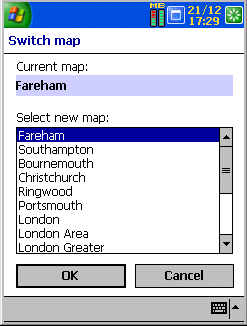 (Fig 5)
Smartpath City
I've tried several city maps in the UK, driving around plotting routes and I have yet to get lost! The one negative point I have about the maps is that only major roads have road names shown. When you get to around 80% zoom, minor roads and side roads start to become labeled. However, the smallest of road names don't appear until you are in 100% zoom mode see Fig 9).
With a PocketPC screen, you will not see many roads at 100% zoom (especially if you're traveling around 30mph), so this is a little let down. At any zoom level, you can click on any road with the stylus and it will display the full name of the road (See Fig 6). This can prove rather difficult whilst driving a car and could become quite dangerous and is not advised!
Another feature of the Smartpath City is that the map shows one-way roads, making sure you don't drive the wrong way down a one-way street. Most people only believe foreigners do this, although if you're driving and trying to navigate a map at the same time, it is quite easy to fall into this trap. You also have the option of changing the distance from miles to kilometers depending on your preference.
Route Planning has never been made this simple. Just tap and hold the stylus on a road on the map and you'll get a pop up menu appear where you can select the departure, destination, or stopover waypoints. If you don't know the area of the map you wish to travel from, but do know the road name or designation, then you can click on the magnifier glass on the toolbar and specify by name.
Once you've set the departure and destination, you can then calculate the route. Smartpath City will highlight the route it believes you should take (see fig 7).
With Smartpath City, you can also set favourite locations where you can plan routes from one favourite location to another, allowing for quick route planning if you are traveling the same journey on more than one occasion e.g. from home to work, or hotel to course.
Once you've planned your route, you can either watch your navigation via various levels of zoom on the map, or you can view your journey from a complete walk through of instructions, or enjoy the best of both worlds and have a screen with both instructions and maps integrated together (see fig 8).
The maps supplied are very up to date. I did find one road that had changed from a one way to a two way road in the past 6 months and wasn't shown correctly on Smartpath City. However I wouldn't really expect these to be updated yet as offering completely updated maps more than once a year really isn't necessary in most cases. When GPS is enabled you will see a triangle pointing in the direction you are traveling.
One thing that hasn't been included which would make this the ultimate package is voice notification of when you are reaching roads or if you've moved off the planned route.
Map Detail
Most people when buying electronic mapping software always ask the same questions.
How much detail do the maps produce ?
Are the maps as detailed as a paper street map ?
Do the maps allow you to zoom in to a road ?
I have included a map of Southampton City Centre (England) with varying levels of zoom going from minimum to maximum zoom. The zoom detail can be viewed in (Fig 9).
Smartpath Trips
Smartpath Trips seems like a re-badge of the original Route Planner Millennium from Palmtop. This although really isn't good enough for towns and city navigation down to street level, it's certainly good enough to plot long journeys or journeys between towns and cities.
Smartpath Trips contains the same program interface as Smartpath City, the only difference is the maps.
Smartpath Trips also allows you to select an overlay which will show you places like Railway stations and Airports, but don't expect much more than this.
Smartpath Trips and City are lacking in some of the extra features Autoroute users will be used to, like being able to view Petrol Stations, Schools, Bus Stations, and Shopping Centre's.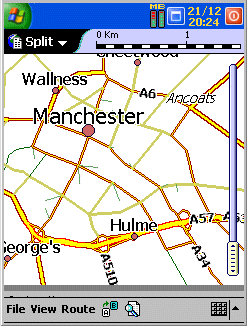 (Fig 11)