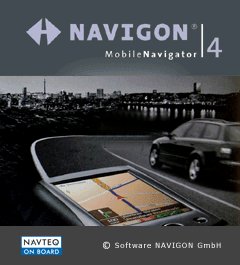 Review by Dave Burrows
Introduction
Navigon is an emerging name across Europe and Navigon's main office is situated in Würzburg, Germany. Recently Navigon have released European maps, started selling older versions with the Medion's packaged deal at Aldi Supermarkets and Halfords in the UK, and now Navigon have brought out version 4 of their Mobile Navigator which we will review here.
Navigon have taken a slightly different approach to marketing, Navigon Mobile Navigator has always been pitched more at the business user, the kind of road warrior compared to the consumer who wants it more for recreational driving.
Software - Modular Design
Now onto the software. As you will see from the screenshot's below, Navigon have again gone for a modular design allowing to show a lot more information and controls on screen, it does reduce the overall mapping area, but will switch itself off automatically, or if not, you can switch it to AUTO.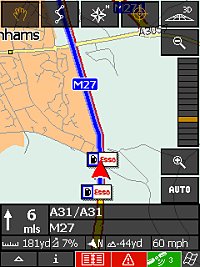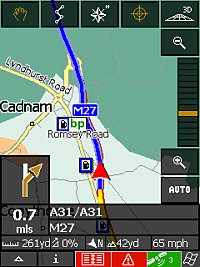 To the novice or to the uninitiated, Navigon's screens can look a little cluttered, but once you do get used to them, they're not bad. As with most GPS Navigation Applications on the Pocket PC you can tap and hold an area of the map to obtain a context menu and add it as a destination or favourite.
Toolbar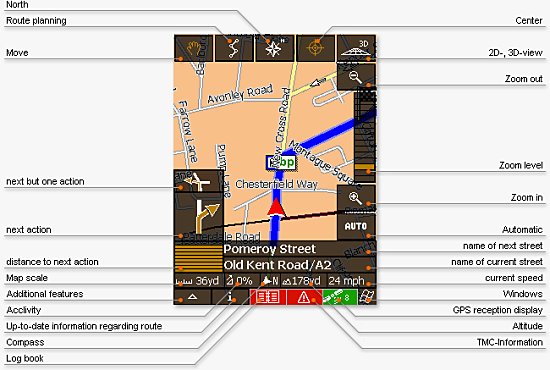 On the right hand side of the screen you have the zoom - / + buttons and also a slider so you can tap anywhere on the slider for a quick zoom in / out.
The lower part of the screen shows you the distance to next turn (above this a pop-up arrow will appear showing you which way to turn when close to the junction), it also tells you the next road, followed by current road you are on.
Bottom left the triangle is the access point to the menus, i will re-speak the current turn, you also have an address book (Pocket Outlook Contacts), the warning triangle is for TMC, the satellite status and a windows logo which will toggle between full screen mode and one with a task bar on top.
2D / 3D Mode
Like with many GPS Navigation programs, Navigon have a 2D and 3D mode. The 2D shows a huge level of detail, but the 3D seems to be lacking a lot of side road information restricting what you can see off your current route and does look a little more rough around the edges with a more pixilated road edging.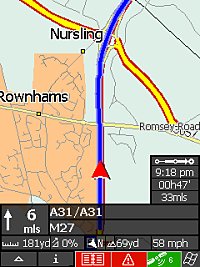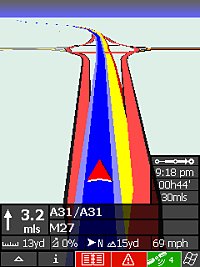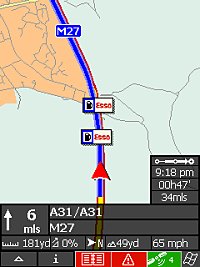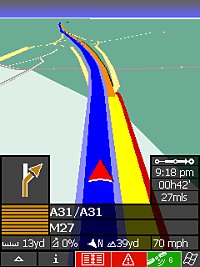 Menu's
Below are a collection of Menu Screenshot's I found that it took me quite a while to master the menus. Most applications tend to have either vertical or horizontal menus which then take you into another screen, but Navigon seem to have gone with horizontal, vertical and launching you into a new screen. Because of this Navigon's menus are different to the norm and one moment you will be in a vertical menu, when you tap an option you will then be taken to another screen with a horizontal menu. I can see why they have done this as it makes displaying information on-screen simple and not having to move in and out of a screen for every single menu option, but it does get confusing and doesn't feel natural.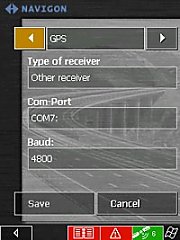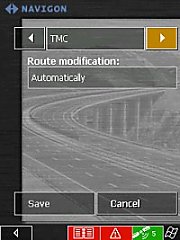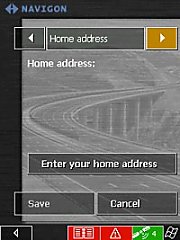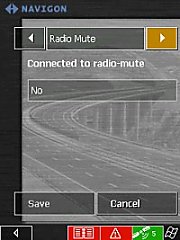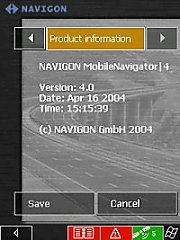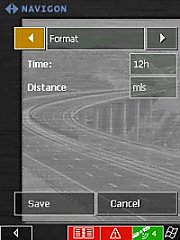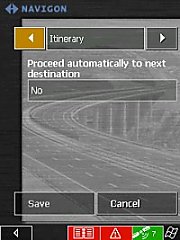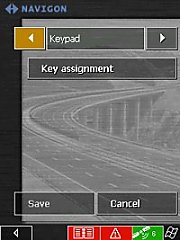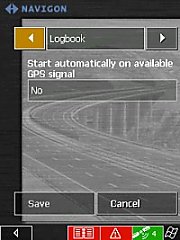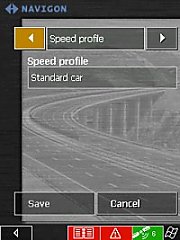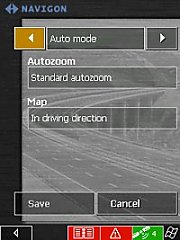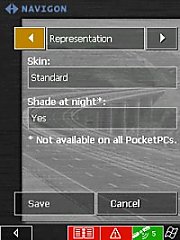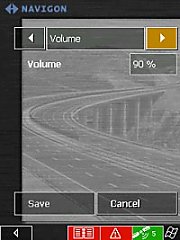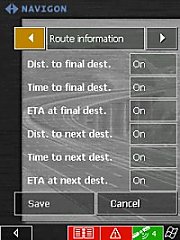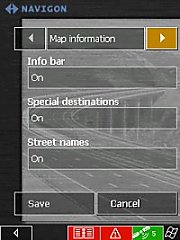 Searching for Addresses
Searching for addresses is fairly simple by going into the Navigation menu, and selecting either Single Destination or Multiple Destinations and then enter the address by selecting the country first, then city, then street and then house number. Rather than entering city you can enter a post code here (5 digits) and it will come up with the postcode you want, but you still have to enter a road name and house number (if required). You are also forced to enter a town/city and if you will also be prompted with your last one you searched for, so you will be forced into entering a town/city to narrow down the selection.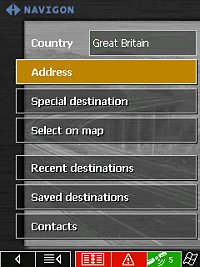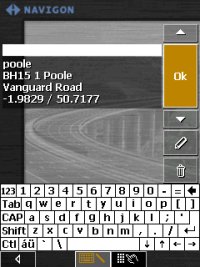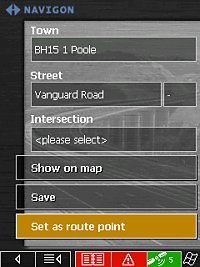 Navigation Directions
Whilst on a journey if you select Show Route List on the menu will show a complete list of turns that you need to make, you can scroll up and down and select each one.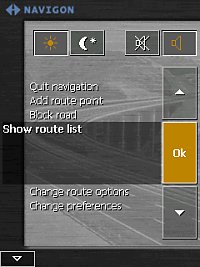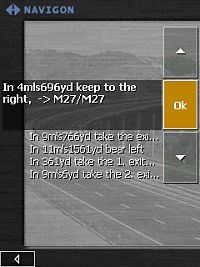 TMC (Traffic Message Channel) - Introduction
I earlier mentioned about the TMC module, but did not go any further until now. TMC is not something new, but it is new on the Pocket PC platform and PDA's in general. TMC has been around for a while now in the UK and also across Europe, TMC is Traffic Message Channel and supplies traffic news to TMC based receivers. TMC is more prominent in dedicated dashboard GPS models like Blaupunkt, Becker etc. What TMC should do is allow you to receive traffic data, have it integrated with the GPS package and either have the GPS package automatically re-route you or to be given the option to take a re-route or not. There are good and bad points about TMC. For instance, there's different frequencies and different organisations that manage TMC across Europe. iTiS in the UK manage TMC and it is broadcast on Classic FM as a data carrier which for the south is 100.3 MHz FM. I said there's good and bad points. The problem is that navigating across Europe will require scanning for different frequencies, so you need to make sure that TMC can support all the frequencies, and some countries have FTA (free to air) and also some paid subscription services, so you may not get all the traffic news you want on the FTA models. In the UK it's completely FTA, there's no paid subscription model (yet).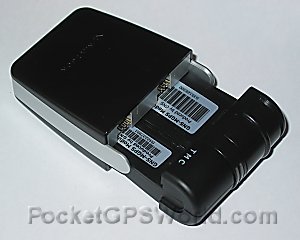 TMC - Country Support
Navigon's TMC module will pick up all the FTA (free to air) TMC signals across Western Europe and automatically scan and tune into these for you. So how does TMC for Navigon weigh up ? Pretty well actually. Navigon are using the GNS modular receiver which allows you to not only change the type of GPS either cabled or Bluetooth as modules, but there's also a standard module and a TMC module so if you want TMC, you can purchase the TMC module to work either with the standard mouse type GPS module, or with the Bluetooth module. Navigon provides the ability to auto scan the frequency for TMC data, and to lock on when it finds the best signal (in layman's terms similar to RDS on FM where if you travel several hundred miles it will track and always give you the more stronger signal for the radio channel you are listening to).
So does the TMC module have a radio receiver ? Can I listen to the radio ?
The TMC module is a radio receiver, but no you cannot listen to radio from the receiver, it's only listening for the data carrier that's being broadcast on the back of Classic FM. This is a specific module that has been designed to receive TMC, so you must have this TMC module, you cannot just connect your PPC up to your car stereo to receive a TMC signal as this will not work, or expect to connect your Pocket PC to the GPS Receiver without the TMC module (or without the antenna) as again this will not work. You need to have the TMC module and TMC Antenna for the modular mouse to get TMC working. This like everything comes at a premium, and costs about €100 / £75 more than the standard hardware/software package. iTiS in the UK are also requesting a one off lifetime payment per software release, and although no final price has been set, a one off license fee will be required to be paid and is expected to be around the £50 mark.
TMC - How well does it work ?
Navigon works pretty well, once you have a GPS fix and it's obtained the TMC data carrier from Classic FM, it will receive data and correlate that to the route you have planned and warn you of any incidents.
Tapping the little warning triangle on the bottom area of the screen / toolbar will pop-up the TMC screen like below and will allow you to move between TMC messages. If you have Navigon configured to automatically re-route you then it will do just that. However, I have always wanted to check the TMC message first, evaluate where I am on the journey and then make a decision as to whether I want to be re-routed, so setting this to prompt works better for me.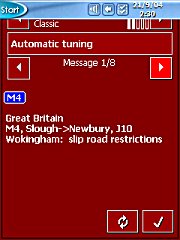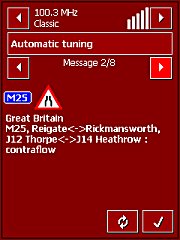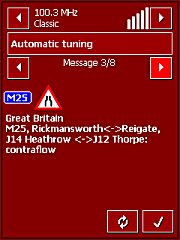 I mentioned earlier that for the South of England that Classic FM was 100.3 MHz, but as you will see by the screenshot's below, Navigon has auto scanned the frequency and the third screenshot (below) you will see at 104.0 MHz, so there's no need to manually tune the TMC, it will be done for you.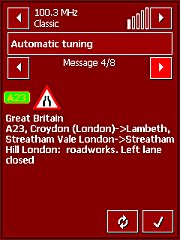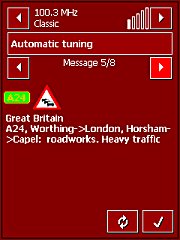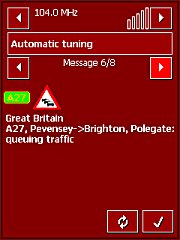 Likewise on the screenshot's below there's a range of TMC being picked up now around 90.2 MHz to 90.7 Mhz. I'm not too sure what it thought it was picking up as Classic FM doesn't broadcast on these frequencies.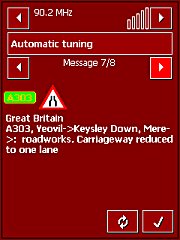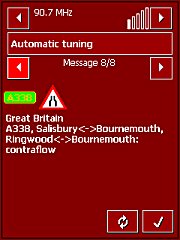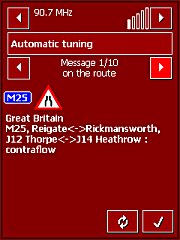 Be warned that you won't just receive traffic information about your route, but for the part of the country you are in, so even though I wasn't travelling on the A303 or A338, or M25 Navigon still provided this information as an All Round Picture as it could have had bearing on my journey with tailbacks onto other roads or motorways.
Skinning
Navigon have added a skinning option allowing you to customise the look of Navigon by using different skin colours. Below you can see the default skins that are available within Navigon Mobile Navigator|4.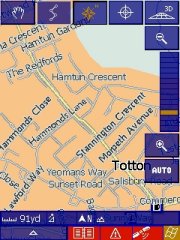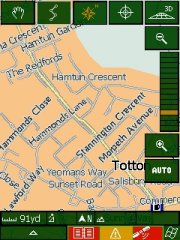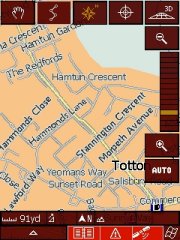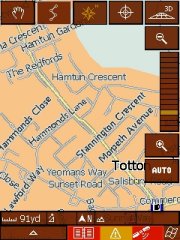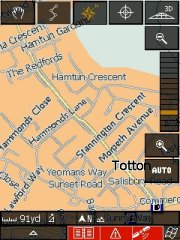 GeoData and Routing Algorithms
Navigon Mobile Navigator uses NAVTEQ data which is considered to be the better between NAVTEQ and TeleAtlas in the UK. Searching for addresses was easy, most of the addresses I found very quickly, others I could zoom in and pin-point an area of the map to select as a destination and found it fairly easy to set destination points. Routing algorithms were fairly spot on with other NAVTEQ applications, giving more priority to major roads than minor roads and re-routing was fairly quick too.
Problems Encountered
There were two problems I experienced which I would call major. One was on install, where you have to install all 5 CD's that cover Western Europe. After getting part way through the third CD, it asked for the next CD, and it wouldn't accept it. Thinking there may have been a read error, I checked the CD and it was intact and Explorer could retrieve it. After then thinking about inserting CD 3 again, then 2, then 1 and it accepted this, quickly went thorough CD 2 and 3 again and then asked for the next one and accepted 4. This held me up about 20 mins trying to work out why it wouldn't read the CD's. I have tried this on several computers and experienced the same problem, but it may just be the CD's I was sent for review at fault.
The second problem was a problem with 4.0 where the config files would corrupt on exiting and would require you to re-install the application again. Navigon say they have fixed this major issue and it's fixed in 4.2 and above.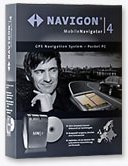 Pricing
I'm always a bit wary of publishing pricing because this changes so quickly in the GPS and PDA market, but please note that these prices are at time of writing the review.
Navigon Mobile Navigator|4 - No Hardware ( €229 / £156 )
Navigon Mobile Navigator|4 + Mouse ( €369 / £251 )
Navigon Mobile Navigator|4 + Mouse + TMC ( €469 / £319 )
Navigon Mobile Navigator|4 + BT ( €469 / £319 )
Navigon Mobile Navigator|4 + BT + TMC( €579 / £394 ) + £50 iTiS Lic
These prices although originally look quite high, when you compare do work out pretty well when you think you have to usually pay extra for the GPS hardware. TMC also seems to come at a premium of €100 / £75. The great thing about the Navigon GPS is that it is built of a modular design and if you don't want Bluetooth one day you could buy the standard module and have a regular GPS.
Pro's
Complete Western European Maps
Modular GPS Design
Bluetooth and TMC Supported
PC Application to cut your own map regions
Con's
Too many cables
User interface takes a while to get used to
Conclusion
Overall Navigon MN|4 is a good application using quality NAVTEQ data. The user interface takes a bit of getting used to if you have been using other applications, especially how the menus switch between horizontal and vertical with an up/down slider, but the application is robust and works well when you get used to the GUI (Graphical User Interface).
Going for the complete configuration of TMC support and Bluetooth, you'll find this is a great setup and TMC works extremely well, sometimes giving you more information than you probably need, but it's better to have more information! Navigon is the first TMC enabled GPS PDA Application that actually utilises a TMC Receiver inside the GPS and not a GPRS connection over a mobile phone, and this works extremely well. Once you start using TMC you'll wonder how you ever managed to navigate wthout it!