Review by Darren Griffin
Introduction
Aldi caused quite a stir when they released this bundle, at £329.00 it appeared to be fantastic value for money and came bundled with everything you could possibly need to get up and running with a working satellite navigation system. This review aims to cover the Medion PDA and the Medion Navigator software as well as the large number of accessories included!
Aldi are well known in Germany their home country and across mainland Europe for their chain of discount grocery supermarkets. They are also known for their weekly 'specials' which can range from plant pots to in this case PDA's! In the past they have made headlines with bargain PC's manufactured by another German company, Medion and it is their name which appears on this PDA bundle.
In the box
What is not in the box would be simpler to answer! Medion really have included everything you could possibly need. Open the large box and you will find the following:-
The Medion MD200 Pocket PC.

Pocket PC. 2003
64MB RAM
400MHz Intel XScale Processor
SDIO Compatible SD/MMC Slot
Removable battery
240 x 320 pixels (65,000 Colour screen)
Size 124 x 72 x 15mm

Royaltek Sapphire GPS Mouse Receiver
Cigarette Lighter Power lead for GPS and PDA
Suction Windscreen Mount and PDA Cradle
PDA Case and quick release belt clip
USB Docking Cradle
240v UK PSU
2 x 256MB MMC Cards
Pocket PC. CD and Navigator Installation CDs
Stereo Headphones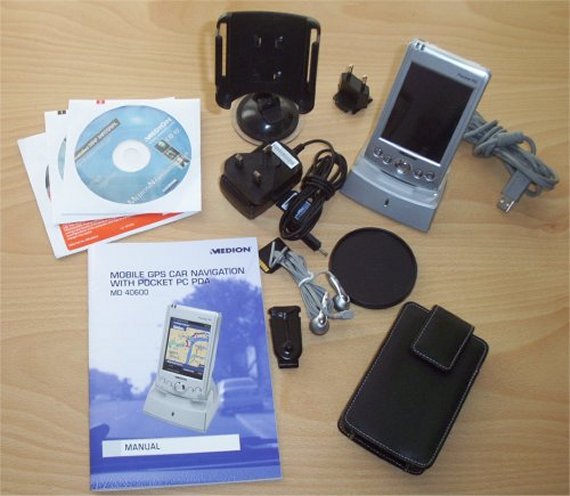 Plenty to be getting on with!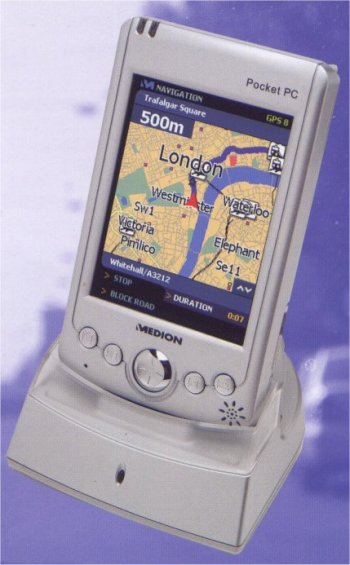 Medion Pocket PC
The Pocket PC. itself is actually manufactured by Mitac and bears a strong resemblance to the Mitac Mio 339 with the only physical difference being the lack of a built-in camera on the Medion version. It is a nice lightweight device finished in brushed silver with a telescopic stylus and is approximately the same width and thickness as a HP 2210 but slightly longer. Ranged across the front below the screen are the ubiquitous four application buttons and centrally mounted 4-Way Direction Pad.
On the right hand edge is the battery cover lock switch and on the left is the power button, voice recorder button and headphone socket (a non-standard 2.5mm version). On the bottom edge is the sync connector and a separate power socket whilst across the top is the iR port, SD/MMC slot and stylus slot.

The unit itself is very light and this tends to lend an impression of cheap construction and fragility. Only time will tell if this is true but given the price I was very surprised to discover the unit was running the latest OS so it seems a little churlish to complain about this. A proper USB docking cradle is supplied although when cradled the Medion is a little loose and unusually the power supply connects not to the cradle base is with most other such devices but into the USB plug. There is nothing particularly wrong with this but it does mean one more cable trailing across the desk and disappointingly the unit will not charge from the USB port when the power supply is not connected.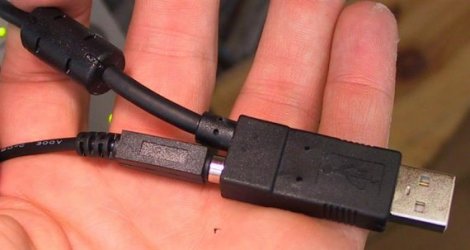 The unusual USB Power Plug arrangement
Having just bought the system all the eager owner needs to do is insert the battery and charge the unit. Helpfully Medion have supplied the navigation application installer pre-installed on the MMC cards. This negates the need to install the application and maps via a PC. The first of the two cards has SE England and Midlands maps as well as the application installer and the second has Scotland and Midlands to provide continuous coverage.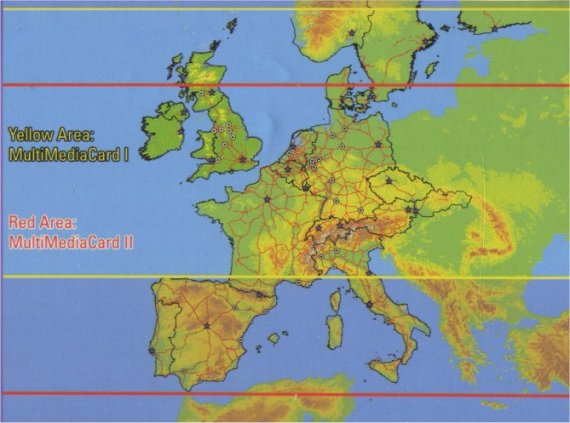 One minor point, the battery cover is secured by a sliding catch on the side of the shell. If you use the supplied case, whenever you remove the unit the catch unlocks and the battery cover falls off! It is a shame because the case is not a bad effort, it has a quick release swivel belt clip and fits nicely and is far more useful than the slip cases normally see. A sliver of sellotape over the catch will prevent this from happening but it is a design flaw that should have been foreseen.
There is little else remarkable about this unit, running PPC2003 it has all the applications you would expect to see as well as a 3rd party picture viewer and MP3 player. The screen is bright and clear, speaker volume (the speaker is located on the bottom right front) is acceptable if a little distorted and the touch screen is responsive.
GPS Receiver
The bundled GPS receiver is the well regarded Royaltek Sapphire. This small unit has already been reviewed by us here so I won't go into detail about its characteristics.
The device is connected to the PDA by a cable that has a Y connector which splits off to a cigarette lighter plug that provides power to the receiver and PDA. The receiver has a magnetic base but also comes with a Velcro patch to allow mounting on non-metallic surfaces. In light or recent user experiences it is worth mentioning that the receiver should not be placed anywhere near a hard disk drive, specifically laptops as the magnet will result in terminal data loss!
PDA Windscreen mount
The supplied PDA Mount is very good, instead of supplying a generic cradle that has adjustable jaws Medion have provided a custom cradle that fits the Medion perfectly. The sucker mount has a limpet like grip and has not fallen off even when pulled energetically so it does not appear to have the Navman mount problem. Medion also supply a plastic disc that has a strong 3M adhesive backing.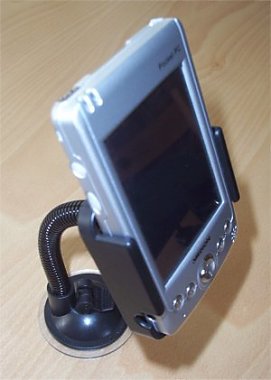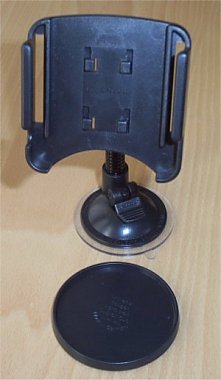 This is intended for those installations where the windscreen is too far away. Stick it to a suitable surface and the sucker can then clamp to this disc, a useful addition to be commended!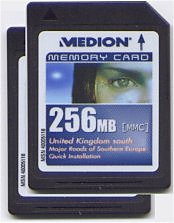 Medion Navigator Software
Medion bundle 2 x 256MB MMC cards with the unit which is superb. Whilst slower than the equivalent SD cards they are fine for these purposes and it is refreshing to see that they have not only supplied 256MB capacity cards rather than the more common 128MB cards normally provided but have also bundled two! Another advantage is that should you have to perform a hard reset whilst away from home, you can quickly re-install the application from the MMC card.

The supplied navigation software needs to be installed from the MMC onto the PDA the first time you run it, but this only takes a couple of minutes and is starts automatically when the memory card is initially inserted. Although both are pre installed with map and application data there is nothing to prevent you from wiping one for use as a storage space for MP3's or other data as the data supplied on them is also available on the installation CD.
Medion Navigator is supplied with the bundle. This is a rebated Navigon product. The version supplied is 2.0.1 which utilises NAVTEQ's 2003 map data.

Installation
As mentioned earlier, you do not need access to a PC in order to install the software, indeed the more eager amongst you could buy the bundle, return to the car, plug into the cigarette lighter and insert the memory card to begin the installation! However, you also have a fully featured installer available on the supplied CD. Once installed onto a laptop or PC you can use the map export application to define your own map areas. Usefully you can also define map corridors so that you can create a custom map covering a journey from North to South that would otherwise require a huge map.
The GPS receiver / 12v power lead plugs into the sync port on the bottom of the Medion PPC and because this bundle is integrated there is now need for any further configuration. Although this is essentially a re-badged Navigon product it has been locked to the supplied receiver and will not work on other PPC's or with other GPS receivers.
When you start up the program you are presented with the main menu screen and a series of options which are:
| | |
| --- | --- |
| | |
| Main Menu | Map Selection |
| | |
| | |
| Settings Screen | Help Menu |
Navigation

This is used for the most common 'Navigate to Destination' requests.

Route Planning

This is used for planning more complex routes with multiple destinations and stopovers.

Location

This provides a moving map and allows you to see the map without actually inputting a destination.

Map

From this menu you can select any of the sectional or country maps loaded on your storage card.

Settings

This area allows configuration of user preferences, GPS configuration etc, map settings, North UP etc.

Help
Quit
Route Planning
Fire up the program and choose 'Navigation' from the main menu and you are presented with a standard address input screen. As you begin to type the list of possible destinations appears in a drop down list below and is refined with each character inputted, this is useful as it allows you to select your destination before having fully typed it if it appears in the list. Destination towns are annotated with the first 5 characters of their post code and county to aid in identification. Towns outside the area covered by the loaded map will not be displayed.
Once the correct town is set you move to the street field and repeat the process, again the partial post code is displayed. Curiously the house number field is present although there is no option to actually enter any data in it!
Having completed these steps you can choose to display the destination on a map to confirm you have the correct address set, save the destination as a favourite for future use, and start navigation.
Choosing start navigation gives you one more page of options allowing you to choose quickest or shortest route and further options to avoid motorways, ferries and toll roads.
The 'Route Planning' menu is identical to this but allows you to create multiple stopovers. It is not able to identify the optimum order in which to visit multiple stops which would be useful for traveling salesmen, couriers etc but is otherwise a useful addition which many other systems lack.

In Use
Once you have inputted a destination you are presented with a map with the calculated route highlighted in blue. Standard .wav files are used for the voice navigation and these are crystal clear. The female voice used is pleasant and the instructions are concise and given in good time. I was impressed to receive instructions telling me to 'prepare to take 3rd exit at roundabout in 1 mile' etc which is great when on unfamiliar and complex roads where being in the correct lane as you approach is as important as knowing which exit you need, There is no quick facility to silence these voice prompts which is annoying as for large parts of most journeys you would not necessarily require her assistance. Unlike most other applications I have used and reviewed, Medion Navigator does not give any on-screen indication of the next turn or approaching junction with the map unless you choose this option in settings but doing so means no map display at all so you are limited to referring to the map or monitoring the voice instructions for each maneuver.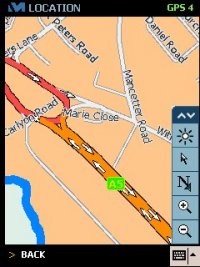 The map is detailed and has good POI data, it was nice to see informative icons used such as the Shell logo for a Shell Petrol Station which even included the garage name! Should you wander off route Medion Navigator recalculates very quickly. The routing algorithm proved effective, the routes supplied by the software when given the test destinations were on a par with the better systems and it chose routes that were consistent with what you would expect.
Whilst it is not advisable to attempt any interaction with the settings whilst on the move it is particularly difficult with this software. Once the map is displayed you can zoom in/out or switch to night mode but this can only be achieved by selecting a small side tab on the map screen and then further selecting the zoom or night mode controls which are unnecessarily small and impossible to do with a finger.
On screen information is also sparse with only distance to destination being displayed and no facility to show speed or estimated time of arrival which is a surprising omission.
I Liked
The clear voice commands
Excellent maps with latest 2003 map data from NAVTEQ's
Completeness of bundle, nothing extra needed to get you going
I Disliked
Lack of on-screen information in navigation and map mode.
Zoom and Night mode controls too small
Lack of graphics to indicate next turn etc unless map is off
No text only option whilst driving
Summary
Medion's bundle is an excellent starter package for those looking for an in-car GPS solution. Whilst the software is not the best of the bunch lacking a few of the bells and whistles of other more expensive solutions it is a capable performer that does what it says.
There is a sizeable community of users and the software supports custom 3rd party POI's such as Safety Cameras. POI Warner (additional cost 3rd party software) is available for this package so users can receive proximity warnings as they approach safety cameras and additional maps and accessories are available directly from Medion UK.
Because the package is so closely related to Navigon there is a clear upgrade route for the future and users upgrading to more recent Navigon packages will instantly recognise the interface. The system is also perfectly capable of running alternative software.