Review by Dave Burrows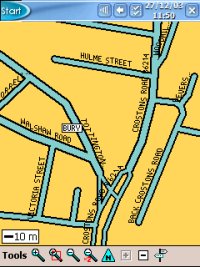 Introduction
Back in early 2003 (April to be precise), we reviewed Mapopolis 3.18. The application had lots of customisable features but seriously fell down on it's UK map support. We reported huge map problems with UK based maps which meant it impossible to route from A to B without going down a map hole, and left you feeling more like a mole. Well it's good to see over time things have changed. Mapopolis have been talking with NavTech about the maps, and we are glad to say that the maps are now fixed in the newer NC map edition that Mapopolis are now selling in their map packs. Mapopolis have also made numerous enhancements and tweaks to the program (which still remains free) and we will cover it all here within this review. This review primarily covers the Pocket PC, but we will have a Palm based review available soon.
Downloading Map Packs
Downloading Mapopolis maps is easy, once you have created an account on their website and entered your credit card details, you can download any of the maps under the headings that Mapopolis provide. The great option here is that Mapopolis give you everything from the most basic of features, e.g. Streets, landmarks, GPS Support right up to Navigator which gives you dynamic door-to-door navigation with voice prompting, including all Platinum features. This allows you to pick and choose not only the best maps for your situation, but also the best product set. Not everyone necessarily requires the full monty, and it's good to see that Mapopolis have given their customers the option of choosing rather than being dictated to.
I guess I should point out at this point, map prices have increased slightly here for European users. Where the Navigator map pack used to cost $99.95, this has been increased to $124.95 but the Platinum pack has had it's price frozen at $34.95 whilst North American map prices also remain frozen.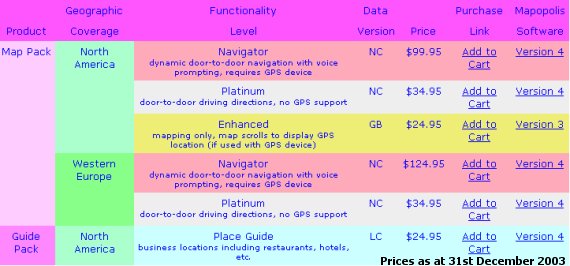 For the purpose of this review, we have reviewed the FULL UK maps which are listed under the Navigator product set. When you go to purchase a map set, you'll be given the opportunity of purchasing each map by country. The complete map pack for Europe (NC Release) costs $124.95 for a one year usage. If you want to download singular maps from the Platinum Plus GPS package, you can purchase each county segment map at $12.95 per map. Mapopolis have also recently added Platinum Plus GPS which gives the same sort of support as Navigator, but directions are displayed as a list or on a map and does not provide voice navigation which makes Mapopolis even more affordable if you just want maps wtih GPS support and door to door directions.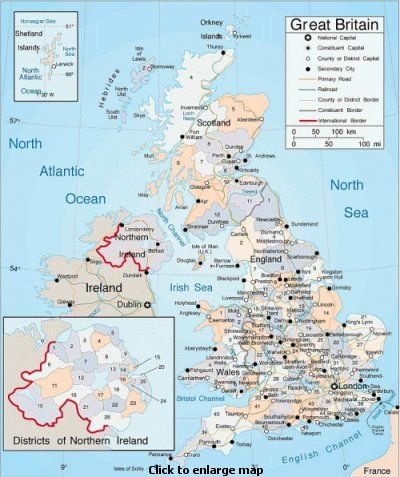 Mapopolis Navigator v4
One thing Mapopolis has attempted to do is keep things simple. This has paid off in a number of ways. You don't get confused where any of the options are within Navigator, it also runs extremely fast, putting it through the test I have seen no slow downs within the application at all. Map rotating and zooming is extremely fast, much faster than any other product on the market today. This may be partly due to the maps, although Mapopolis have tried to get as much detail onto the Platinum maps, they've tried not to go overboard, so roads do look like lines rather than roads, but this makes the application run very fast and also gives quicker routing.
As you'll see from the GPS Status screen below, everything that's needed e.g. Speed, Altitude, Heading and Range are all included with a compass. Mapopolis have also added in a manual COM port configuration option, and to allow Navigator to auto-detect your GPS Receiver. This is a feature that should be added to all GPS products by default, yet we do still find some newer products on the market not having this feature, so I'm glad to report that Mapopolis have thought through the most basic of features and added these to Mapopolis Navigator.
Menus
All of the menus are accessible straight from the main Tools menu which means being able to see all the features in virtual two taps is pretty easy.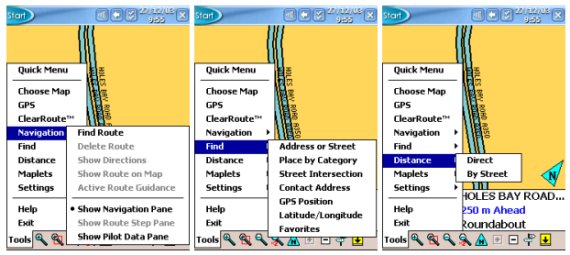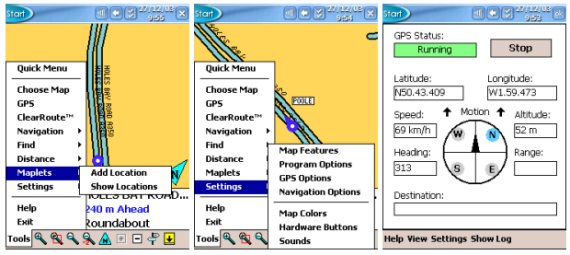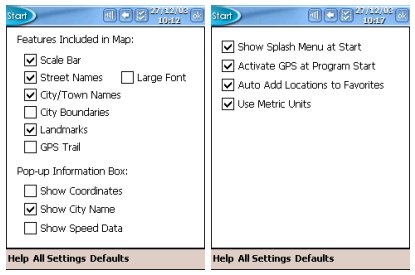 Map Features
Moving into the main Settings screen, within Map Features you'll find options like Scale Bar to display a bar on the map, the ability to switch on and off Street Names, ability to change the font from small to large on street names to make it easier to read on-map, the option to also allow for City/Town Names and Boundaries to be listed on the maps, and to also include features like Landmarks (POI's). One option that has been removed from this screen is the ability to view businesses. You can also within this menu show Coordinates on screen, the City Name and show speed data. There is also a new feature in Mapopolis called GPS Trail. This basically shows on the map a breadcrumb style trail on where you have travelled - the data is collected when you have enabled GPS Tracking.
Under Program Options you'll find options like being able to set units to metric, showing the splash screen which gives access to the online help within the program, and to be able to automatically add locations to the favourite menus which is good because when you have visited a location, you won't have to manually bookmark it to drive to it again. You will also have the ability to Activate GPS at Program Start which is good if you know which GPS you are using and do not want to have to go through the process of starting the GPS manually once the application is loaded.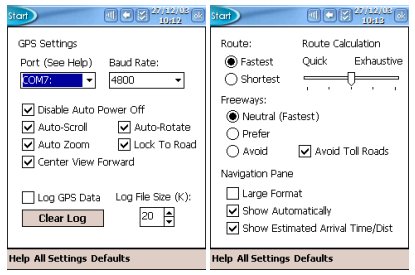 GPS Options Screen
Under the GPS Options you'll see features like disable Auto Power Off which really is essential when using navigation products, because if you don't have this feature selectable, the first thing you'll find when visiting a petrol station is when you come back to the car that the Pocket PC has turned itself off, and this can be quite frustrating, thankfully Mapopolis has added this feature into their product unlike some of the top GPS products! You also have the ability to have the map auto scroll and to auto rotate, and the ability to lock to road which is good if you are using an XTrac GPS Receiver or a regular GPS Receiver and don't want to see bad positional data taking you off-road. You also have the ability to create an NMEA GPS Log and setting the maximum size of this log, good for diagnostics. (it even shows altitude data) and for the breadcrumb GPS Trail mode I just mentioned.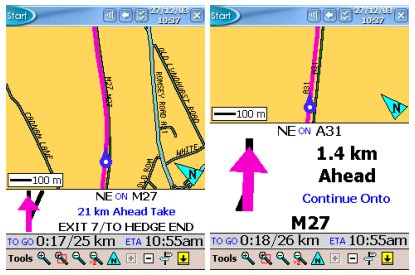 Under the Navigation Options screen you can set every aspect of the routing algorithms by choosing fastest or shortest maps, how quick the routing calculation will take (for more precise routing, whether to route via freeways/motorways and to also avoid toll roads. In this screen you can also set the Navigation pane between a large format, show automatically and show ETA.
Switching between the two types of Navigation Pane will look like the images below. For most of the journey the smaller navigation pane looks better and gives you more map coverage on screen, but if you find directional turn information more important than the map itself, then you may want to go with the larger navigation pane.
Map Colour's, Hardware Buttons and Sounds
Under the Map Colours screen you can customise how Mapopolis will look to the eye, whether it's the background colour, to various colourations of roads, and routes. The colours shown in this review are a customisation to look a little easier on the eye rather than using the bright yellows that Mapopolis use out of the box. You can also set day and night colours too which make it easier on the eye at night. In the Hardware button screen (middle screenshot) you can set a feature to each hardware button, which makes it easier for you to switch and toggle between various features. The last screenshot shows the Sounds screen which enables you to customise and choose the sound files to play and whether to be alerted over a particular speed limit.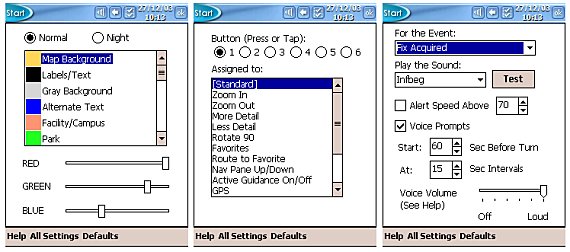 Map Design and Stitching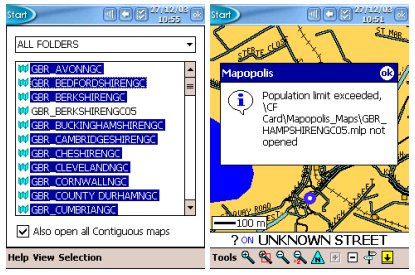 Mapopolis has always aimed to create a modular design, this way it allows you to only purchase the maps you require and if you do purchase more maps, Mapopolis will automatically and seamlessly stitch the maps together.
Unfortunately, if you decide to purchase the complete country maps for say the UK, then trying to use and open all contiguous maps (side by side county maps), Mapopolis will still error like it did in v3 with the following error captured in the screenshot to the right.
This does then give you a limitation, and you are then best to go in and manually un tick the open all contiguous maps option and to manually select the maps you require.
Mapopolis also have another map which covers major roads for the desired country and it knows which maps are local. So if you plan a journey from Glasgow to Berlin you can load the MajorRoads maps of UK, France, Germany, plus the "county" maps of Glasgow and Berlin. On the major roads map you will see diamonds which represent the center of the county maps. This can help with the population limit and for enhanced performance.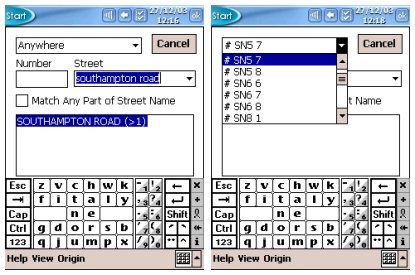 Searching Database
When searching the database for locations, you will find the database pretty comprehensive. You can search by Street Name, City or by Post Code.
Searching by Street Name is shown in the first screenshot, where as searching by Post Code is shown in the second screenshot (right).
When searching for a street, you don't get an hour glass or any indication that it is searching the database, so sometimes you think it's not doing anything when it actually does. Searching by Post Code is slightly different, by pulling down the combo box, you will have a full list of post codes displayed, just select the first part of the post code and you should be good to go. You may want to drill down to the street, and also when you are on the map select an exact position on the map. The good thing with Mapopolis is it actually does show the house numbers which can really help when navigating and give you pin-point accuracy, although when we tested a whole load of house numbers, in reality we found the house numbers to be around 100 yards out from the true location.
It is important to set the search origin first because results are sorted by proximity.
Routing Algorithms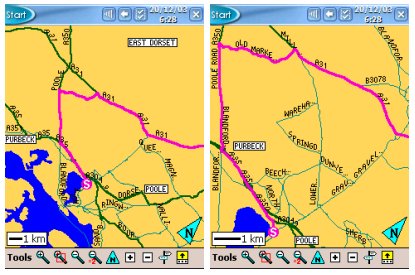 Mapopolis seems to have a few routing quirks. You can see one of these by traveling from Poole, Dorset to Southampton, Hampshire. Coming out of Poole, rather than travel East to get to Southampton, Mapopolis asks you to travel North West a while, then North, and then East, taking you a much longer journey where there are several more direct journeys to the destination that Mapopolis could have chosen.
Smaller routing issues can be found where Mapopolis will take you down some strange smaller roads to get back onto the same main road you are on, just to get you a little ahead of where you are currently at. So for UK driving, routing algorithms aren't quite as optimised as I would have hoped in comparison with other software like TomTom Navigator 2, Navman SmartST Pro, CoPilot Live | Pocket PC 4 and PowerLOC Destinator 3.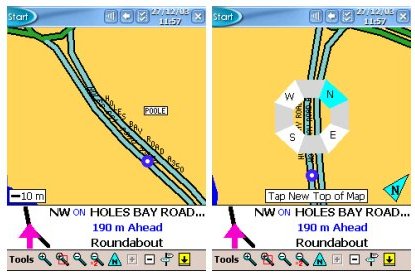 Mapopolis Map Rotation
Mapopolis have included a new feature into version 4 which is the Map Rotation feature.
By tapping on the N icon on the toolbar, you will see a popup compass as appears in the first screenshot (right).
By tapping on any of the North, East, South or West parts of the compass will rotate the map to that location.
Map rotation can also be done in 45 degree steps.
This gives you the option to quickly rotate the map and make the new location you tap to appear as the top of the map.
Comparing Mapopolis v3 to v4 maps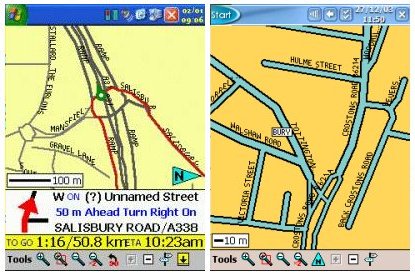 One thing anyone will notice who has used Mapopolis v3 maps is that the maps have become much more stable, there are no big holes in them like before for the UK which is an added bonus, but one of the greatest enhancements is the maps themselves.
Roads now look like roads now rather than thin lines which were extremely difficult to tell the difference between in colour's.
We have a map comparison on the right where you will see the maps used in Mapopolis v3 (left most image) and the new maps that are used in Mapopolis v4 (right most image), and I'm sure you'll see the huge difference here in the quality of the maps.
Hardware availability
Mapopolis isn't just available as software, Mapopolis also sell hardware combinations to be bundled with various GPS Receivers. Currently at the time of writing this review, Mapopolis has been bundled with Fortuna and Holux GPS Receivers, not just Bluetooth, but a Serial mouse and Compact Flash GPS Card. Mapopolis currently supports most Palm and Pocket PC's. The bundled versions are sold via the Mapopolis store at www.MobilePlanet.com and shipped from the US to European users.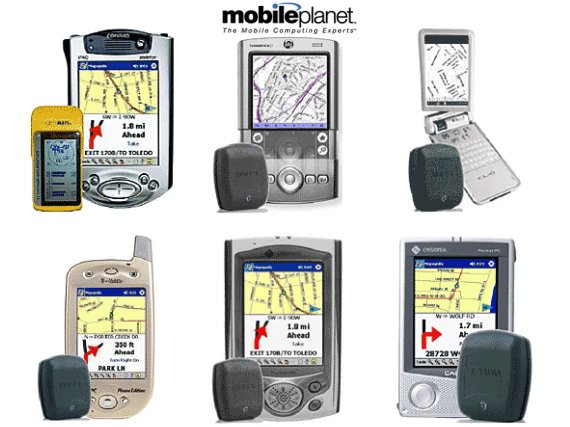 Summary
Mapopolis is a unique application, and is the only GPS company currently offering full UK, European and North American maps as downloads, and what more to be able to offer smaller maps that seamlessly stitch together giving you a much larger map. Mapopolis certainly has bettered itself in the past year, and with the help from NavTech, maps are much more richer and reliable, no big holes in the map anymore for UK users, and this makes Mapopolis a much better product as a whole. The only thing that does concern me is the population limit errors which means you cannot load a full country style map into memory. Mapopolis say the workaround for this is to use the Major Road Maps in conjunction with detailed street maps (which is available free for Platinum Map Packs and higher). Another thing that concerned me is the routing algorithms do seem to be a little off for UK based maps we tested and Mapopolis are investigating, but other than this, Mapopolis provides a very good searchable database of street names, cities and post codes, routing from point to point works well, zooming of map is automatic when reaching junctions, and roundabout support works well. If you are looking for a modular based map system, or the ability of purchasing maps across the internet (not having to wait for them to be delivered on CD), and want a cheaper navigation product, then take a look at Mapopolis, you won't be disappointed.