The GM-210 is a small mouse type antenna receiver with about two and a half metres of cable ending in a PS/2 type female connector. The Y type adapter cable has a PS/2 male connector at one end and splits into (in most cases) a suitable lead to the PDA and a lead to a cigarette lighter charger plug.
With TomTom Navigator already loaded onto my iPAQ 3630 I anticipated a simple "plug and play" installation into my car. I put the antenna on the dashboard of my car and connected the iPAQ and charger. Unfortunately, although the antenna was soon outputting a signal (flashing green LED) TomTom's Navigator GPS program showed no signal when set to expect the GM-210s factory default setting of NMEA 0183v2 @ 4800. After some investigation it seems that the unit was set to output @ 38400! After setting Navigator to NMEA 0183v2 @38400 the GPS status page showed 7 to 8 satellites fixed at a good strength. (Holux-UK state that all GM-210s leave the factory default set to output NMEA 0183 @4800 baub, so why mine was set differently remains a bit of a mystery).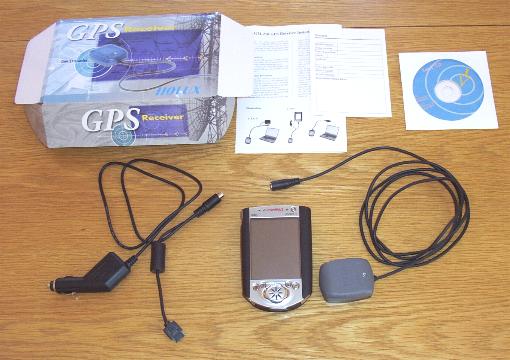 Its worth noting that emails to both sales and support at Holux-UK were replied to promptly and fully, which is always a good sign.
Several test drives with the GM-210 and iPAQ set up in my car showed the GPS receiver to be far more accurate than I expected. Actual position on the road matched up very accurately with the position shown on TomTom's Navigator map with no noticeable drift and distances in yards announced by Navigator to turnings were spot on.
Powered off cold, warm and hot restart times of the GM-210 antenna are as given in its specification and typically in most cases much faster. For example, this morning from a cold start (20 hours powered off) it locked on in well under 30secs.
There isn't much more to say regarding using the antenna, it pretty much does what it says on the box. With the GM-210 currently retailing at around £140, add £88 for TomTom's Navigator software and you have a fast accurate voice navigation system for around £230.
So what didn't I like?
Not much really, I suppose the one thing that did worry me a bit was being provided with software (that I really needed initially) to change the settings of the GM-210 that only works on a PC or laptop but then not being supplied with a lead to actually connect the GM-210 to the PC! But overall I have to say that the GM-210 produces a very impressive performance and when matched up with TomTom's Navigator software its hard to see what could beat it for the price.