Review by Bob Trello
Price £144.99 inc VAT
Introduction
Holux are no new comer to the GPS Market. Holux currently operate out of Taiwan, and also have a UK presence at Holux-UK.com. Holux have a complete range of GPS Receivers, but most of them mainly support the Pocket PC. Holux do have one which supports the Palm M500/505, and that is the Holux GM-251+.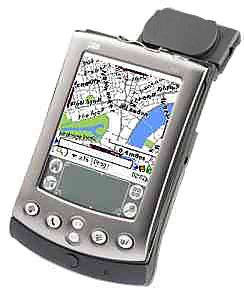 The Holux GM-251+ has been available for more than a year, and is a GPS Sleeve, similar to many of the Pocket PC based sleeves, where you slot the Palm M500/505 into the sleeve and it utilises the bottom serial connector. It also has a fold out patch antenna which allows you to angle the antenna to get optimum position.
Box Contents
When you open the box (which is very small), you find the Holux GM-251+ sleeve, along with a 12 volt car charger that plugs into the right hand side of the GPS Sleeve and the accessory plug will plug into your in-car accessory socket.
Unfortunately the Holux GM-251+ isn't kitted out with any windscreen or vent mount, making it a little difficult to use in the car, although most mounts that you find reviewed at Pocket GPS will work with this, especially the mounts that have retracting side walls.
From a size perspective, the GM-251+ is as wide as the Palm M500/505, but about 12mm longer than the Palm (at the base of the sleeve).
Which Palms are supported ?
The GM-251+ supports the Palm V, Vx, M500, M505, and the IBM Workpad C3, C500, C505.
Powering the GM-251+
Powering the GM-251+ can be done through several ways. Firstly using the in-car charger which will power the GM-251+, or you can use 3xAAA batteries which Holux suggest should give you approx 6 hours battery usage. Holux have also included a backup battery that will hold Satellite data for approx 60 days if there is no power to the sleeve, which should result in quicker TTFF's.
Performance
TTFF's are quicker than I would have expected as I have never used a GPS before. The first fix took around 12 minutes but from what I understand, this is normal when coming out of the factory, but subsequent fixes took around about a minute when the receiver had been powered down for 4-5 hours.
Mapping Programs
There are only a few mapping programs available on the Palm OS, but thankfully one of the better ones is from TomTom. TomTom have two products available, one is Route Planner which gives you AA style Atlas maps of the country, but no detail when it comes to inner city travel
TomTom Route Planner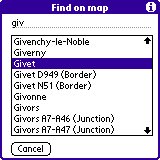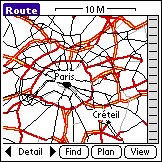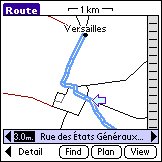 The other product is TomTom CityMaps which doesn't give you AA style Atlas maps, but does give you city cover right down to the nearest street you are on.
TomTom CityMaps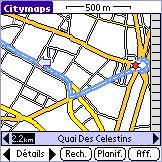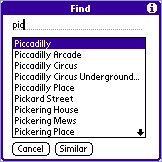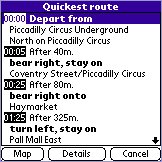 Optional Antenna
The Holux GM-251+ doesn't come with an external antenna like most of the Holux range. If you do need one, then you can purchase the Holux Active Antenna (A-10003) which has a magnetic base and allows you to fix this to the outside paint work of the car.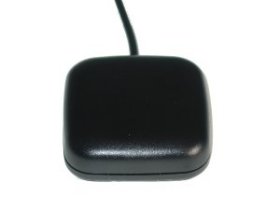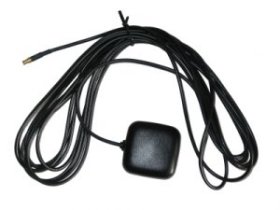 Technical Specifications
Acquisition time:
Warm start: < 38 seconds
Cold start: < 45 seconds
Hot start: < 8 seconds
Dimensions:
3.32" x 6.69 x 0.98"
Update rate:
1 second continuous
Weight:
90g ±10g
Accuracy:
Position: 5 - 25m CEP.
Velocity: 0.1m/s
Time ± 1us
Antenna:
Built-in with external MCX connector
Altitude:
Velocity: 515m/s
Acceleration: ± 4G
Power:
6 hours use from 3 AAA batteries.
LED function:
Off: unit powered off
On: Unit searching for satellites
Blink: 3D fix obtained
Temperature:
Operating: 15°C ~ 60°C
Storage: -20°C ~ 85°C
Summary
The Palm OS is still limited compared to the ever advancing Pocket PC, but as a Pocket PC user that really found the battery life of the Pocket PC poor, and decided to migrate to the Palm the Holux-GM251+ is an ideal option for me. The Holux GM-251+ comes in at around £154.04 and can be purchased direct from Holux-UK.com however, be aware that you do not get any software with this, just purely the GPS Receiver, so adding on another package like TomTom RoutePlanner will set you back an extra £40 and a further £40 if you require city detailed maps as well as Atlas style maps. This will give you European maps, but still brings the total cost to around £234. This is a lot to pay for a Palm version when compared to the Pocket PC you can get an all-in system for around the same price with full Voice Navigation. If you are wedded to your Palm, then this is an ideal solution for you like me.