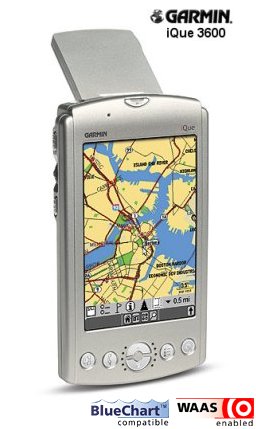 Review by Dave Burrows
Introduction
Since the announcement back in June of the new Garmin iQue, I've been quietly excited. The screenshots shown in all press releases make the iQue look just like a Street Pilot III Deluxe, at a lower price, but in PDA form rather than a bulky unit sitting on the dashboard, and since reviewing the Garmin Street Pilot III Deluxe in May 2003, I've wanted to get my hands on a Garmin iQue and put it through it's paces. Here it is, the Garmin iQue review!
In the box
In the box, you'll find the Garmin iQue with an attached hardened leather protective screen, pivoted at the bottom end of the iQue, integral battery, Palm cradle, USB cable to link to the PC for data communication, Power charger cable that plugs into the USB cable through an integrated Y splitter, manuals, Palm Desktop/HotSync CD and Garmin City Select CD's (x2). One thing the iQue doesn't come with is a storage card. I was unimpressed with this seeing that storage card prices are at an all time low, and it really wouldn't cost much more for Garmin to include this as standard, like they have already done with the Street Pilot III Deluxe. However seeing the iQue 3600 is the first model, you may see this in a later or deluxe model from Garmin in the near future.
Out of the box
Taking the iQue out of the box, it reminds me immediately of the Palm (and yes it is a Palm before anyone starts making comments!). The iQue is built around Palm technology and licensed to Garmin to use in various products, with a subtle difference, it doesn't have the hard coded space on screen for a graffiti pad, it now has a retractable Pocket PC type onscreen keyboard which is a welcome edition (and I really don't know why Palm never went this route long ago!).
The iQue is quite heavy, and also a little chunky in depth compared to my new iPAQ 2210, which I was a little surprised at, previous photos of the iQue make it look a little slimmer than it actually is. I think the main bulkiness comes on the back top where the flip out antenna is stored.

Above a Garmin iQue compared side by side with a HP iPAQ 2210
Coming from a Palm background originally with a Palm III before venturing into the Pocket PC market with my first Casio E105, nostalgia came back. Installing the Palm side of the software hasn't changed much over the years, and I wasn't sure if I was surprised or shocked that HotSync is still installed. I thought this would have been changed over the years, but HotSync was then and still is now a good sync program, so I guess when there's little problems with it, why change it.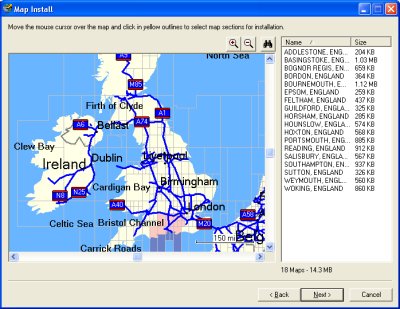 Map Installation
Installing the maps for the iQue was different than I thought it would be. I've installed Garmin MapSource 4 and 5 many a times, I've also installed City Navigator before, but the iQue comes with City Select which is a new product for me. When you install MapSource CD's, you usually get a program group created called MapSource, and the MapSource program icon would appear in there to run. Puzzled after three attempts to install provided no icon, apart from an uninstaller, and being a tech-head, I didn't read the manual. You don't run City Select like you would with other MapSource CD's, Garmin have integrated HotSync and MapSource together for the iQue, so there's now an option on the menu in Palm Desktop called Map Install. Clicking Map Install brings up a new map with the normal segment squares MapSource users will remember where you can highlight to select or deselect a map segment. Once you're happy with the map segments you wish to install, clicking NEXT will prompt you for a storage location either Internal Storage or Secure Digital. Clicking NEXT once more will start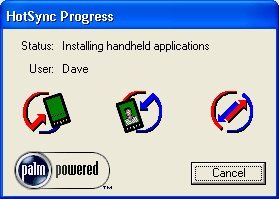 building indexes and then queue the install of the map segments to HotSync Manager for syncing on your next HotSync connection. All of this was pretty painless, the only downside is that you really need a storage card. Bear in mind that the Garmin iQue only comes with 32mb of internal RAM, some of which will be used by other programs. Currently the Palm OS takes up 8mb of internal RAM and any other software loaded will also eat into this, so the maximum available map you will be able to download will be 24mb, although in my tests I could only achieve 16mb. Garmin City Select maps for UK and Ireland come in at a size of 169.7mb. Another thing to bear in mind is that wherever you purchase the iQue from, this is the area your maps will serve with MapSource. For the UK and European countries Garmin have included a free unlock code to unlock the City Select maps for the entire European community covering all western European maps.
Hardware Interface
The keyboard on the iQue as I have already said doesn't follow Palm's standard hard graffiti pad, but a soft-pad which can be expanded or hidden with the up/down arrow on the toolbar. The iQue comes with 4 application buttons on the front, namely Datebook, Address, To Do List and an iQue button which takes you to GPS/map functions. On the left hand side of the iQue you will find a Record button, a jog dial and an Escape button. On the top of the iQue you will find the green power LED which doubles as a power button. When powered with a mains cable or car cable the green LED will stay lit, when blinking the iQue is in saver mode.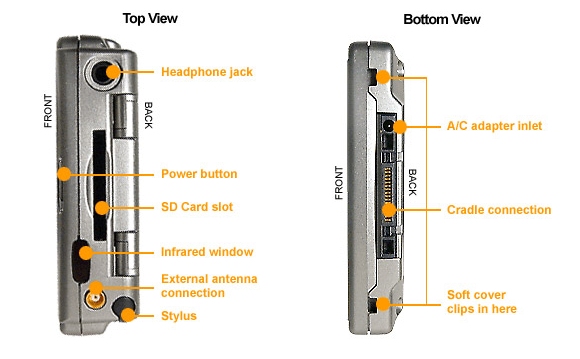 Garmin MapSource City Select Maps
City Select Maps are very similar to the City Navigator maps you will see on the Garmin Street Pilot III Deluxe. The maps are very good, bright and vibrant in colour. City Select on the iQue offers multiple zoom levels with varying level of details. The closer you get, the more POI's you will see depending on the POI's you have selected.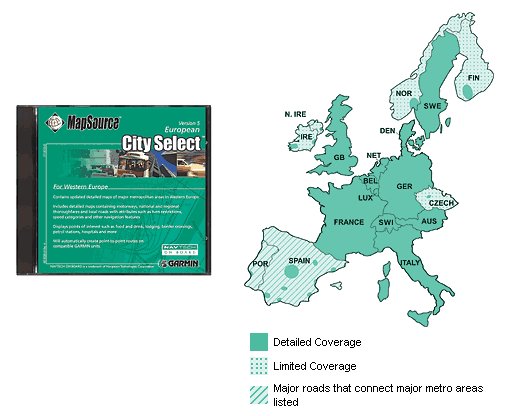 One thing I liked about the SPIII Deluxe was that you could search for nearly any street and it would always come back extremely quick and allow you to see the location on the map. Garmin MapSource City Select is no different, and this is something I really like! Database accuracy is pretty strong compared to other applications on the Pocket PC that are lacking this support.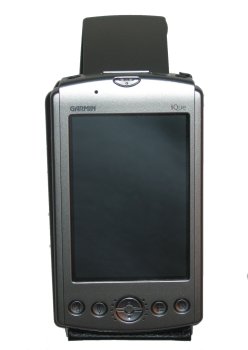 One thing you do lose with City Select over City Navigator is the ability to have the maps loaded on the PC and being able to look at the maps, zoom in. This is a shame, as I liked using City Navigator on the PC, and it's a pity Garmin have excluded this from the iQue bundle.
Screen Technology
The screen was a little disappointment to me. The screen resolution is 320x480 pixels, with a transflective display and a virtual Graffiti area.
The screen measures 2.16 inches by 3.24 inches. This isn't what disappointed me, rather the rubbery texture to the screen. When trying to drag areas of the screen to zoom into on the maps, you'll see what I mean, the screen feels very rubbery and un-responsive. In-fact on a number of occasions I had to go back to the digitiser because tapping on-screen buttons would take two or three attempts for me, and didn't appear to be working as effectively as I'm used to on a Pocket PC screen.
The screen colour and contrast is good, but the rubbery texture to the screen and un-responsiveness really put the iQue down for me.
Pocket PC screens are very responsive, but their downsides is they scratch easily. I have spoken with Garmin UK about this, some of the screens do seem to feel rubbery, but this is only in the earlier batch of iQue's and I have been assured that this effect reduces over prolonged use of the iQue.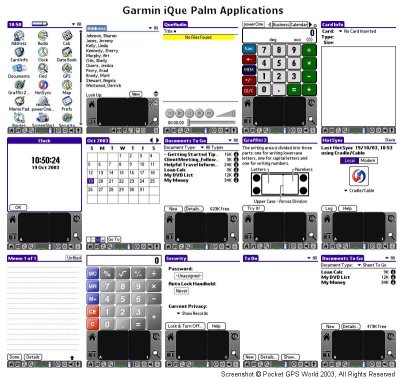 Palm Applications
The iQue comes with a plethora of Palm based applications, as essentially behind the scenes the iQue is a Palm PDA, and with a PDA comes all the applications you would assign to a Personal Digital Assistant.
To take a full close-up look of the Palm applications that come bundled with the iQue, click the image to the right to enlarge. Out of the box you will have the Palm Address Book, Audio, Calc, Card Info, Clock, Date Book, Documents, Find, Graffiti 2, HotSync, Memo Pad, Power One Personal, Sheet ToGo, To Do List, and Word ToGo.
One thing you will find is that you are not left high and dry when it comes to functionality, Garmin have thought of everything here, and having the iQue run as a Palm platform opens the iQue up to people who want lots of different features in the same box.
Preferences
First thing you will need to do is make sure all the preferences are set correctly. Going into Prefs gives a number of different screens which allow you to set things like Power On connection when in cradle, Volume, Alarms, Colours, Infrared Beam, customisation of buttons to applications, connection settings, Date, Time, Timezone, and much more.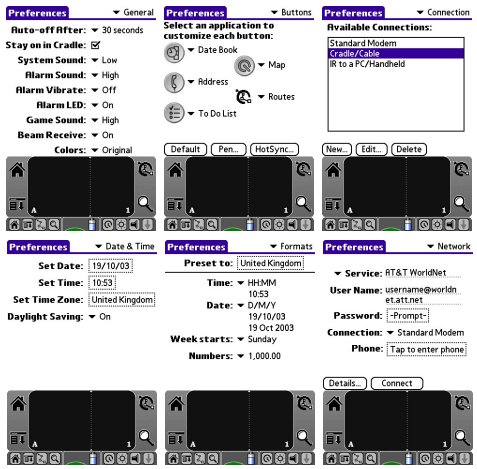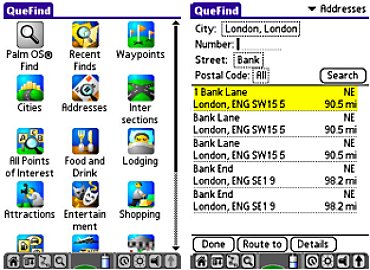 Plotting a Route
Plotting a route is extremely easy, simply tapping on the FIND option on the toolbar, then Addresses will give you a screen with City, Region, Number, Street and PostCode. Entering anything in these fields, and tapping the Search button will result in all matches coming back very quickly. You can then tap on the most relevant address and tap Route to and this will then create this as a destination. Likewise if you go into FIND you will also find Recent Finds, Waypoints, Cities, Addresses, Intersections, All Points Of Interest, Food and Drink, Lodging, Attractions, Entertainment, Shopping, Services, Transportation, Emergency and Government, Manmade Places, Water Features and Land Features. Quite an extensive list of POI's! When you select ROUTE TO, City Select will take a while and under the battery/sat display bottom central on screen you will see waypoints and tracks being built. This is the standard animated icon for Garmin products to show that a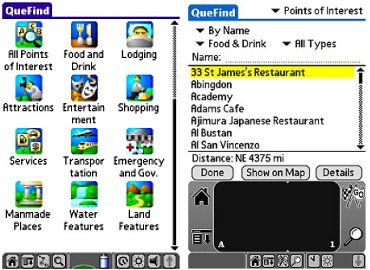 route is being calculated.
The great thing with the iQue is that if you don't have the antenna extended, then you will be asked if you want to demo the route. If you do have the antenna extended then it will start the journey in real-time and wait for you to commence driving.
Another Search feature that's available for the iQue is to search by Points of Interest (POI). You can search by All POI, Food and Drink, Lodging, Attractions, Entertainment, Shopping, Services, Transportation, Emergency, Manmade Places, Water Features and Land Features to name a few!
Night Mode
The iQue has a night time mode. Once you have gone through the install process of selecting your time zone and local city, and told the iQue whether you are in Daylight Savings Time or regular time, when you start to reach dusk, the iQue will inverse the screen and switch into night mode making the screen less bright and a more monochrome style screen making map areas black instead of yellow or green. This is great for the night time driver, and no need to toggle anything, it just does it automatically! I did find the automatic switching happening quite a time before dusk, this to me made sense as I would rather have it switch earlier than being blinded later if it took longer to switch.
Navigating and Routing Quality
Navigating with the iQue once you've found the destination you want to drive to is very easy, switch to the Map screen or press the Q button, and you will see the map screen with a highlighted map. The first screenshot to the bottom left shows the highlighted route, when you are getting close to a turn (within half a mile), you will see a Turn Preview screen (as below center). You can zoom in or out by using the up/down keypad or if you just want to zoom in, you can tap and drag the stylus around the area you wish to zoom into.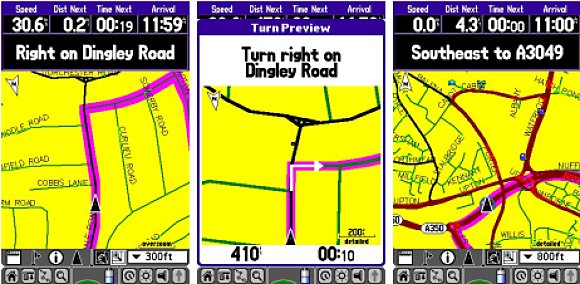 One problem I have found with navigation is that City Select seems to want to tell you to turn off of dual carriageways and motorways take you up then down the slip road and ask you to re-join the road. This doesn't happen in all junctions, only a small percentage, but it's something we witnessed on around 5% of motorway and A road junctions. Another problem I encountered was that sometimes City Select doesn't treat a roundabout correctly, so you will be asked to turn left to drive onto the roundabout, and then turn left again to take the next junction. At first I thought this was just for routes that took you straight on, or round the roundabout, rather than the first one or two exits, but it seemed to be rather intermittent and I couldn't pinpoint the problem here. I spoke with Garmin, they are aware of this problem and it will be fixed in a newer release of City Select.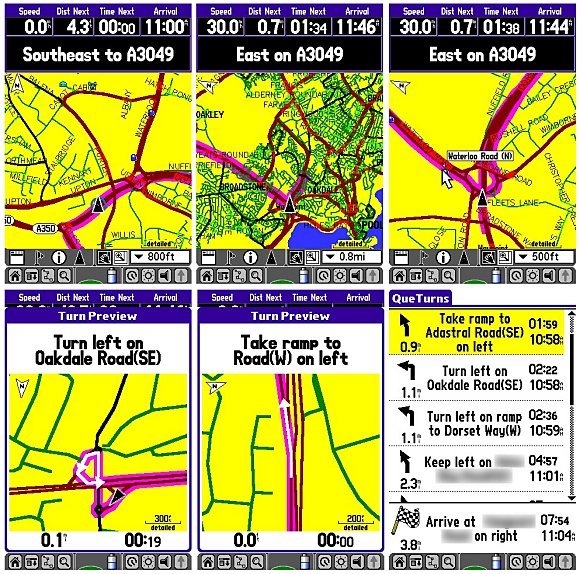 Voice Navigation Quality
Like most of the GPS Navigation systems on the market today and in competition with the Garmin iQue, the iQue matches favorable with these in terms of quality. When approaching junctions you will be given voice instructions like "In 200 feet turn left" and "Drive point 2 miles then turn right". The volume is a little quiet when used in car and at motorway speeds, but can be amplified when using the automotive kit (more about this later).
Battery Performance
Battery performance is always a worry everyone has on PDA's, and especially when GPS is being used. Now first off I'd like to say that with the iQue set on full brightness, and no in-car charger lead, the iQue lasted for 1h 15m. That to me was a complete shock. Most Pocket PC's will last for at least 2 hours on full brightness. However, one thing you have to understand is that Garmin have done something that I would call revolutionary here. The iQue will automatically power itself down after a set period of time 30 seconds, 1 minute, 2 minutes or 3 minutes. Now this became quite annoying as I kept having to switch the iQue back on to see where I was, until I decided to leave it off for a little while and I noticed something magical happen. The iQue was off, apart from a blinking green power light now and again. Garmin have made the unit battery friendly, when you approach a junction or a turn where you need voice navigation or a map, the iQue wakes up and powers itself back on. Actually it doesn't really do this, it goes into a low wait state powering down everything apart from the bare basics to operate and receive a signal, and then powers everything back on when required. This gives you a much better battery performance of around 6 hours usage, and also makes it safer to drive in-car, especially at night because you don't have a bright screen that you keep looking at, so Garmin have coupled both battery performance and safety together and I must applaud them for doing this. I just wish the Pocket PC's would do this!
NMEA Support for third party applications
Unfortunately the iQue 3600 is one of Garmin's few GPS Receivers that doesn't output in NMEA mode, which means that there is no support for applications that want to use/receive an NMEA stream of data. This in layman's terms means that any Palm based GPS application you install which use NMEA will not work on the Garmin iQue, only the supplied software the iQue comes with will work and talk to the built-in GPS Receiver. All is not lost though! Garmin do offer a full 3rd party developer program through their website which will enable developers to gain access to the Garmin GPS protocol and write applications for the iQue specifically.
Technical Specifications
| | |
| --- | --- |
| Internal System | |
| Operating System: | Palm OS 5.2.1 |
| Embedded capabilities: | GPS receiver, MP3 player, voice recorder, infrared communication and vibrating alarm |
| Audio hardware: | Microphone, speaker, headphone jack |
| Processor: | 200 Mhz Motorola Dragonball MXL ARM9 |
| Internal Memory: | 32mb Ram |
| Expandable Memory: | SD/MMC |
| | |
| Standard Applications | |
| Garmin "Que" apps: | 44.1 Khz MP3, GPS Info, Clock, Address Lookup, Electronic Mapping, Track Log, Trip Computer, Automatic Route Generation, and Turn-By-Turn Voice Guidance |
| Palm OS 5.2.1 apps: | Address Book, Calculator, Date Book, Memo Pad, Palm Reader and To Do List |
| Other 3rd party apps: | Astraware Game Pack*, Documents To Go by DataViz*, powerOne Personal Calculator, Star Caddy*, Splash Wallet*, Vindigo*, WorldMate", DataViz Mail*, and Palm Reader Basic (*Demo) |
| | |
| Moving Map Features | |
| Basemap: | Built-in routable basemap contains state and country boundaries, lakes, rivers, streams, airports, cities, towns, coastlines, state and interstate highways, local thoroughfares, and secondary roads within metro areas. |
| CD-Rom: | Accepts downloadable map detail from Garmin PC-based MapSource City Select, City Navigator World Map CD-ROM's which provide street-level detail, addresses, listings of nearest restaurant, hotels, ATM's and more. |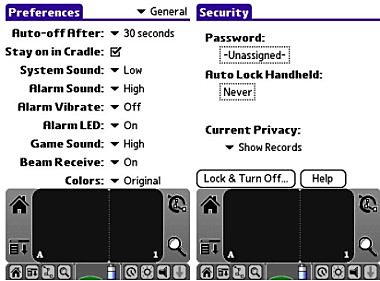 Other Problems - Responses to common questions
Some people have reported problems with the receiver switching off after 3 minutes whilst in the cradle and on 12 volt charger whilst having the security lock engaged.
This you can understand, because that is the point of the security lock to make sure the unit isn't at risk, either on your desk or out and about.
There have been minor reports of the iQue's switching themselves on at night and draining the battery, we did not experience this on the version we received.
GPS Utilities
Garmin have two utilities bundled in the iQue 3600, these are Que Trip and Que GPS. Que Trip basically is a glorified trip meter giving you the distance traveled, stop time, driving time, total time and various speed readouts. Que GPS is the satellite information screen which you find with most GPS Receivers, you can see the satellites you have a fix on and also the detailed display for each satellite. We have also included the Buttons display here also. This allows you to assign which programs you would like to the various hardware buttons on the iQue 3600.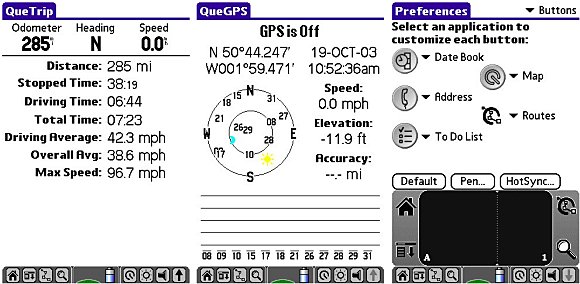 Mounting and Charging Solutions
Seidio are the first of probably many to create a mounting solution in-car for the Garmin iQue 3600.
Multi-function Super Bundle/ Super Plus Bundle
This versatile bundle provides your mount cradle with different mounting solutions, the 8" Windshield Pedestal, the Slide and Lock Vent Pedestal. Garmin users may also avoid the hassles of transferring pedestals from vehicle to vehicle.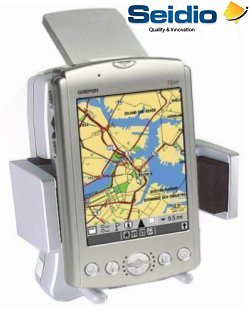 Seidio Power Pack
This package supplies an integrated solution for all power needs by providing the minimum amount of components, minimizing messy cords and cables, reducing the size of each component, and organizing them into a convenient carrying case.
Foldable USB Cradle
Perfect for the person on the go, this foldable USB cradle allows you to charge your PDA communicator or organizer with any USB-enabled computer. Just connect the USB cradle to any laptop or desktop PC, you are ready to charge from your PDA. It is foldable and lightweight. Just fold and go!
2-in-1 Chargers
1. Space saving 90 degree foldable AC plug and 180 degree adjustable cigarette lighter connection.
2. Strong coiled cord extends 9 feet in length.
3. Special circuitry design protects your PDA from overcharging and short-circuiting.

2-in-1 Charger USB Adapter
The 2-in-1 Charger USB adapters is the ideal product for use with the USB Charge Cable (not included) or the USB Sync & Charge Cable (not included) while traveling. This combination allows you to charge your PDA or PDA phone through any cigarette lighter socket (12-24VDC) or AC wall outlet (100-240VAC).
Emergency Power Charger
Instantly recharge your PDA with an easy-to-find 9V alkaline battery (not included), anytime, anywhere when no other power source is available. The unique Interchangeable Connectors allow you to use the Emergency Power Charger (EPC) with multiple PDAs or other digital devices such as wireless phones simply by purchasing additional Interchangeable Connectors.

Cigarette Lighter Charger
With the Cigarette Lighter Charger, you'll never run out of power while on the road.

Rapid Travel Charger
The Rapid Travel Charger provides portable power for the frequent traveler. It is compact and can be plugged into any electrical outlet (100-240VAC) to use and recharge your PDA.
- Rapidly charge your PDA battery in 2-3 hours.
- Charge and use your PDA at the same time.
- Special circuitry design protects your PDA from overcharging and short-circuiting.
Summary
The Garmin iQue 3600 is a good combined navigation product. However I was disappointed as I have been really spoiled with the Street Pilot III Deluxe and I was half expecting a Street Pilot III Deluxe in a smaller form factor in PDA style, and with the mapping errors and the power save screen turning off (only on battery mode - not with the automotive kit), really was not what I received. Garmin have with all intense purposes made this an affordable version of their well known top of the range Street Pilot III Deluxe, and I think with a little work in bug fixes (several that have just been posted to Garmin's website), will make this a great product.
The iQue is Garmin's first attempt, and I think as future models come out it will become a killer product making headway into the Pocket PC market. I did have one lockup (I thought I had depleted the battery), but even after a charge the iQue wouldn't switch on, the only way to recover from this was a soft reset. The Roundabout interpretation will be included within the new updated Road Data release in January 2004, which will be made available Free Of Charge (normally costing £125) to all existing iQue owners. I'd like to thank Garmin for realising the importance of this, and "doing the right thing" and look forward to seeing the patch available shortly!
Garmin do have an automotive kit that will allow you to keep the iQue powered at all times, orientate the unit and has a built in speaker to amplify the voice commands within a noisy drivers compartment. This is available as a separate optional add-on from Garmin and their retailers.
I know although I have written a very detailed in-depth review here, I am still going to be asked whether I would pay out my own money to purchase an iQue 3600. If you have a budget of under £600 and prefer an integrated unit, then the iQue may be better for you. Also if you want a smaller unit compared to the SPIII Deluxe, faster processor and the ability to use more memory for map storage, then the iQue is definitely worth the wait. If you have a larger budget, or have already experienced the Street Pilot II Deluxe, then either the SPIII Deluxe, or Garmin's newer Street Pilots will be what you'll want to crave for.