Review by Dave Burrows
Introduction
For a long time JGUI has been writing utilities to help in the day to day use of the Pocket PC. Taking a brief look at www.JGUI.net you will see a plethora of applications, utilities and applets to enhance your life. JGUI for two years has written various GPS add-on applets that allow you to effectively use scrolling maps by downloading maps over the internet and calibrating them (see our earlier GPS Ideas Review) and also to use your Pocket PC like a handheld GPS Receiver, like a Garmin eTrex, or Magellan Meridian.
In this review we are reviewing one of the more recent applications JGUI has written, namely Follow Me .
Follow Me
Follow Me is an application that allows you to see where you have been by recalling your tracks. If you have a Bluetooth or Compact Flash GPS attached to your Pocket PC and you either miss or long for the same functions that a handheld GPS like a Garmin or Magellan has, where you can create tracks, watch your position and track back to your start point, or any particular point in your hike, then Follow Me is the application to try.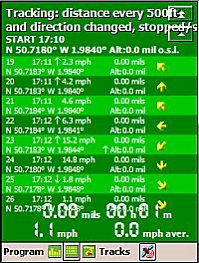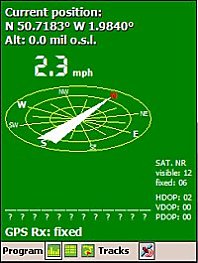 Follow me offers all the basic functions of a handheld GPS including a GPS based compass (not magnetic or electronic) which will show you the direction you are traveling in comparing your current position to your previous positions that have been logged. You also have a tracking screen (above) that shows all your past track points. You have the option within Follow Me to detect for direction change over 45 degrees and to also update the position when you stop/start your walk, this way you can get a complete track log built on your journey whether it's driving without a map in a foreign country, or walking, or hiking!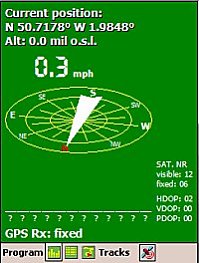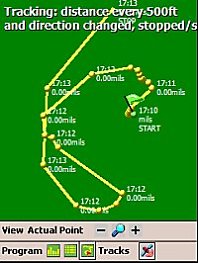 There are three main screens, the Compass screen, the Track log data screen and the Track log map screen. Above you will see the compass and the map screen. The compass screen gives you all the information you need including the direction you are traveling in, the satellites visible (12) and the satellites fixed (6), also the HDOP, VDOP and PDOP (Dilution Of Precision) giving you all the technical information at hand. The Track log map screen shows your start position, the round dots appear when there's a change in direction or you have stopped for a break, the lines are constant from one point to another. You can also use a track back facility to re-trace your steps.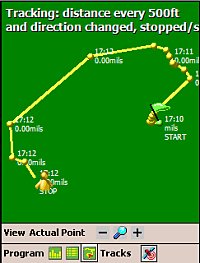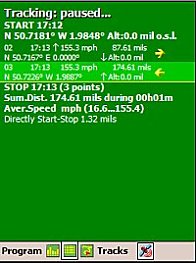 It is best to make sure you have a valid fix by going to the compass screen and checking you do have a N/S and E/W co-ordinate. If either or both are showing zero, you don't want to create your track, otherwise you will see something strange occur like in the right hand screenshot above. The first point shows a Easterly co-ordinate as E 0.000 degrees, as I hadn't quite received the full fix, the second entry (03) shows the co-ordinates, but within the space of a minute Follow Me does think I have traveled 174.61 miles at 155.3 mph. Obviously this is incorrect, but it's because Follow Me didn't have all the information available at the start, so check this before starting out and keep an eye on your fix. If you do lose fix, you may also find some strange occurrences. I think a fix needs to be applied to check for a valid set of co-ordinates, and if they are invalid or have jumped >1 mile in any direction, then it should be discarded from the Track log (or at least highlighted so you can discard it mentally).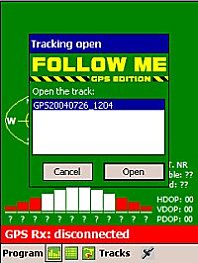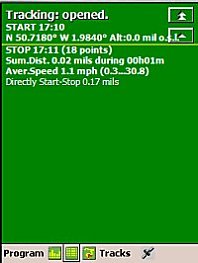 Another good feature of Follow Me is the ability to save the track for later use, you can then open the Track log as in the above screenshot's and it will start re-generating and plotting the co-ordinates throughout the track to the map screen.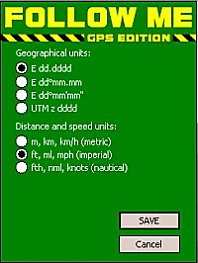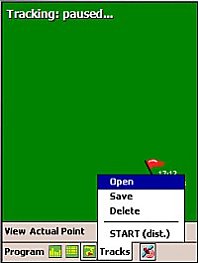 JGUI has added support for the popular geographical units as seen in the above screenshot and various distances and speeds including m, km, km/h, ft, miles, mph, fth, nml, and knots.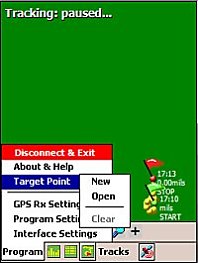 With Follow Me you can also set the directory to where track logs will be saved to, the ability for ClearType fonts, changing the background, but the most useful feature is the distance/time tracking mode which is the interval that the log will be generated at, but also to create a new track position when you change direction greater than 45 degrees and when you start/stop. It would be nice to have the degrees configurable so you could set your own setting here, but this hopefully may come in a future version.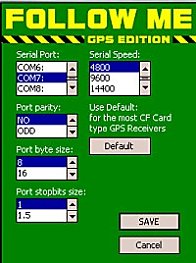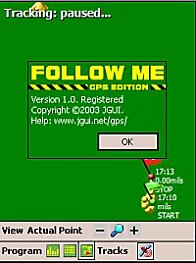 Follow Me Conclusion
Follow Me is a good application, it took me a while to configure it, test it a few times before I could fine tune it to work for me, but if you have had a handheld GPS Receiver in the past, or long for one and you want the same sort of features on your Pocket PC, Follow Me will be a good addition to your applications.
One thing to note, is that like other GPS Applications you can only use one GPS application against one GPS Receiver at any one point in time, this is a limitation of GPS Hardware/Pocket PC Hardware, so you won't be able to use this whilst using another GPS application like a Street Navigation program (unless you own a GPS Receiver that offers multiple data feeds).