Review by Dave Burrows

Introduction

DConnex are a company based in South East Asia (Singapore) that works at bringing GPS electronics to market and also have a retail store where they sell other GPS manufacturer products and will shortly be bringing to market their own branded GPS Receiver the DC-0103.


Some of you may already have noticed the design to be very close to the GlobalSat BT308, and it is. The core GPS is a BT308 I am told with an enhanced battery and firmware update.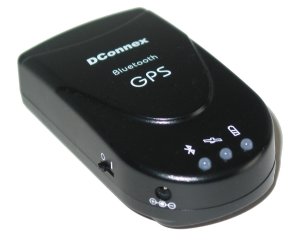 In The Box
The review unit we received was a full production unit but in a plain box (the full production units will ship in a proper designed box) and will come with:-
DC-0103 Bluetooth GPS receiver
Car Charger
International AC power charger
External Antenna
CD with Manual and software
When you get to test and review a lot of Bluetooth GPS products, the one thing you become accustomed to are the ones that fail quickly and the ones that don't. The GlobalSat has been a very good all round performer with very low (if any) failures, so if that's anything to go by, hopefully the DConnex DC-0103 will be just as good!
The DConnex DC-0103 comes supplied with a SiRF IIe/LP chipset, all tests were performed in NMEA 4800.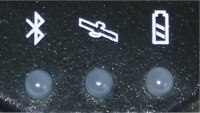 LED's
There are three LED's on the top of the DConnex Bluetooth GPS, these are namely left to right:-
Bluetooth Connectivity Status
Satellite Status
Battery Status
Bluetooth Connectivity Status will blink the blue light on and off every couple of seconds when a connection is established and once every 4 seconds when there is no connection.
The Satellite Status LED will stay on green constant when you don't have a fix, but will blink on and off when you do.
The Battery Status LED will only light up RED when the battery is low, so at least you do get warning that the battery needs recharging.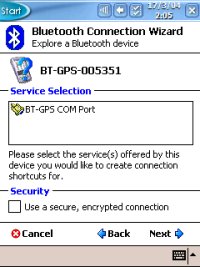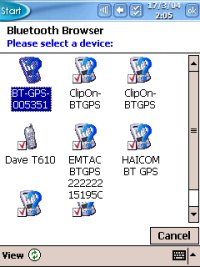 External Antenna
The external antenna socket is positioned about two thirds of the way down the receiver on the right hand side. This is an MMCX style push socket which allows the supplied external aerial to be connected.
The actual internal antenna is located underneath the top section about where the word DConnex is printed.
Design
The DConnex DC-0103 looks very similar to the GlobalSat in design, and also fairly similar to the Emtac, but it does sport a larger battery and can support 10 hours+ use on trickle mode.
GPS Performance
I have tested in anger the DConnex DC-0103 for around several weeks trying to fool it in urban canyons, heavy foliage and also running the battery low, but it performed extremely well in all environments. I didn't lose a single fix in my tests, TTFF's are very respectible at less than a minute at cold, the receiver also sports a 12 Sat all-in-view receiver running SiRF IIe/LP which is known to give good performance and has a well designed internal patch antenna.
Battery Performance
Initially I conditioned the battery with 2 full charges and since then I've been getting between 9.5-10 hours battery usage. As the DConnex DC-0103 uses 5vDC, you can use any Pocket PC style charger to charge the GPS.
Technical Specification
Electrical Characteristics (Receiver)
Frequency:
L1, 1575.42MHz
C/A Code:
1.023MHz Chip rate
Channels:
12
Sensitivity:
-170dBW
Accuracy
Position Horizontal:
15m 2D RMS (SA off)
WAAS enabled:
10m 2D RMS (SA off)
Time:
1 micro-second synchronized to GPS time
Velocity:
0.1m/sec 95% (SA off)
Datum
Datum:
WGS-84
Acquisition Rate
Hot Start:
8 Sec., average (with ephemeris and almanac valid)
Warm Start:
38 Sec., average (with almanac but not ephemeris)
Cold Start:
45Sec., average (neither almanac or ephemeris)
Reacquisition:
0.1Sec., average (interruption recovery time)
Protocol
GPS Output Data:
NMEA 0183 protocol and supports command:
GGA, GSA, GSV, RMC, VTG, GLL (VTG and GLL are optional)
GPS transfer Rate:
38400,N,8,1
Dynamic Condition
Acceleration Limit:
Less than 4g
Altitude Limit:
18,000 meters (60,000 feet) max.
Velocity Limit:
515 meters/sec (1,000 knots) max.
Jerk Limit:
20 m/sec3
External Antenna
Power:
3.3V
Connector:
MMCX
Power
Voltage:
Built-in rechargeable battery(900 mAh) and 5V DC input charging circuit.
Operation time:

8 hr. After fully recharged, in continuous mode

>10hr in trickle power mode

Physical Characteristics
Dimension:
85mm x 47mm x 26mm
Weight:
98g
Temperature
Operating:
-20° ~ 70°C
Storage:
-30° ~ 80°C
Humidity:
Up to 95% non-condensing
Bluetooth Specification
Bluetooth V1.1 Compliant
Supply Voltage:
2.8V ~ 3.3V
Frequency Range:
2.402 ~ 2.480 GHz
Receiver Sensitivity:
-80 dBm
Transmit Power:
+4 dBm (2.5mW) (class 2)
Transmitting Range:
3 ~10 m (Depends on environment)
Power Consumption:
45 mA (Typical)
Conclusion
If you are looking for a Bluetooth GPS for hiking, fell walking, or any outdoor pursuits then you will find the biggest benefit here is the battery life, which really does help if you don't have access to a charger for long periods of the day. If you coupled this with a battery extender and using trickle power save mode this receiver can last as long as you want!
The DConnex DC-0103 performed very well in all of our managed tests and in real-life tests. If you are looking for a small, compact GPS that will easily fit into a shirt pocket (albeit with a slight bulge) and are looking for extended battery usage above 8 hours then the DConnex DC-0103 should perform extremely well for you. Another bonus is the DConnex DC-0103 comes with everything you need from a European mains charger with 3-Pin UK Plug adapter, to a car charger, to an external patch antenna. You won't need anything else with this!