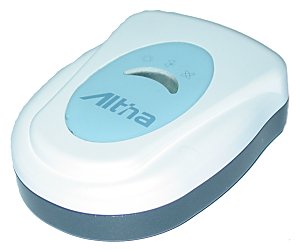 Review by Dave Burrows
Introduction
Altina is a new name in the GPS Sector. Looking at their website at Altina.com.tw will show that their core business is in RAM, Flash Memory and MP3 Players, but recently they have entered into the GPS sector.
Altina offer re-badged versions of the popular GPS Receivers running the latest firmware.
The GPS we are reviewing here is the Altina GBT708. The top of the case is a cream colour with a grey base. The GBT708 offers up to 9 hours continual usage based on the SiRF Star IIe/LP chipset.
Regular PocketGPSWorld.com viewers may notice a slight resemblance in the design to another well known GPS Receiver provided by Holux. More about this later though.
Box Contents
Altina GBT708 Bluetooth GPS
Car Charger
Mains AC adaptors for US, European and UK use
CD with Manual and GPS Utilities
Quick Start Guide
The CD
The CD comes with all the most popular manuals for Altina products including the GBT-708, GCF-508, GGM-308, GGM-308H, GGM-308HU, GGM-308U and the USB_Cable_Driver. Please note, no drivers apart from the USB_Cable_Driver are present on the CD and no GPS utilities like SiRF Demo to test the GPS Receiver.
The Receiver
The GBT708 is very small, just slightly wider than my Orange SPV C500 and a lot shorter in length. The GPS requires a 5vDC charge through a standard mini-USB type connector cable.
The GBT708 has a good specification chart including support for NMEA (9600 preferred), it sports a SiRF Star II chipset with embedded ARM7TDMI CPU, 12 parallel satellite-tracking channels for fast acquisition, high speed signal acquisition using 1920 time/frequency search channels, Low Power mode, SBAS (WAAS/EGNOS) and more! The GBT708 also comes with the standard SPP Serial Port Profile which Bluetooth uses to connect to a Pocket PC or PC. As XTrac is not loaded onto the SiRF IIe/LP Chipset, this enables you to have full WAAS/EGNOS support out of the box.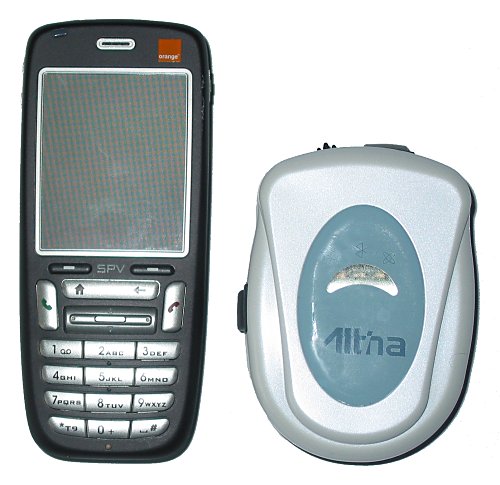 LEDs
The Altina GBT708 has three LED's like most Bluetooth GPS Receivers
Blue = Bluetooth
Red/Green = Battery (Good/Low)
Orange=GPS Signal
The Bluetooth LED will blink 3 times per second when it's searching for a Bluetooth Device, once a second when it's transferring data and once every three seconds when it's in Standby Mode.
The Battery LED will show RED when power is too low and it requires a charge, green when it is charging and no LED when the battery is full or not in charging.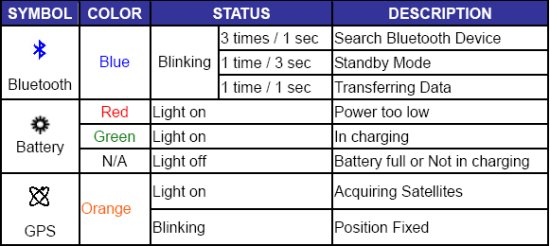 Striking likeness
I mentioned earlier that there's a striking resemblance to another GPS Receiver, and this is because the Altina GPS uses the same base, design and circuitry as the Holux GR-230 which has been known to be a very good all rounder GPS with high sensitivity (but not XTrac). You will see from the photos below that the power on button (top left), the data port (top right) and the external antenna port (left) are all in identical positions, the only difference is to the outer casing which has a new design which makes the GPS look a little larger than the Holux GR-230.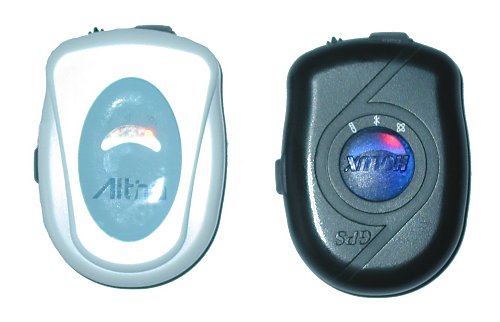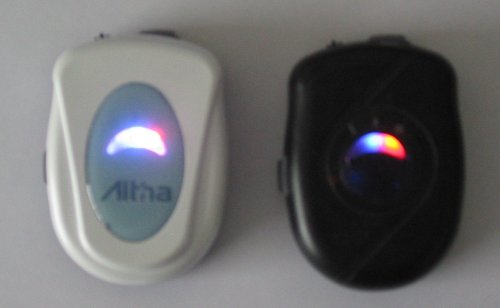 From the night shots above, you can see that the LED window is of similar shape and design and lights up very similar to the GR-230.
Performance
Performance wise the Altina GBT708 performs well especially seeing it doesn't have XTrac 2.0.2 loaded to the SiRF IIe/LP chipset. Providing on average around 8-9 sats and up to 9 hours of battery use (depending on conditions) means you will get good support from this.
One of the toughest tests to give a GPS Receiver is under difficult conditions like heavy foliage (tree's), or even inside a building. Performing a test on two iPAQ 2210's, one connected to the Emtac BT GPS which has always come out top on our list with performance, and another iPAQ 2210 with the Holux GR-230, take a look at the screen shots below. You can see by these screen shots that the Holux (much to my surprise and amazement) actually managed to bring in a further satellite (29) compared with the Emtac.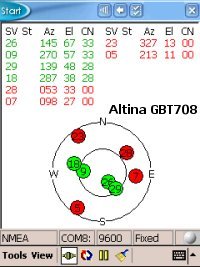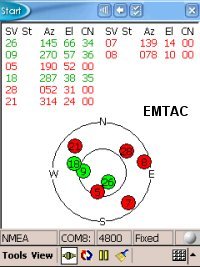 In our Time To First Fix (TTFF) tests, the Altina GBT708 performed very well. The fastest Time To First Fix (TTFF) was 37 seconds with the slowest at 1m 04 seconds which makes this a good all round performer.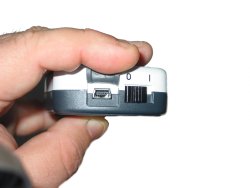 Optional Data Cable
Just like the Holux, there is an optional data cable which allows you to connect the Altina GBT708 to a PC and use it in a cabled solution.
Technical Specification
| | |
| --- | --- |
| General Features | |
| Tracks up to | 12 satellites |
| Receiver: | L1, C/A code |
| Snap Start: | <3 sec(at < 25 minutes off period) |
| Update rate: | 1 HZ |
| Antenna Type: | Built in Patch Antenna |
| Minimum signal tracked: | -175dBW |
| Dimension: | 77.9 x 56.9 x 22.8 mm |
| Weight: | < 70g |
| Power Button: | On/off push button |
| Battery | Lithium-ion battery lasts for more than 9 hours of use |
| Operation Temperature: | -10C to + 60C |
| Store Temperature: | -20C to + 85C |
| Operation Humidity: | 5% to 95% No condensing |
| | |
| Non DGPS (Differential GPS) | |
| Position: | 5 - 25 m CEP without SA |
| Velocity: | 0.1m / sec |
| Time: | 1 usec sync GPS time |
| | |
| EGNOS/WAAS | |
| Position: | <2.2 m, horizontal 95 % of time |
| | <5 m, vertical 95 % of time |
| Reacquisition: | 0.1 sec. averaged |
| Hot Start: | 8 sec. averaged |
| Warm Start: | 38 sec. averaged |
| Cold Start: | 45 sec. averaged |
| | |
| Bluetooth Features | |
| Serial Port Profile: | Compatible with Bluetooth devices with Serial Port Profile (SPP) |
| Version: | Version 1.1 compliant |
| Class: | Class 2 operation (up to 10 meter range) |
| Frequency: | 2.400 to 2.480 GHz |
| Modulation: | FHSS / GFSK |
| RF channels: | 79 |
| Input Sensitivity: | -80dBm |
| Output Level: | 4dBm |
| | |
| Serial Features | |
| Output terminal: | Mini-USB (TTL Level) |
| NMEA Protocol Output: | V 2.2 |
| Baud Rate: | 9600 bps |
| Data Bit: | 8 |
| Parity: | N |
| Stop Bit: | 1 |
| Standard Output Format: | GGA, GSA, GSV, RMC |
| Standard Output Format: | GGL, VTG, SiRF Binary |
| | |
| Other Features | |
| Altitude: | 18,000 m ( 60,000 feet ) max |
| Velocity: | 515 m/sec ( 700 knots ) max |
| Acceleration: | 4G, max |
| Jerk: | 20 m/sec, max |
| LEDS: | Bluetooth , Navigation Update and Battery and changer status Indication |