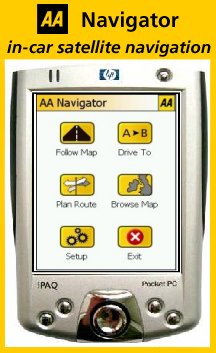 Review by Dave Burrows
Introduction
TeamWarrior and the AA have teamed together to create a PDA Street Navigation application, and this is a first for UK because it utilises 7 digit UK postcodes straight out of the box.
The AA Forward

All UK users will know that the name AA stands for quality, reliability and fixing your car at the road side. Many European users may not associate that with the initials. The AA has been a very long standing institution for motorists in the UK since cars were created, AA stands for Automobile Association.

TeamWarrior Forward

TeamWarrior have been on the PDA scene for quite some time, originally teamed with TravRoute (now ALK) with CoPilot 3.5 and created a number of add-on features for v4 and then created standalone products.
Map Coverage
Currently AA Navigator only covers the UK with NAVTEQ maps, but the AA are looking to expand on this later.
Hardware
AA Navigator comes in a software only version and also a number of different hardware bundles. The version we received which we are reviewing here is the software with Bluetooth GPS version. This comes with a Fortuna Clip-On Bluetooth GPS and a variety of accessories and an in-car vent mount (no windscreen mount).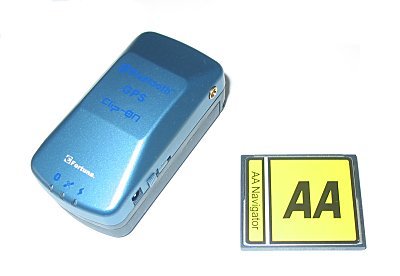 The Fortuna Clip-On we have previously reviewed here.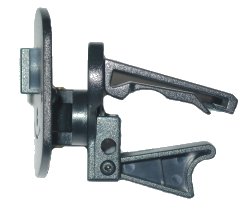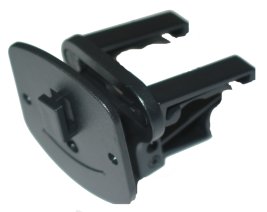 Above can be seen the vent mount The top two lugs clip around your horizontal vent slats whilst the support arm (underneath) can be angled to take the support away from the vent itself so you aren't putting any heavy weight onto the vent slats.
The AA have thought of everything in this bundle. You not only get the Bluetooth GPS as shown above, the vent mount clip, but also the Arkon CM629 Cradle along with an in-car charger for the Bluetooth GPS, UK mains charger which has a USB socket on it, and a USB cable to Jack plug that allows you to not only charge the GPS but also a PDA providing your PDA has the standard jack socket.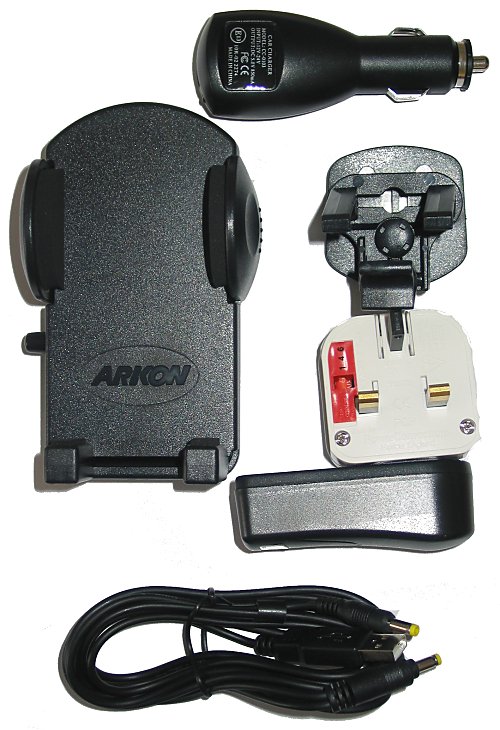 Included in the box also is a lan yard cable to allow you to hang the GPS from your neck if you so wish, a dashboard mounting plate for the Fortuna Clip-On GPS, a plastic case to put the GPS in, and also an extra case with belt clip, plus a screwdriver which allows you to unscrew the screw that holds the battery in place so you can change the battery if you need to.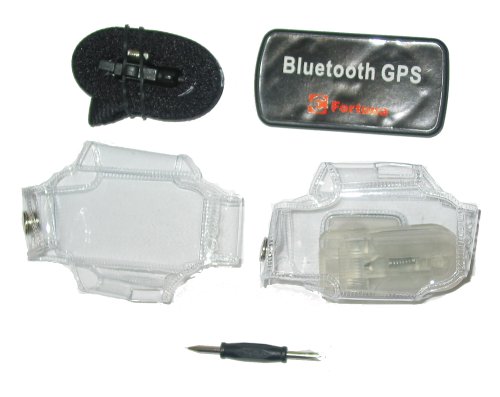 Software Installation
Installing AA Navigator is pretty straight forward. Depending on the package you purchase, you should have an SD or CF card with the application pre-installed onto this. Simply insert this into your Pocket PC, it will start to auto-install itself. Then activate using the activation details you are given (either online or offline) and that's it, it's installed! A no fuss installation!
The Application
AA Navigator is based on the latest NAVTEQ 2004 release maps which includes support for the M6 Toll Road.
Menu Structure
One thing that seems to be a popular feature by request is large accessible menu buttons, and this you will find in the AA Navigator so you don't always have to use a stylus to go through the menu items. If you are familiar with any Satellite Navigation product then you will see some of the core features like the ability to browse map, plan route, setup and exit.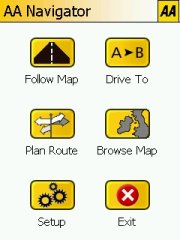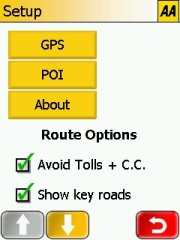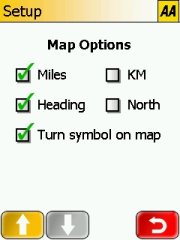 GPS Setup
GPS Setup is automatically set to COM1, but this can be changed depending on the GPS you purchase, or whether you want to use your own GPS and just purchase the software only version of AA Navigator.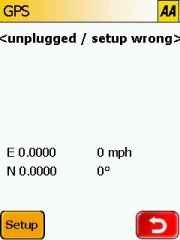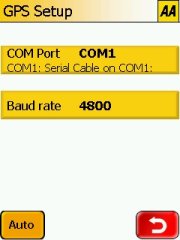 Points Of Interest (POI)
AA Navigator comes with a plethora of POI's straight from the NAVTEQ database. One feature that AA Navigator doesn't currently have and that's the ability to add your own Customisable Points Of Interest. Why would you want to do that ? Well you might want to add your favourite Caravan Sites, Favourite Restaurants, or Speed Cameras. Unfortunately in the current release you will not be able to do this.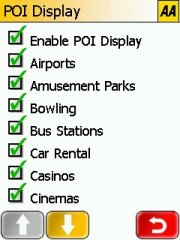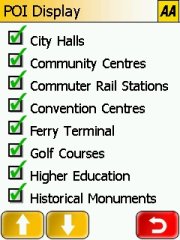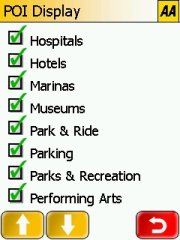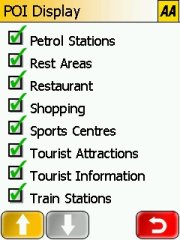 Map Display
The map display takes on standard styles of colouring that you would expect from most Satellite Navigation products with soft pastel colours. Motorways are in blue, major roads (ring roads) in red. In the third screenshot below you will also see the Points Of Interest shown on the map. When dragging the map or zooming in and out it may take a couple of seconds running it from the SD or CF card, and this will present a PLEASE WAIT clock as seen in the first screenshot below. This is instead of the normal Pocket PC Pizza Wheel.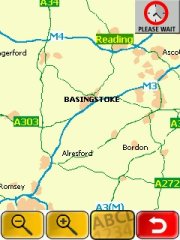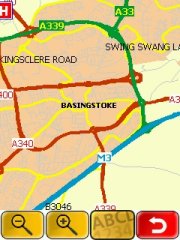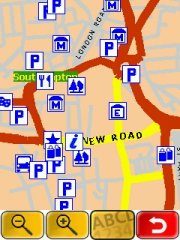 Finding Addresses
Trying to find an address is fairly easy. You can do it via a number of ways. Via a recent destination you have visited, a favourite you have recorded, search by town and then street or select More Places which will bring up the second screenshot below which allows you to pick addresses by Contacts, POI and Postcodes.
Postcodes is something that should be mentioned here, because currently all other UK products on the market today for PDA users only offer 5 digit lookup of UK postcodes, the AA Navigator has upped the ante by allowing you to search by the full 7 digit UK postcode!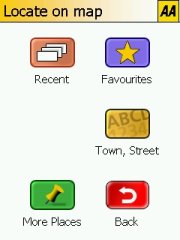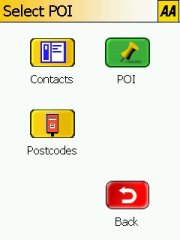 Calculating the route and commencing your journey
Once you find your destination the Calculating Route screen will appear and will then commence the journey.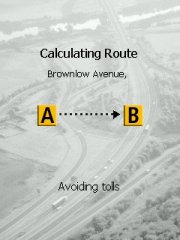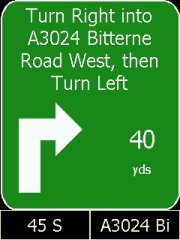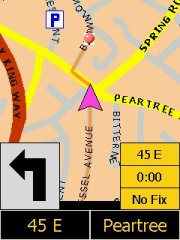 Maps and ability to zoom
There are no enforced limitations on what you can zoom into on the map, so you can go from a country style map right down to street level, it just may take a little while for it to render the map. Zooming in and out with AA Navigator doesn't quite feel like any other application, there's a distinct pause between each request before it does it, and by a pause I mean a couple of seconds. If you tap the zoom in or zoom out multiple times then it will seem like an age before it zooms out, this appeared to be the same on SD card and CF card so there was no limitations by the physical hardware.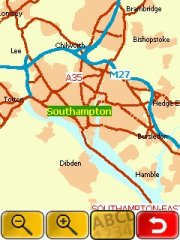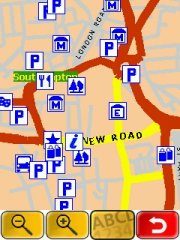 Safety Screen
As with most PDA Navigation products, you will find there's the ability to enter a safety screen which takes your view away from the map and gives you just directional turn information. AA Navigator is no different here.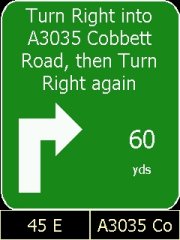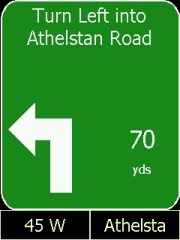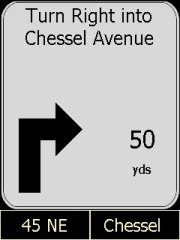 Driving options
By tapping the map whilst driving you are then presented with a Drive Options screen. This allows you to switch between day and night colours, change to map mode, select an alternate route, mute the Text To Speech (TTS) or Stop the Drive.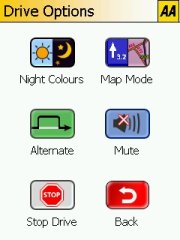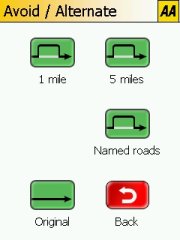 By selecting an Alternate Route, you have the option to set the Alternate Route in 1 mile, 5 miles, to a named road or to default back to the original route.
Map Driving Screen
The main Map Driving Screen gives you not only the map, but a turn by turn pictogram in the bottom left, with various configurable settings on the right hand side. The map view will try to display Position Up rather than North Up, however when making turns it will show North Up.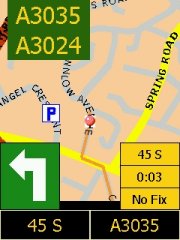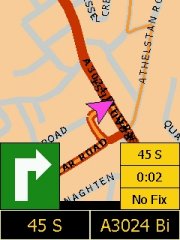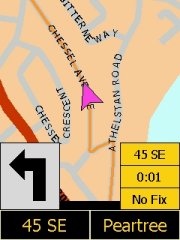 By tapping any of the yellow configurable boxes on the bottom right hand side of the map screen or the black boxes will present you with a menu allowing you to customise these boxes to different user configurable settings. These can be seen in the screenshot's below.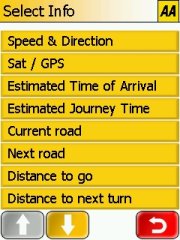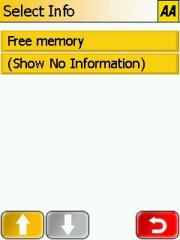 Voice Prompts
There are two available types of voice prompts. The first is TTS (Text To Speech) that many may remember from CoPilot. There's also WAV support. AA Navigator will start to go away from TTS as their newly implemented WAV files do actually give nearly as much information. They'll tell you to turn left onto the M25 for instance, but won't be able to tell you street names.
Routing
The AA say they have put a lot of effort into producing more accurate routes by deviating away from Motorways when there's a more direct route. For instance creating a route from Southampton to Oxford should take you up the M3 and then onto the A34 rather than staying on the M3. This should be to most peoples liking although some people do prefer to stick to motorways and drive a longer journey as opposed to taking A roads which can sometimes become traffic burdened. Currently there is no way of tweaking the routing algorithms in AA Navigator.
example, a route from Southampton to Oxford will use the A34. Whereas other
products tend to take you round the M25 (which most people would avoid on
that route).
What's Missing ?
AA and Team Warrior have done a good job at a first version application. You will notice that they've gone for stability and the bare basics over a lot of bells and whistles. You don't have any 3D view, any way of customising colour schemes, any way of using avoidance areas, itineraries, customisable voice, but all this will come probably over time or in the next major release of AA Navigator or perhaps with minor updates.