Strictly this isn't a Pocket PC device, but we thought it worth of displaying it on our website.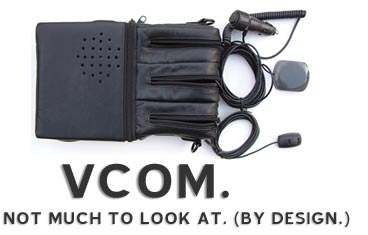 Navigation systems should be heard not seen --- the guiding principle behind the design of VCOM, the first display-free voice navigation system. With VCOM, you never have to take your eyes off the road or hands off the steering wheel, making for the safest possible driving experience.
Features
Dimensions: 6" x 8" x 2". Weighs less than one pound.
Portable or hardwire configurations.
A built-in GPS (Global Positioning System) tracks position and provides next turn prompt.
Turn-by-turn instructions.
On-board spell check.
Covers entire continental United States (divided into 18 regions).
21 entry address book.
Expert or Novice modes.
Auto re-routing.
Uses an unsynthesized, human voice.
Last destination memory - start your next trip from your last destination.
Categories of common landmarks (gas stations, ATMs, restaurants, hotels, rental car agencies, malls, golf courses, etc.). Over one million points.
Whole word commands: NO-TURN, I-AM-LOST, REPEAT, WHERE-AM-I, etc.
Remembers current destination and route even if turned off then on again (e.g. when you get back on the road after stopping for gas).
Spell only the primary street name. No need to spell prefix (South, West) or suffix (Street, Avenue, Boulevard).
Points of interest - Disneyland, Los Angeles International Airport (LAX), The White House, Tavern on the Green, Museum of Modern Art, etc.
Built-in, self-paced tutorial.