TomTom Maps-on-Line is a service that brings up-to-date maps, driving instructions and local information straight to your Pocket PC while you're on the move.
TomTom Maps-on-Line is a wireless mapping and routing application, using location based server technology. Once the client software is installed on your Pocket PC ®, TomTom Maps-on-Line gives you access to detailed, street-level maps of twelve European countries without the need to preload any maps. Maps are sent instantly to your Pocket PC ® as you need them; no matter where you are, you always have detailed maps of the exact location with you. In order to use Maps-on-Line you will need to connect your Pocket PC ® to the internet.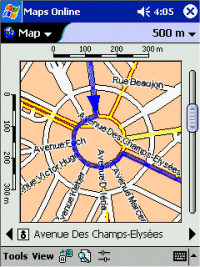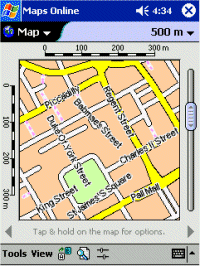 TomTom Maps-on-Line plans your routes between any two locations, whether you're by car or on foot. You can search places by name or just by pointing on the on-screen map and set your departure or destination. When you attach a GPS receiver, your Pocket PC ® can automatically use your current location. When planning a route between two cities, TomTom Maps-on-Line will seamlessly switch between detailed city streets and national roads and highways. This makes it possible to very quickly plan the best route between any two streets; within seconds, detailed route instructions will be displayed, offering turn-by-turn instructions accompanied by detailed maps.
TomTom Maps-on-Line offers easy access to local points of interest. These include services such as petrol stations, car parks, airports, and train stations. Once you have selected a location, your Pocket PC ® will show you the best route to get there. You may also enter your own points of interest and categorise them under 'Home', 'Office', or any other heading. These can be stored as frequently used 'departure' or 'destination' points for quick and efficient route calculations from any point in Western Europe.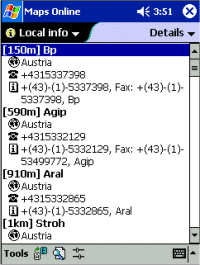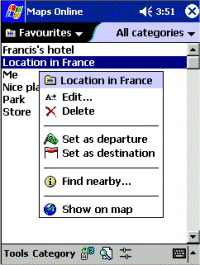 TomTom Maps-on-Line uses a memory friendly client application that can be downloaded onto your Pocket PC ®. It offers a highly intuitive look and feel and is fully consistent with the built-in Pocket PC 2002 ® applications. TomTom Maps-on-Line is built on proven and state-of-the-art technology; fast, high ratio compression, combined with local intelligent caching, ensures a highly responsive user experience and minimizes the time to show the map and directions on your screen. TomTom Maps-on-Line is the first application of its kind that uses the local processing and storage capabilities of the Pocket PC 2002 ® whilst benefiting from the Internet for mass data storage and complex calculations.
TomTom Maps Online covers pretty much the whole of Europe. However, "Point of Interest" categories (Airports, Train Stations, Car Parks...) on offer may vary from country to country.
TomTom Maps Online costs €5 per month.