Author: Darren Griffin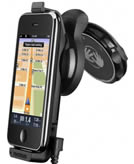 Introduction
TomTom launched their iPhone Car Kit at Apple's Keynote iPhone 3GS Launch event on June 9th 2009. There is no better publicity than being invited to participate in an Apple Keynote, an event that has a massive audience of world wide viewers watching via the web as well as the event attendees.
Until then, turn-by-turn navigation on the iPhone had been blocked by a clause in Apple's App Developer agreement. So it was with much relief that they changed their policy and finally unleashed turn-by-turn navigation on the iPhone user community.
Amongst a number of other partners chosen by Apple to demonstrate their wares at the launch were TomTom so Peter Frans Pauwels stepped onto the stage to demonstrate TomTom for iPhone and to unveil the
car kit reviewed here.
Technology
Whilst the arrival of turn-by-turn navigation software had long been rumoured and was almost a given, TomTom's involvement had not been leaked nor had the launch of a dedicated car kit been anticipated. So it was even more of a surprise to discover that the car kit was not just a simple cradle with charging capabilities but also contained its own dedicated GPS receiver.
iPhone owners will know that the GPS contained within the 3G version is far from the most sensitive available. The 3GS is better but for Apple to allow a car kit with its own GPS receiver is tantamount to an admission that for in-car use, the internal GPS was not good enough and comes as a huge surprise.
Features
TomTom's cradle has been well thought out and contains some nice little design touches. Although disappointingly, it cannot accommodate an iPhone that is installed in a case. Amongst its features are:
Charging capability using miniUSB
Hands Free
Loudspeaker
Rotates between portrait/landscape
Line Out
The design allows the iPhone to be inserted very easily with the sync connector at the bottom swivelling outwards a few degrees to aid insertion. The back of the cradle is rubberised and the TomTom logo is a rubber 'cushion' that support the phone. The top catch that secures the iPhone when installed contains a small roller that aids insertion and prevents scratching, a nice touch.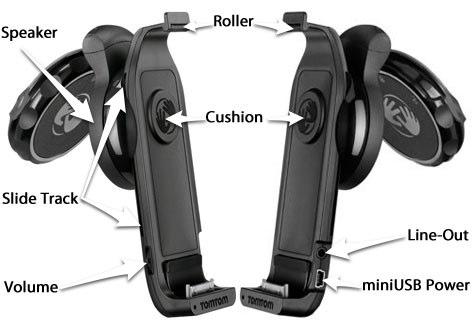 TomTom iPhone Car Kit Features
TomTom have used a similar design suction mount to that first seen on the TomTom ONE 'EasyPort' models. This uses a large flat disc that is turned to secure the suction mount. This is attached by means of a small ball joint to the speaker which rotates against the rear of the main cradle for adjustment.
In addition, the cradle can slide up/down along tracks to allow a wide choice of positions. This allows the mount to be used fitted to a dash top or hung from the windscreen in both portait and landscape modes without the top or bottom of the cradle fouling. Difficult to explain in words but this picture demonstrates the adjustment.

Mount slides up/down for more adjustment
In Use

The car kit comes complete with a 1.2A cigarette lighter charger, an adhesive disk that allows the cradle to be mounted to a flat surface instead of the windscreen if preferred and a getting started instruction leaflet.
Installation is easy with only a small turn of the knurled suction base being required to secure it. Power needs to be applied to the cradle for the GPS, loudspeaker, hands free etc to work and of course for charging. The iPhone sucks battery power at a rapid rate of knots when GPS is in use so 12v power is essential for use in-car.
The cradle uses Bluetooth to service the hands-free functionality and so you will need to pair your device to the cradle (and have Bluetooth switched ON) if you wish to make use of the hands-free services.
Once the iPhone has been inserted and paired the only thing that remains is to fire up your navigation app. Whilst TomTom would naturally prefer you use their own solution, the beauty of this design is that it will provide GPS assistance and loudspeaker functionality to any GPS app installed on your iPhone. When docked, the iPhone automatically uses the GPS installed in the cradle. This is a nice touch and means you are not locked into a TomTom solution for navigation instructions.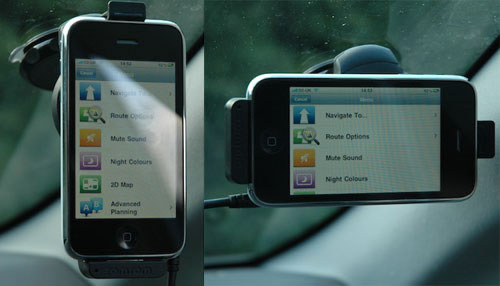 Portrait/Landscape Positions
In-use I noticed a large improvement in sensitivity and TTFF on the iPhone 3G and a much smaller but still worthwhile improvement on the 3GS. The car kit also supports the original 2G model which is great news as the 2G did not have a GPS receiver.
The loudspeaker works well and delivers a huge improvement in volume. On its own, an iPhone struggles to be heard above the noise in a normal family car whereas when docked, it is much more akin to the volume levels you get from a PND.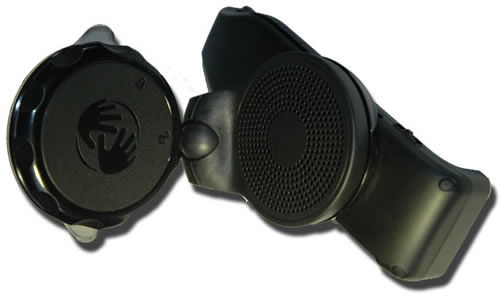 Rear view showing mount and speaker
If you have a car stereo that has an AUX-IN facility you can connect the car kit direct using a 3.5mm male to male cable. With the stereo input switched to AUX-IN, all the audio from the iPhone would then be fed through your vehicle speakers. This includes any music you have on your iPhone so you could have music playing from your iTunes library and have voice guidance on top. The iPhone automatically mutes the music as navigation instructions are played.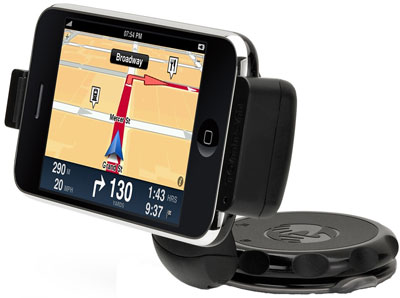 I'm not a fan of using your phone in-car, hands free or otherwise. Driving is complex enough without the added distraction of a telephone conversation so for me this feature isn't something I;d use. But for those of you who do, it works as well as can be expected. I say that because the iPhone does not multi-task and so if a call comes in, navigation must be shut down in order to take the call. The app does resume when the call is complete and the microphone is sufficiently sensitive for the other party to hear you without problems though.
On the side of the cradle, hidden from view when the iPhone is docked is a small volume toggle. Frustratingly this gives no visual indication when used and so it is difficult to know if it has had any effect. Personally I found it easier to use the iPhone volume buttons instead.
Conclusion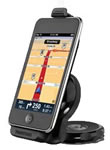 So it it worth buying? That is a very difficult question to answer. At £99.95 it is very expensive when compared with the cost of an entry level PND. However, when compared against cradles from Brodit and Carcomm which can cost £50+ and lack the speaker, GPS chipset, hands-free facility and Line-Out then it looks rather better value.
The cradle has been well thought out and is well made. If you own a 2G iPhone then this cradle will allow you to install and use GPS apps. If you own an iPod Touch (1st or 2nd Gen) then TomTom have an almost identical car kit to suit those models. It differs in being slightly shorter to accommodate the smaller dimensions of the Touch models, lacks the hands free functions (and is slightly cheaper as a result) but is otherwise functionally identical.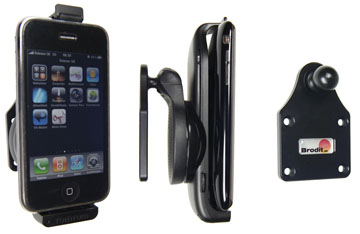 The only downside for me was the design of the suction mount. I dislike windscreen mount solutions, its a personal preference I admit but for me it meant an installation lower down on the dash would be problematic.
However, the guys over at Brodit had anticipated this issue and now offer an adapter (see image on right) that replaces the suction mount with a flat plate that can be attached to a Brodit ProClip or screwed direct to the dash.
It retains the ball joint adjustment and answers all my concerns.
So yes it is expensive but it is also the best cradle solution currently available. If you own a 3G, want to use it in-car, need hands-free and a louder speaker then this is the solution for you.
If however, you have a 3GS, don't need hands-free or the speaker facility then it may well be more than you need.
Regardless, the biggest question is can you justify the cost!
| | |
| --- | --- |
| Resources | |
| PocketGPSWorld Editor | Darren Griffin |
| Manufacturers Web Site | www.tomtom.com |
| RRP | £99.95 |
TomTom's car kit video is linked below as it offers a good over view of the functions and features: