Review by Dave Burrows
TheClip.com have sent us a variety of different mounts for Pocket PC's and Mobile Phones including a couple of belt holster cases. Some are to be car mounted, some are to be mounted off your belt, so this review is based on the complete selection of mounts that we received.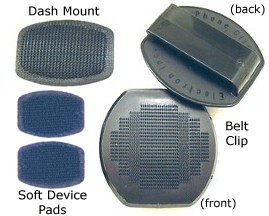 The Grip Clip
The Grip Clip is a multi-purpose mount for a PDA or GPS. It comes with two main velcro hook pads. One will clip onto your belt whilst the other can be stuck with the supplied 3M style pads to the dashboard of a car. The object of this mount is that you also have two soft velcro pads that you then stick to the PDA or GPS that you want to mount. When you then place these two velcro pads together they hook and bond extremely well like you would expect from velcro and it means that you can stop having your mobile phone, Bluetooth GPS or even PDA slipping and sliding around the dashboard of your car.
You can also velcro your mobile phone, PDA or GPS providing it's not too heavy to your belt making this the ideal quick and versatile mounting solution with a quick release mechanism (just pull!).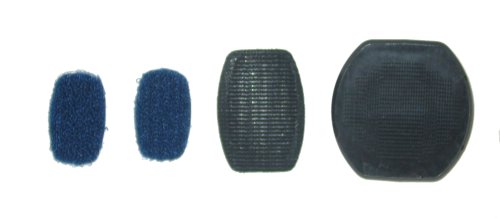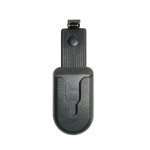 Travel Mount
The Travel Mount is an ideal solution if you know you are going to be moving between cars. Either because your car is always in the garage being repaired, or you are driving different rental cars.
The object of the Travel Mount is to provide you with a swivel belt clip which can easily be attached to a sun visor or even vent in a car. This allows you quick and easily clip your Bluetooth GPS, Mobile Phone or other lightweight device to the sun visor without having to have any complicated mounting system. This comes complete with a button and a 3M pad to bond with any device that you want.
I must say for someone that seems to change cars a lot, this is an ideal solution to quickly mounting your device.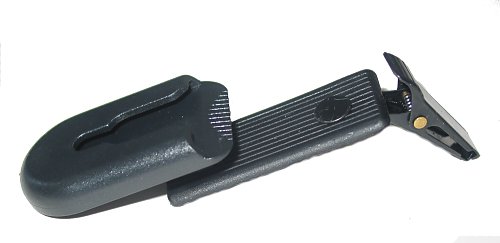 The Ultra Swivel Clip
This is like a regular swivel belt clip but with one thing different. It's for heavy duty items, things like PDA's, MP3 Players, something you don't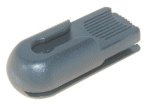 want to just drop off your belt at a moments notice! The Ultra Swivel Clip is significantly stronger and more durable and offers much more security than anything similar on the market today.
The Ultra Swivel Clip can withstand pulling forces greater than 130 pounds in any direction which should be more than enough for a Pocket PC, Palm or MP3 Player! It comes complete with the clip, two Ultra tabs and two round 3M VHB Adhesives.
TheClip.com recommend use with any style of Pocket PC, Palm, MP3 Player, Handheld GPS Receiver and Mobile Phone.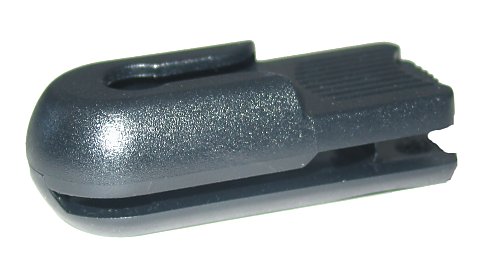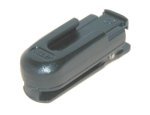 Ratchet Clip
The Ratchet Clip like the Ultra Swivel Clip is designed for heavy high priced devices like PDA's, Mobile Phones and GPS Receivers. Anything lighter than these can also be supported. It's a belt clip with a subtle difference, it has a ratchet which enables it to keep any device on your belt in the position you want. A lot of belt clips from other manufacturers have broken before because you put stress on the button that's fixed to your device and eventually the durable plastic will give way, but what's good with the ratchet clip is that you can have a long GPS Receiver or PDA and mount it horizontally on your belt and the ratchet will keep it in the position you want it to stay in. Ideal for those awkward devices or long/large devices that keep getting in your way like when it's hinged to your belt and you go to sit down into a seat of your car.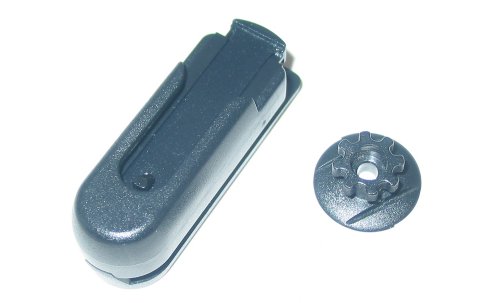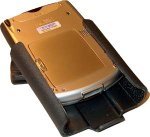 iHolster for the iPAQ 2210/2215
The iHolster is a great efficient way of holding your iPAQ cleanly to your belt, it's simply a holster with a button riveted to the holster so that it doesn't break!
The best thing about this case is I'm always wary about carrying PDA's on my belt, because I tend to bump into things, or lean against things, and that can easily crack the screen. Great thought has been put into this product by sticking on some felt pads, which means it not only protects the back of your Pocket PC if the screen is facing outwards, it also means by design as the 2210 is a perfect mirror of itself, that you can place the screen towards your belt which also allows you to protect the screen when carrying it. Ingenious! It then doesn't need any other sort of flip over hard cover and makes it nice and quick to remove from your belt! I can tell you, I'm a real fan of this design! Slick and durable! I've been testing this out for the past few weeks and I find the place I most find this case of use is when shopping at the supermarket. I have my shopping list done out on the Pocket PC in List Pro and I can just quickly take the Pocket PC out of it's holster, check what I need to purchase, put it back in again without having to worry about it!
This means that your screen isn't then exposed to grit, or damage and protects your screen. It also has protected felt lining pads to make sure that no parts of your iPAQ get scratched or damaged whilst in the iHolster which is something that most case manufacturers don't usually think about.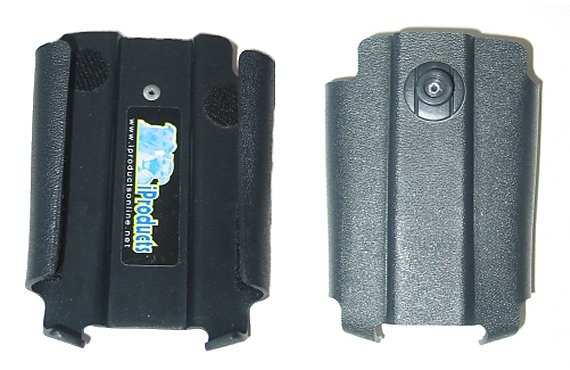 InnoPocket Case with Ultra Clip for iPAQ 2210/2215
The InnoPocket Case is the best looking case I have ever seen. I used to own (actually still do own) a Proporta case, and in comparison the InnoPocket Case wins hands down in design. Care and attention has gone into making this case from the silver finish to the felt lining inside the case to protect your iPAQ from scratches, and even the inside of the lid is lined with a felt like fabric, and what's more there's even an SD holder slot in the lid to allow you to easily carry another SD card with you, which is perfect!
I really do like this case, it looks stylish, hangs on your belt well with the supplied Ultra Clip, and so far everyone has asked me what that was hanging from my belt.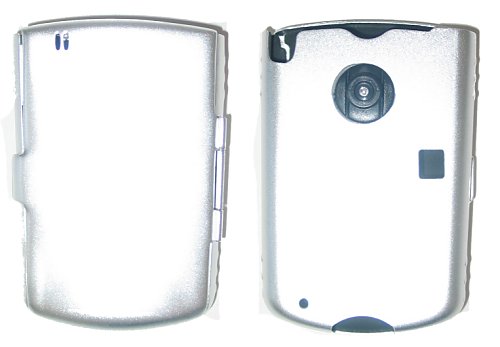 Another good point about this case is that it has a sync port opening in the bottom. You won't be able to plug the Pocket PC into your cradle directly with the case attached as the contour of the Pocket PC is now changed, but you could quite easily have it sitting on your desk and use a Pocket PC Sync Cable.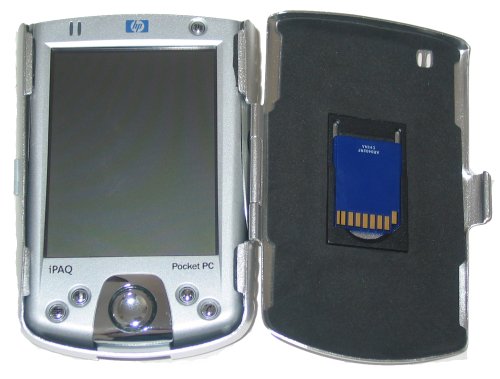 Conclusion
I have always liked TheClip.com's mounts ever since I wrote the original Vent Mount Review, and I still find their clips durable and very well made.
Bundle the clips with a couple of PDA cases and you've got the ultimate carrying solution for your PDA!