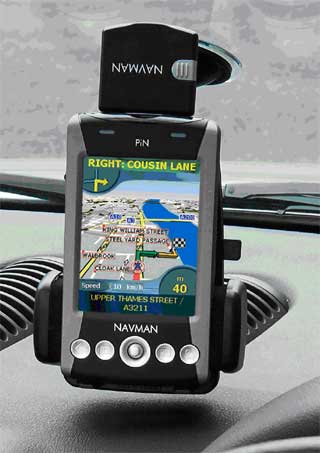 Navman PiN 570
Navigation device and Pocket PC all in one
CeBIT, Hannover, 10 th March 2005 – Navman Europe is announcing the launch of the new Navman PiN 570. This fully-fledged global positioning systems (GPS) navigation solution with integrated Pocket PC ™ capabilities is the ideal travel companion for busy professionals on the road. The PiN 570 is a stylish and compact device, combining the latest navigation technology with personal information management and multimedia in one highly portable handheld. From your desk to your dashboard, the Navman PiN 570 will navigate you through your day.
Navigation at your fingertips out of the box
The Navman PiN 570 is fully Drive-Away ™ , meaning there is no software installation needed, everything is ready to go, preloaded to the device. The PiN 570 arrives with a dedicated navigation button offering direct access to the SmartST feature-rich navigation software, providing:
Clear turn-by-turn voice instructions
Multi view options: 3D map view, 2D map view, quick view next manoeuvre icon with 2D mini-map, and a four next manoeuvre view.
Journey planner: Users can navigate from A to B via up to 12 multiple stops.
My Points-of-Interest (POI) import: This enables the user to customise individual POI and download other POI databases.
Active My POI: Set an alert alarm when approaching selected POI.
Nearest POI: For example, if a driver is low on petrol the PiN 570 can display the nearest petrol station and distance to arrival.
The PiN 570 offers an additional smart option: navigation from the address book. To navigate stress-free to your next meeting, you only have to select a contact address stored in Pocket Outlook ™: just click and the PiN 570 will guide you straight to your destination.
Superior software for an easy journey
With the new SmartST 2005 software for Pocket PC, the driver is offered a large choice of options to make his destination search easy and fast: address, my home, favourite, recent destination, nearest POI are the choices available. And if you don't have the exact address of your destination you can search for area, postal code, street intersection or centre of street.
Elegant, pocket-sized and multimedia enabled
The Navman PiN 570 comes in a stylish tungsten and graphite casing. Its compact form has the GPS receiver discreetly tucked away at the rear - just flip the module skywards and let the PiN 570 guide you. And, when you've arrived at your destination, the compact PiN 570 stows easily into your pocket. The Pocket PC comes with Windows Media Player 9 series offering entertainment on the go with high quality MP3 and video playback capabilities as well as a built-in voice recorder.
Navigate your day
With the Navman PiN 570 your professional and personal life is in the palm of your hand, wherever you are: at work, at home or on the go.
Personal information management functions with calendar, contacts, tasks and notes;
Mobile office with the pocket versions of outlook, word and excel for Pocket PC.
Price and availability
Retailing for £349 (€499) incl. VAT, the PiN 570 will be available from selected European retailers and e-tailers beginning May 2005.
Technical specifications
Microsoft® Windows Mobile 2003 operating system
Samsung 266MHz processor with 64MB of internal RAM
3.5-inch transflective LCD touchscreen (with 65,000 colours and a 240 x 320 resolution)
MMC/ SD (SDIO) expansion slot
The PiN 570 is supplied with an SD memory card with pre-installed maps of the UK, a sturdy windscreen mount, 12V vehicle power cable and protective carry case.
For further information on Navman-Europe contact t: 01293 780 500 or visit the Web site at www.navman-europe.com