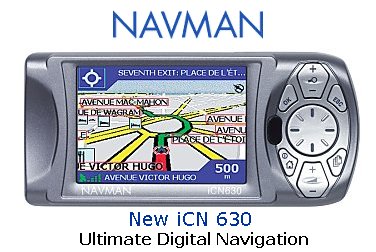 Review by Dave Burrows
Introduction
This mini review is tailored more for existing Navman iCN630 owners, and people who have already tried the original iCN630 and would like to know what differences to expect in the latest release of the V2 software.
Navman have made a number of new changes in the latest release of the software, and due to the price of the iCN630 at around the £900-£1000 mark, have decided to release the complete upgrade free of charge to existing registered iCN630 customers.
As we reported back in January 2004, the new changes are based around the maps and software rather than the hardware. These include:-
New 3D maps courtesy of TeleAtlas
Postcode Lookup Support
Complete Journey Detail and Route Summary
Improved Zoom facilities
latest up to date 2004 maps with TeleAtlas data
The largest change that Navman have made is that they have decided to switch from NavTech to TeleAtlas for their geodata (map support). NavTech's data is considered the most comprehensive across Europe, but comes at a greater premium than TeleAtlas, but TeleAtlas does support a lot of better features with richer 3D maps but all this can come at a price, and that's down to the TeleAtlas database not being as comprehensive as NavTech's. Navman have decided to switch on both their flagship products, the iCN630 and also their Pocket PC Software version (SmartST Pro).
Maps and Data
One thing you will first recognise is the maps are still the same look and feel as Navman have added their customisation to the data, but you now have a 2D/3D view.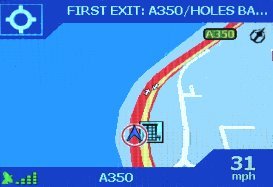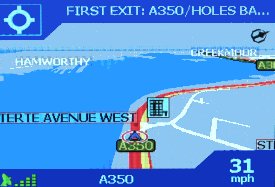 This can be toggled from using the Up and Down keys to go from 2D to 3D through 13 different angles so if you don't like a full-on 2D view, or a wide 3D view you have 13 angles to choose from. POI's are still viewed on the map in both 2D and 3D modes which is a good thing, and also the road names, especially A roads are displayed in the same manner.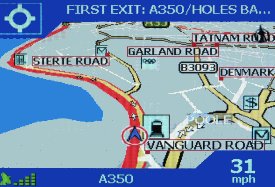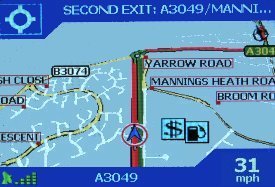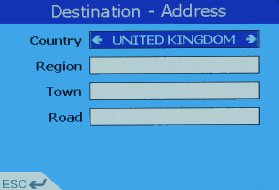 Data (Searching for Addresses)
Unfortunately this is where TeleAtlas data really falls down and we have seen this before under TomTom Navigator 1 & 2.
The first search I attempted was for my home address (sorry can't give the address out as an example otherwise you will all be camping outside!), but searching for this via the Country, Town and Road this then failed immediately in not being able to find the street I was looking for.
However if I used the new PostCode search option I could enter Country, PostCode and Road and hey presto it did find it.
So I thought I'd take a clean look at this and exclude the Town altogether, and it appears that there are a lot of roads that aren't linked to any Town or City. For instance if you search for the following roads with the Town set to Southampton you won't find them:-
Barnes Road
Somerset Avenue
Bitterne Road
Bursledon Road
Thomas Lewis Way
The Avenue
Mountbatten Way

Now for anyone living or driving to Southampton will know all of the above roads are major roads except for the top two which are not A roads. So I thought I'd try the same looking for some roads in Poole as the Town:-
Vanguard Road
Dorset Way
Parkstone Road
Much to my dismay, I found that none of these could be found if the Town was set correctly, however if you ommit the Town, you will find the road name, but it won't have a City or Town listed after it. This is kind of worrying, especially with TeleAtlas's latest data. It's obvious that TeleAtlas still haven't fixed a lot of their data for the UK in this respect, which is a shame because they have great map coverage and this really is an area they need to work on.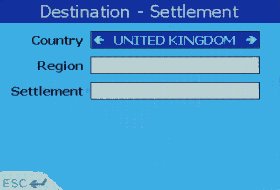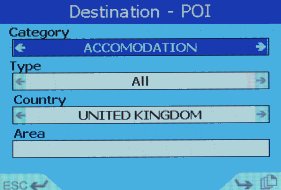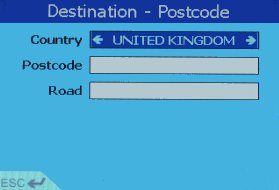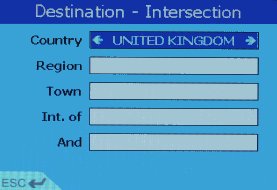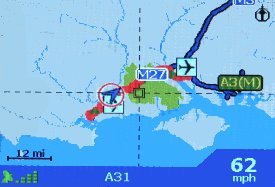 Route Avoidance
There is a neat new feature called Avoidance where you can browse to an area of the map, draw a square/oblong around an area of roads and tap the OK button and set it to avoid road.
The iCN630V2 software will compute a new route and route you around this and it works extremely well, however you do have to make sure that you remove this after your route. The reason for this is the area you have set to avoid isn't set just for the journey, it's set permanently.
Therefore you do have to remember where you have set the iCN630V2 to avoid so you can remove this after your route, otherwise if you drive the route a week later you will get diverted away from that area again because of the previous road block you had set. It's a good feature if you want to always avoid a section of road because you know it's going to be snagged up all the time, like the Twyford Cutting. Remembering which areas you have set to avoid may become a problem, so Navman have thought of this and added a clear all Avoid Areas in the User menu so if you don't remember which avoidance you set up, you can remove all quickly and easily.
Summary
Navman have levered some nice new features here but because they have switched to TeleAtlas, they have now lost their great address searching ability. Existing iCN630 users will love the new maps, the postcode support, the up to date maps and the improved zoom options, but probably will not like the address searching. Navman have improved upon their existing product and should be credited here for giving the update out free of charge to existing customers which really is quite admirable, but people will have to weigh up the pro's and con's. Would you prefer 3D maps and postcode support over the good address search facilities in the previous iCN630 version ? You can sitll have your cake and eat it making sure you don't search by Town, just by Street as a workaround.
Please note, this is not intended to be a full review of the iCN630 V2, a full review will be available soon!