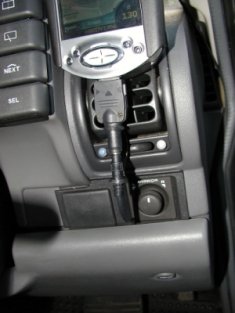 Navman and wires concealed
Concealing the Cables
The Navman power cable just pokes out the top of the hinged cover.

Nice-n-tidy with just the 3 inches of the Navman power cable showing.

As a side note, without the re-radiating antenna I only get 3 - 4 satellites if I'm very lucky. With it I get 8 - 10 on a good day and always 6+. With the Navman on it's own out of the car I only ever get 5 satellites.
Also, TTFF without the antenna is usually about 8 minutes whereas it's usually under 2 minutes with the antenna, so I can thoroughly recommend this re-radiating antenna as an all round good-egg!
I know everyone says that it shouldn't affect the TTFF but I can assure you that it does, in my case at least...