Review by Darren Griffin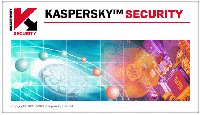 Kaspersky Security for PDA Review

As you are reading this review there is a very good chance that you own both a PC and a PDA. Whilst PDA's provide convenient portable data storage this convenience comes at a price. Handhelds are as risk of virus infections and data theft as PCs and laptops. They also offer viruses entry to home and business networks alike.
Is your data at risk?
Handhelds are designed to carry around; this means that they are also easy to steal and easy to lose. No one appreciates having confidential data on the loose.
easy-to-use management functions

system menu

flexible settings

log file

the option of a color interface
Two-tier protection for Pocket PC
Antivirus protection for Pocket PC scans both data storage locations and memory extension cards. The Datasafe module offers the option of creating password protected files. Data in these files is encrypted, securing your information against unsanctioned users.
Keep your PocketPC and PalmOS handheld virus-free
The program monitors all data streams which can act as infection vectors: on-demand scanning of data storage locations, RAM and memory extension cards protects data transferred via HotSync and Beam. The Datasafe module provides password protection and encryption options, and locking down of the device according to user specification.
System requirements
Software requirements
Hardware requirements
PDA running Pocket PC

Pocket PC 2000/2002 (Windows CE 3.0)

Pocket PC 2003 - only support for antivirus protection

Desktop PC with MS Windows 98/ME/NT4/2000/XP and MS ActiveSync in order to install Kaspersky Security for PDAs

MIPS or StrongARM CPU

150KB available memory on PDA

Attached cradle to synchronize the PDA with the desktop

PDA running Palm OS

Palm OS 3.x, 4.x

Palm 5.0 - only support for antivirus protection

Desktop PC with MS Windows 98/ME/NT4/2000/XP, Palm Desktop and Microsoft HotSync in order to install Kaspersky Security for PDAs

100KB available memory on PDA

Attached cradle to synchronize the PDA with the desktop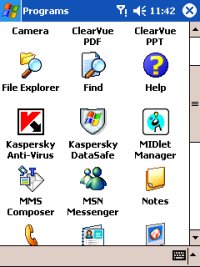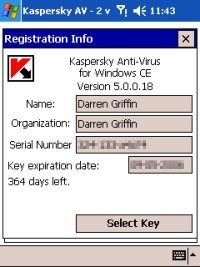 For the purposes of the review I installed Kaspersky AV and DataSafe on my XDAII. Although at time of writing there have only ever been proof of concept viruses it is considered only a matter of time before viruses that spread via Bluetooth or the more normal e-mail that target PDA's start to appear.
Installation is a simple process, launch the installer on your PC whilst the PDA is docked and installation proceeds as normal. Once installed all that remains is to launch Kaspersky on the PocketPC, you will be prompted for the installation key supplied with the product, then repeat this process for DataSafe and you are ready to go.
Kaspersky Anti-Virus
Once installed you can update the virus database either via an Active Sync connection or GPRS via a cellphone using the 'Update anti-virus base' menu option. Scans cannot be scheduled and so need to be initiated manually. You can configure the scanner to scan all files, only programs or specify a custom mask for the scan.
In use I noticed no significant slow down of the system , Kaspersky has a minimal memory overhead and requires approximately 3MB of RAM for the application itself.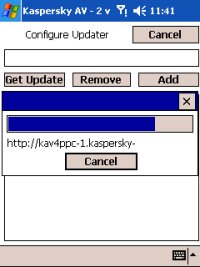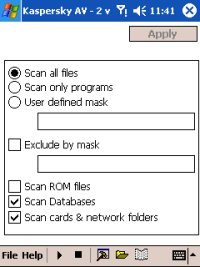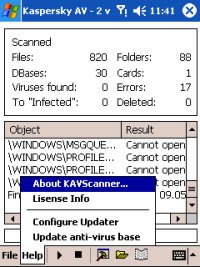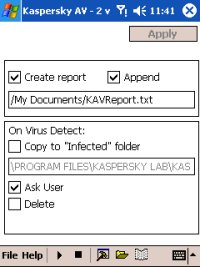 Kapersky DataSafe
Using DataSafe you can create an encrypted folder anywhere on your PDA or Storage Card. This folder can be encrypted using one of a number of encryption algorithms and password protected.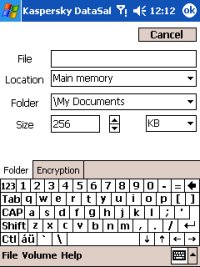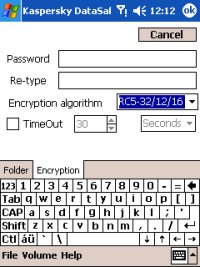 Once created you see a folder in your chosen path. You can treat this like any other folder with the benefit that its contents are protected and secure.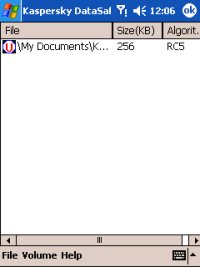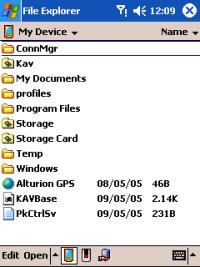 Conclusions
Although at present there are few viruses that target PDA's specifically, the possibilty of transmitting a virus to a corporate or hom network from a PDA cannot be ignored. As more and more PDA's are used to store files and transfer them between home and office the possibilty of harbouring a virus on the PDA itslef increases. Kapserksy Anti-Virus is a useful tool to prevent infections being transmitted in this way.
DataSafe is a useful tool to protect any important data on your PDA, it is simple to use and so ,ong as you don't forget your password will protect your data should the device fall vicitim to theft or loss.
Addendum
Since reviewing Kaspersky Security for PDA I have been informed that version 5.5 is due for release during June 2005. This will offer protection for Smartphones running Microsoft Smartphone 2002 or Windows Mobile 2003.
Review software kindly supplied by Kaspersky Labs / CMI Labs