I have a 1993 VW Golf MkIII Automatic, and as I don't drive any other vehicle regularly I decided to go for a semi-permanent install with the aim of keeping it as neat and tidy as I could manage.
As you will see, I have used the TomTom PDA cradle and suction mount, but instead of applying it to the windscreen, I have used a couple of self tapping screws to attach it to the side of the centre console. (I found the suction cup alone was not strong enough to keep the cradle and Toshiba e330 PDA in position).
I chose this as the eventual location of the cradle because -
a) I have a disability in my right hand and would not find it easy to operate equipment on the right-hand side of the dashboard
b) I didn't want a vent mounted unit, as this would mean trailing wires, loss of the air vent and I think the PDA would get quite hot when the car heater was on
c) A windscreen mounted unit also means trailing wires and a certain amount of loss of view through the windscreen
d) The glove box lid, radio and ventilation controls all seemed obscured when I was contemplating various other positions for the PDA cradle!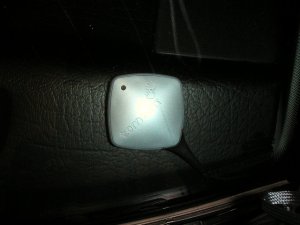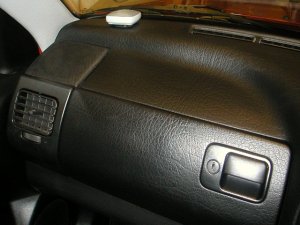 I have mounted the TomTom GPS Receiver on top of the passenger side of the dashboard using the metal plate supplied in the kit, and routed the cable into the corner of the windscreen and then behind the dashboard. The cable then runs down, behind the glove box and emerges above the heater motor just above the passenger foot well.
For obvious reasons I couldn't remove the cigarette lighter plug from the TomTom PDA lead, so I purchased a single in-line cigarette lighter socket on a curly lead from a local car accessory shop (Charlie Browns) and wired that into a suitable ignition controlled live and an earth.
I then plugged the receiver cable into the TomTom PDA lead and connected the cigarette lighter plug into the socket I had just wired up and then cable tied the lot to the vehicle wiring loom.
I routed the end of the TomTom lead that plugs into my PDA under the centre console and then out at the left-hand edge next to the gear lever. (Which is also what I did for the hands free mobile 'phone kit that I had installed earlier).