So after a quick search around my local Halford's and obtaining a cheap (tenner) mobile phone mount, I set to work with the junior hacksaw on the serial cradle. A few hours later and the use of a file, wet & dry paper and I was ready to apply a little bit of primer and paint.

As you can see the mount I have is exactly like the one you would use to sync your iPAQ with your PC, no cables having to be plugged in and un-plugged every time you want to remove the iPAQ which must be a good thing and also means it looks really slick and professional.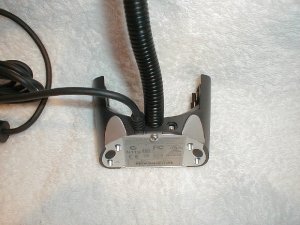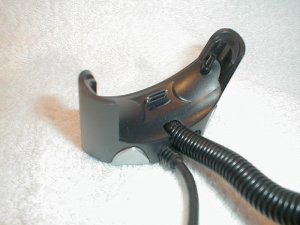 Power comes from a small homemade PSU I built from some instructions on the Pocket PC Passion web site, and the parts were easily available for under a fiver from Maplins. This PSU is hidden under the dash (near the fuse box), and again feeds into the cradle just like it does when sat on your desktop at home.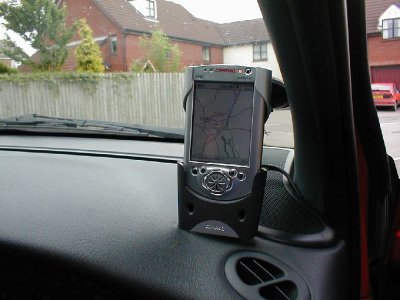 The serial lead from the cradle goes away again via the dash and is connected to a GPS mouse antenna which is sat on the dashboard, its cable is hidden between the dash and the windscreen as there is just enough room to squeeze it out of sight.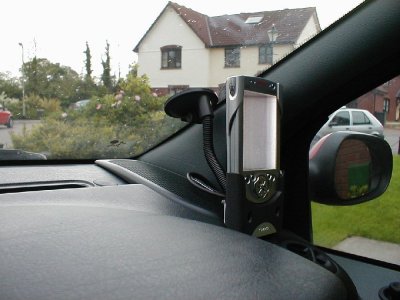 Materials used
Modified standard iPAQ 3600 series serial cradle

Flexible mounting arm/sucker from Halford's with a Mobile Phone holder and large self-tapping screw

Small touch of silver paint

9 way D type "null" converter.
Set up
iPAQ 3660

Silver slider (mk1) CF card expansion pack - imported from the states

Garmin GPS receiver

Small "homemade" 5V DC PSU