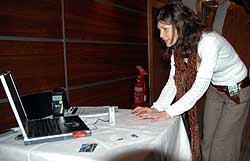 After that reality check I went back to writing my reviews.
The keyboard itself projects to about the size of a normal keyboard. I found the layout a little strange mainly due to the American style keyset. Pressing a key gives a small feedback key click sound, though in reality the clicks did not always coincide with the input of data. The keys can be activated by hovering a fraction above the projected keyboard, though it is a challenge to strike a key without touching the surface of the table.
The projector has a built in motion detector. This disables the keyboard if it detects too much movement. I found that this prevented me from using the keyboard whilst traveling on a train, or plane as there was too much movement to keep the projector activated. This was also a problem trying to use the keyboard on top of my briefcase whilst in the departure lounge.
The ideal location for this is on a table top where the surface is not too reflective and you have a reasonable amount of space. I found that it would have been useful to have a stand for the PDA/phone as this had to be left lying on the desk making it somewhat difficult to read.
As you can see from the picture above you can also use the Keyboard with a laptop. I an not too sure of the value in that as the keyboard on my laptop is fine for typing and you don't get any too much smaller. I have a Sony TR2MP. The only benefit for using it with a laptop is the sheer novelty value as I said above it is a great crowd puller...