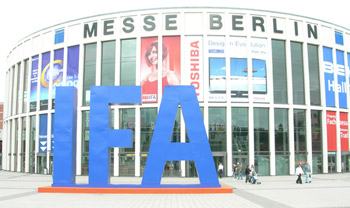 A brief run down of IFA 2007 at the Messe in Berlin.
by MaFt
In general there are not that many companies offering something different. You can walk through the halls and see the same PND from 5 or 6 different companies just with a different badge on the front. The challenge for me during my one day at IFA was not only to find out what the big players were up to but also to see what unique line they had taken to make it stand out from the rest. Obvious attractions were the new Mio C620 – the first unit to utilise the 3D map data, Nav N Go's iGO MyWay 8 (another 3D-er); TomTom's Enhanced Positioning System is a great idea for improving position accuracy with low GPS signals; the I-gotU data logger with, for a change, decent software, caught my eye too and Garmin have, finally, released a PND with a qwerty keyboard!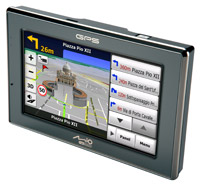 Mio have launched their new unit, the C620, which uses MioMap 2008 (based on iGO 8). There were no working models on display other than the huge 4foot-wide display. The C620 will be released Q4 2007 and features Bluetooth hands-free as well as TMC (they are still working on perfecting the UK version). The display can be run 'split-screen' so that navigation is not disturbed and the 'quick-menu' on the right has links to the main menu, TMC, phone etc. The new mapping software includes landmarks, elevation as well as the most up to date maps.
Horizon Navigation are software developers for 3rd party Navigation units and have worked with Zamm (see below) and Clarion (since 2005). Their product, NavMate, seems to be quite user-friendly and able to use CSV or OV2 for custom POIs along with proximity warnings for speed cameras etc. They are also aiming at producing a poket PC version and had a working sample running on an HP device.
Zamm
The G7 from Zamm uses the NavMate software and is similar in both design and function as the Elan unit previewed at CeBIT earlier in the year. It features a 7-inch Samsung touch-screen and SiRF Star III chipset. It has 2 AV in that can be used, for example, with a rear-camera for parking or connected to a DVD player etc. It is also a USB2 host and is able to pick-up DVB (digital TV) and radio. It is clearly an all-in-one device for a car – but it wouldn't fit in your shirt pocket to take it with you…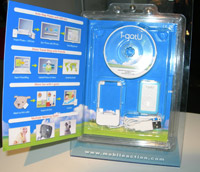 This is a GPS data-logger with software for linking to time/date from digital camera etc. It is nicely packaged for mass-market and should be available by mid-October. The data-logger stores 16,000 points and can be set to take a reading from 5 seconds to 10 minutes and you can also schedule it to only log certain time of the day eg Mon-Fri 9am-5pm. It is "Level 8" water resistant and complete with a 'jelly' case that an be attached to a belt, watch strap, lanyard, dog's collar etc. The software seems easy to use and has good features. Simply connect the device to the PC to export the log then import your photos. The photos are then matched to the GPS log according to the time in the EXIF data but you can manually adjust it if the time is wrong! It also highlights any photos who's time-code does not match any of the data-points. Once imported you can view the track in the software which utilises Google Earth / Google Maps.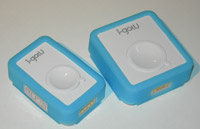 Photo's can be viewed along the track and the whole journey can then be exported in HTML, or KML or can be uploaded directly to Flickr, Picasa and Google Earth. There are 2 versions – USB and Bluetooth, the latter being slightly larger. Both can be used as either a standalone data logger or as a GPS-receiver.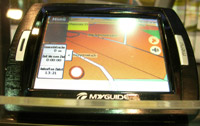 My guide have announced their 'PNA Splash'. Still under development, the Splash is a waterproof, shock-resistant navigator which also has outdoor maps as well as the normal street maps. There will be maps for ski pistes, hiking and off-road biking. The navigation software was custom-made for MyGuide by Nav N Go (makers of iGO). MyGuide have also stated that they are in the process of developing the new iGO 8 software for their units in the near future but could not give further information.
Black a bit too boring for you? Herbert Richter, manufacturers of various automotive mounting solutions, have started producing coloured versions. Available are orange, clear, beige and red. They are available now for particular mounts and do not cost any extra.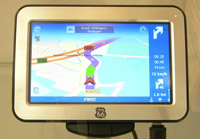 Route 66 have announced their new software, 'Mobile 8', for PPC, Windows Mobileand Symbian. The whole software has been redesigned to meet demands from Nokia – Route 66 have developed the new software for Nokia Navigator and will also be using it in their PNDs. The PND's have a nice matt-aluminium finish and are available in two flavours but with multiple 'add-ons'. The Mini is a 3.5 inch screen and the Maxi is the 4.3inch widescreen model – both include regional maps. New maps can be added via the PC-sync software and activation keys downloaded via GPRS is required. Another add on, Route 66 class full EU maps as an add-on, is the upgraded mount which features Bluetooth for hands free calling / data connection and an FM transmitter. The upgraded mount does not add much to the overall size and seems very well thought out. The software will allow users to download various extras from Route 66 such as traffic data, weather data, country tour guides, software updates and themes. Prices start from £129.99 for the regional mini, £159.99 for the regional maxi. European maps are expected to be an extra £30 and the upgraded mount £60. Map data is from NavTeq and the units should start shipping in November.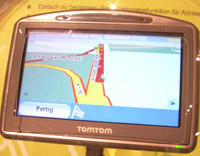 The new 920 has already been covered in an earlier press-release so I won't repeat that! It's a nice unit, the new colour scheme makes a big difference and the 'soft-touch' paint gives you extra grip. The Enhanced Positioning System uses gyro's and, while it is not totally fool-proof on its own, when mixed with the map data it can accurately track your position when a GPS signal is lost. For example if you are on a straight bit of road and lose your GPS signal then the position is not going to be perfect but when you get to a corner the movement is detected and the change in direction is matched to the map data and your position updated on-screen. The 920 is expected to retail at around €550 but this is unconfirmed.
The live traffic data, working with Vodafone, announced earlier in the year is due to go live in the UK during 2008. It is going live in The Netherlands Q4 2007. The included TMC module will cover 'basic' TMC data and the Extra will be an amalgamation of all available data and requires a GPRS connection.
On the subject of TomTom traffic the TMC receiver issues have been resolved and a replacement program is now in operation for the UK. Customers can get either a refund or a new design of receiver sent. Please contact TomTom customer support via their website for full details.
MapShare & TeleAtlas
If the purchase bid is successful then TeleAtlas and TomTom will remain as two separate companies. Initially MapShare was designed to be an added extra for just TomTom users but the acquisition of TeleAtlas has changed their scope somewhat. There are no full details yet but the MapShare data will be made available to TeleAtlas in much the same way as TeleAtlas currently accept user submissions via their website. Obviously TomTom users will benefit from the corrections a lot earlier than other devices who rely solely on waiting for new maps to be released. Navcore 7, the TomTom software version which features MapShare, will be released in the near future for a some of the other devices. MapShare will be compatible with units running version 6.75 maps or later – i.e. One XL and One v2. The One v3 ships with NavCore 7, as do the previously relesed 520, 720 and now the 920. TomTom were unable to comment on NaCore 7 for the Pocket PC.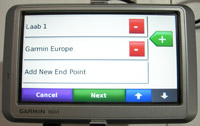 Four new nuvi's have been launched; the 710, 750, 760 and 770. All four models have a 4.3inch widescreen as well as Text-to-Speech, FM Transmitter and the usual extras like MP3 player, travel times, calculator etc. One thing worth pointing out is that Garmin have now, finally, included a QWERTY keyboard layout as well as a new route planner where multiple waypoints can be planned in advance. The units also give you overspeed warnings based on the road speed limits programmed into the map data. The table below gives a brief rundown of the differences between the models: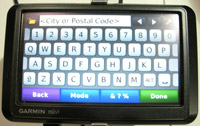 | | | | | |
| --- | --- | --- | --- | --- |
| Model | Colour | Maps | Bluetooth | Price |
| 710 | Silver | Regional | Yes | €399 (£299) |
| 750 | Silver | Europe or America | No | €499 (£375) |
| 760 | Black | Europe or America | Yes | €549 (£412) |
| 770 | Black | Europe and America | Yes | €599 (£449) |
The units should be available by mid to end of October.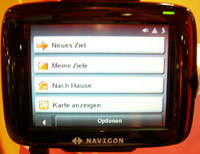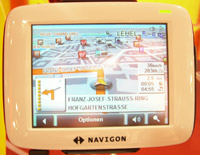 Navigon have just launched the 2100 (regional) and 2110 (europe) as new, entry-level devices. With a 3.5 inch screen the units are available in either black or white – personally I thought the black looked better. They feature free traffic information via the TMC receiver integrated into the power lead as well as Navigons exclusive Lane Assist (you are shown which lane to use on Motorways etc) and both use SiRF Star III chipsets. Prices are €199 (£149) for the 2100 and €279 (£209) for the 2110 and will be available around late October to early November.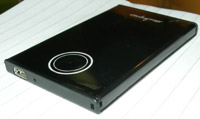 At CeBIT in March, GlobalTop were showing off their HUD GPS receiver which caught a lot of peoples attention. They have now just launched the thinnest Bluetooth GPS receiver at only 6.8mm thin. The Touch GPS-G66 uses the MTC chipset and will easily hide away in a shirt pocket or attach to a lanyard.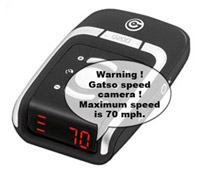 This French company was showing off their AlerteGPS GPS receiver with speed camera locations. It is basically a GPS receiver with an LED display to warn you of oncoming cameras from their database. It gives you spoken warnings to inform you of the camera type and the database is made up from user-submissions. After a quick look on their website I couldn't find anywhere for users to submit the cameras so I presume there is a log in area somewhere for registered owners. The unit can also store custom POIs so if a camera is not in their database you can add it yourself while theirs gets updated. There were no details of process available.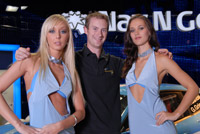 Nav N Go recently announced their GPS Navigation Solution, GO!EXPLORE, for Sony's PSP. Unfortunately they only had a video of the software in action rather than the actual software to try out – still, it looked quite impressive but personally I'm not sure how many gamers would make use of this system.
Also on display, and the product I was most interested about, is IGo MyWay 8 which is set to hit the shelves in November on triple SD format (micro-SD card in a mini-SD adaptor in an SD adaptor). Since seeing a very early Alpha version at CeBIT in March the software, and particularly the 3D aspect of the maps,seems to have vastlyimproved. Not only do you get the 3D landscape so you can compare your actual location with the mountains, hills and buildings etc on screen but the roads have the elevation data too so complex motorway junctions are easier to view.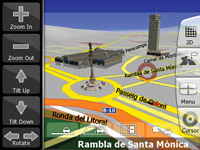 Most of menus have been designed to be accessible via only two button presses which makes it easy to use and there are also two modes for the menu system: normal mode is basically 'choose your destination and navigate' whereas advanced mode gives you all your settings like avoidances etc. As well as the 'standard' fastest and shortest routes IGo My Way 8 also has a rather novel 'easy' mode – this gives the simplest route with fewest turns and junctions to navigate through handy for those who don't know where their indicators are…
You can save regular search functions such as 'find petrol on my route' which can be accessed from 2 clicks on the main navigation screen. Custom POIs can be added in kml (Google Earth) format and you can add your own speed camera data using a 'publicly available format' (no information as yet but I am assured they will make the format publicly available for users to make their own database or for us to make one for you). You can also add cameras to the device using the camera manager built into the software.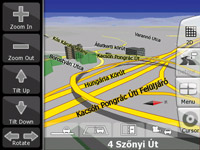 New in version 8 is Text-to-Speech and a slight change to the 'avoid' preferences – these now have 2 separate 'charge' options: 'Road Tax' for example London's Congestion zone and 'Toll Road' – one-off payments like on bridges etc. So if you are exempt from paying in the congestion zone you can remove that option but still have it set to avoid toll roads.
Full Western and Eastern maps will fit on a 2gb card and the regional maps will also be available, the size dependent upon the country.
That just about covers everything from IFA 2007 so let's wait to see what 3GSM brings us!