In-Helicopter Setup
The setup Patrice uses is as follows:-
Compaq iPAQ 3970

Garmin Pilot III

NavPad
The Pocket PC is powered via a cigarette/accessory plug into a 3800 series connector that has two outlets, one is a serial connector that goes out to the Garmin Pilot III and he then has a Garmin R connector this lead plugs into. He then has a power lead that comes out of the bottom of the connector which goes to a USB plug, which then plugs into the USB/Cigarette Accessory Plug. This allows Patrice to power not only the iPAQ but also the Garmin Pilot III and to receive NMEA data output to the iPAQ from the Garmin Pilot III being used as a GPS Receiver.
Patrice uses WinPilot VFR and GCAS Flight Companion as his main applications when airborne.
Both the Garmin Pilot III and the Compaq iPAQ are then fixed to the NavPad yellow triangle mount. This has a Velcro strap fixed to it. The whole point of the NavPad is the base of it is arched, to fit the contour of your leg, allowing you to place this on top of your leg and fasten the Velcro straps around your leg giving you a place where you can keep your GPS setup close to you, and if you do find yourself banking steeply, then the whole system stays with you. This can then give you an ideal solution whilst flying a plane or a helicopter.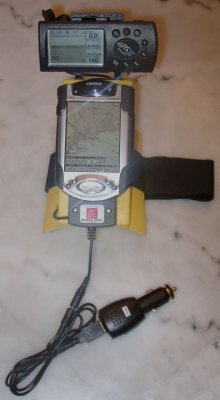 Compaq iPAQ with Garmin GPS Pilot III and NavPad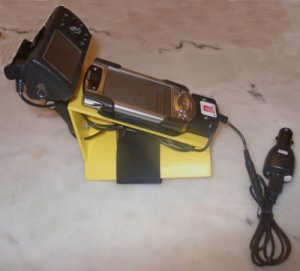 Compaq iPAQ with Garmin GPS Pilot III and NavPad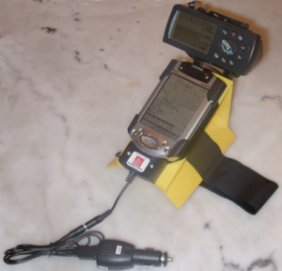 Compaq iPAQ with Garmin GPS Pilot III and NavPad