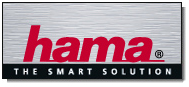 Review by Darren Griffin
Introduction
If you're a photographer then the Hama brand may already be familiar to you. Specialists in accessories they are one of the leading accessory companies in the UK.
The UK headquarters is located in Basingstoke, Hampshire and employs a 40 strong team of employees, supported by 1,400 people at Hama's Group headquarters in Monheim, Germany.
Although Hama offer a wide range of accessories for photography, entertainment, audio, cables, bags etc they have a growing range of specific SatNav accessories and so I have provided here a brief sample of their product range.
Products
Hama's range of GPS brackets and cradles is sourced from Herbert Richter (HR) with whom many of us will already be familiar. Herbert Richter are a German manufacturer who specialise in mounting solutions and have an excellent reputation for quality. They are OEM suppliers of mounts to many of the worlds leading GPS manufacturers. We covered HR Mounts in detail here. HR mounts use a standard 4 prong mounting system so that cradles can be mixed with mounts in any combination.
In addition to the brackets and cradles they have a range of protective cases, cleaning products and screen protectors.
Although it would be impossible to cover each and every product Hama offer we have chosen a small selection from their range to show just what is available:
88407
Base Mounting System for Windscreen

With the HR 4-prong connector. Universally suitable for all holders/adapter plates with this system.

With an extra-strong adhesive suction cup system for mounting on the windscreen and other smooth surfaces (e.g. adapter plates for suction cups)
Adjustable horizontal and vertical viewing angle
The set position can be secured with locking screws
Extension segment included

RRP £17.99

This is a sturdy windscreen mount with an extension arm that can be fitted if needed. Ball joints at each end allow precise positioning as needed.

88420
Hama Base Mounting System for Handlebar

With the HR 4-prong connector

Screw-mounted on the handlebar
With two rubber pads for optimal attachment
Suitable for all handlebar diameters up to aproximately 30 mm

RRP £9.99

For them mountain bikers and cyclists amongst us, this mount can be easily fitted to the handlebars of your bike and is compatible with all 4-prong cradles.

88440
Holder for Fujitsu Siemens Pocket Loox N 100

With the HR 4-prong connector

RRP £11.99

An example of the custom cradles available to fit the 4-prong mounts. This vacuumn formed ABS cradle is designed to fit the Loox N100 which can be easily clipped into place.
88415
Universal PDA Holder

With the HR 4-prong connector

Suitable for PDA's/smartphones with a width of 57 - 87 mm
Flexibly adjustable holding jaws
Movable bars (detachable)

Adhesive pad included

Colour: black

RRP £12.99

A well designed universal type holder suitbale for PDA's and other larger devices. The foam lined 'jaws' clam the device securely using a ratchet system and the feet at the bottom can be adjusted for position.

88432
Screen Protector for Navigation Systems

Especially developed for displays of navigation systems

To protect against finger-marks, dust and scratches
Reduces reflections
Easy to apply and to remove without residues
For maximum screen size: 4"
3 pieces

RRP £6.99

88442
Navi Cleaning Kit

Removes dust and dirt from navigation systems

Contents of the kit:

5 wet/dry cloths
Microfibre cloth 10 x 15 cm
Foam swab
50 ml pump-action spray
5 dry cloths 10 x 10 cm
RRP £9.99


88467
NaviBag Dots, blue

Universal bag for navigation systems

Colour: blue
Material: EVA (water-repellent)

Equipment:

Belt loop
Hand strap
Inside dimensions: 13 x 2.5 x 8.0 cm

RRP £6.99

88490

NaviBag for TomTom One 2nd Generation, black

Bag, fits perfectly

Colour: black
Material: nylon/PVC

Equipment:

Hand/belt loop for easy and convenient carrying

RRP £9.99
Conclusion
With typical German quality these are well made and well designed accessories. We are great fans of HR Mounts but they have always been difficult to source as accessories. With Hama now supplying the range as Hama branded products they should become very much easier to get hold of.
All of Hama's accessories are reasonably priced and we would have no hesitation in recommending them. In the UK, outlets such as Maplins stock a wide range of Hama products.