| | |
| --- | --- |
| Groundspeak's Geocaching iPhone App Review | 8th October 2009 |
Review by Matthew Morley (MaFt)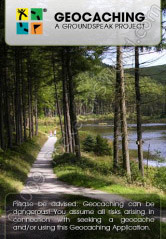 I live in a field. It's great. I am surrounded by grass, dog-walkers and alpacas (honest, there are loads!); at least that's what I thought until I got hold of Groundspeak's Geocaching app for the iPhone. Then I discovered that there were about fifteen hidden treasures, all within walking distance, waiting to be found – even in the quiet village of Thornton, five miles west of Bradford centre, geocachers have left their mark.

Now if you don't know what geocaching is then take a look at the geocaching website but, put simply, it is a GPS/SatNav-based treasure hunt. You get a set of coordinates from the website along with a title and a clue and you have to find the 'treasure'. Traditionally you would enter these co-ordinates into a GPS device such as a Garmin eTrex (as opposed to a driving-based device). What Groundspeak's app does is cut out the middle man; you can view your local caches using the iPhone's GPS, pick which you want, find it and even log your find to the geocaching database – direct from the app itself.


I've been aware of geocaching for some time now but as I don't own any 'proper' handheld GPS devices I never really bothered looking into it, although I remained fascinated with the idea. I also assumed, albeit wrongly, that there wouldn't be any caches around where I live. When Darren alerted me to the free 'Intro' version of the Geocaching app I thought I'd take a look again. The Intro version only shows you your three nearest caches and does not have any of the logging features but it is perfectly useable, handy to see what you have nearby and, as it is free, can give you a good introduction to geocaching without any initial financial outgoings.
The full version, costing £5.99, has nearly all the functions you would need for geocaching – even for an absolute beginner like me! There is the option for creating a new account at geocaching.com which allows you to keep a log of your finds and post field notes about the caches. On the actual website you can upload photo's which are linked to both your account and the cache's notes however this option isn't available in the iPhone app yet. This is a shame and I would hope that it is added in a future update.
In the app you can search for nearby caches, caches near a particular address or post code (including your contact's addresses) or by a specific geocache code (if you already know it). You can also search for 'Trackables' – these are special items that get put in with the caches and have specific missions such as to reach a certain country or town. The idea is that if you can progress a trackable then you take it with you for example if the mission was for the trackable to get from Land's End to John O' Groats and you are planning on going to Scotland then you take it with you and put it in another cache nearer its destination.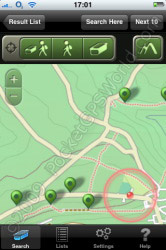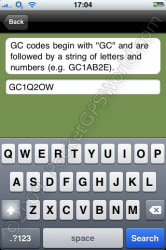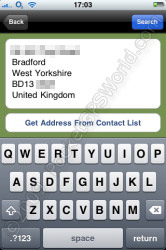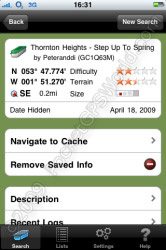 In case you plan on going to an area with no mobile (cellular) coverage, you can download the cache details for offline use. This option downloads the cache coordinates, title, details, hint and recent logs from other users. The maps are all offboard so if you have no signal you cannot view the map but it does show the cache, your location and an animated line between the two to guide you on your way.
The map tiles are cached while the app is kept open but do not persist if the app is closed and restarted. This means that if you are expecting to lose your phone signal then you would need to 'load' the map tiles when you have a signal (or via WiFi connection) and zoom in to the area of the cache. Then when your signal is lost as you near the cache you can still view the map. However, as mentioned, if the app is closed then these tiles are lost. This is a shame but, again, I would hope this could be remedied in a future update, much like MotionX GPS caches the tiles.
Speaking of mapping, Groundspeak's Geocaching app has a few options of which maps to use:
Street Mode: OpenStreetMap.org or Microsoft Virtual Earth (a.k.a. Bing Maps – uses NavTeq data)
Topo Mode: OpenCycleMap.org
Satellite Mode: Microsoft Virtual Earth (a.k.a. Bing Maps – uses NavTeq data)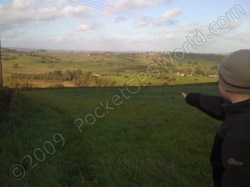 Armed with my iPhone, a couple of goodies (you can leave items for other geocachers in some of the larger caches or do swaps for items already in the box) and a thick coat (it was blowing a gale, but at least the rain had stopped) Mini-MaFt and I headed out across the field towards our local alpaca farm for our first ever cache.
Thankfully my area is well mapped on OpenStreetMap including footpaths so the route to the cache was well marked out within the app. Bing maps, however, does not show footpaths and this could make things more difficult in areas with less OpenStreetMap coverage. On the map you can manually add waypoints by pressing the flag button and then entering the coordinates – this can be useful if the cache details give the coordinates to a specific entry point that is required. On the map you can either use the zoom in/out buttons or use the iPhones native pinch/pull gestures. There are three 'autozoom' buttons too: the farthest left (two flags and walker) zoom to fit in your position, the cache position and any waypoints; the middle one (single flag and walker) zooms to display the cache and your current position and the farthest right (walker only) zooms to your current position. You are also shown an animated red line that points to either the cache or your waypoint depending on which of these you tap on the map. This doesn't give you directions though, it is more for guidance of the approximate direction you should be going and is useful if you are in fields with no footpath shown on the map. There is also a compass screen that will guide you to your treasure – the compass makes use of the iPhone 3GS's digital compass but still works on standard iPhones so long as you are moving.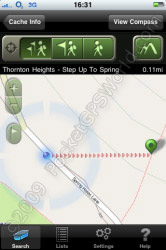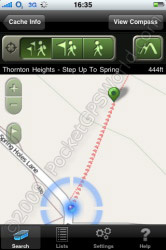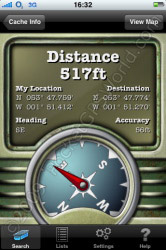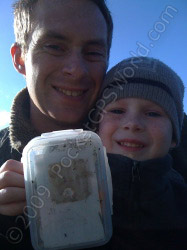 Our first ever cache was relatively easy to find so it was a nice start to what could potentially become a rather time-consuming hobby! The cache was a clip-lid box with a few goodies in it and a notepad/pencil to record our find. Mini-MaFt got a sliding puzzle from here which he swapped for a toy bear he had brought with him. I logged the find on the geocaching website via the iPhone app which was very straight forward and easy to do. Had I not had any mobile signal then the app will store these field notes offline and there is a setting in the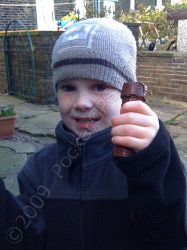 options to upload all of these once you have a signal, or are back home on WiFi. Mini-MaFt was rather excited by this point – what four year old wouldn't be having just found some treasure near the alpaca's?! Needless to say we decided to try and find more 'treasure'!
A bit of a walk through some more fields back to a road I drive on most days a week. Following the clue took me to a wall where we were looking for a 'micro-cache' - i.e. something far smaller and with no room for swaps. This one took a lot longer to find mainly due to the fact that there was a car parked right by it!! I did feel a bit 'dodgy' though rooting around next to someone's car but I figured with iPhone app in hand and son in tow it would be proof enough that I wasn't doing anything untoward! I found it in the end though, added our details and fired up the app to see which one to go to next!
The app itself looks great and is very easy to use. The UI takes hardly any time at all to get used to and there are a good selection of options fiddle with. As well as the map options mentioned earlier, you can filter the search results to hide caches you have already logged as being found, choose how many search results to display and also whether to use metric or imperial values for measurements. You can view caches on the geocaching website or external maps (Google, Live Search (Bing) or Yahoo!) directly from in the app so you could, if needed, use the iPhone's Maps app to get directions to the nearest road before you set out on foot.
Our next cache involved a short walk along a narrow road – thankfully, seeing as I had with Mini-MaFt with me, there was a path! Although because we were pretty exposed it was hard not to be blown off the path and into the road! Down a short public footpath through a field with a fantastic view (I love living in Thornton!) and we got to our destination. This time I missed it and it was Mini-MaFt who located the 'treasure'. Again, this one was a box with a lid so room for some swaps. Mini-MaFt got another little toy which we exchanged for a Pocket GPS World keyring and business card. While we were filling out the log book Mini-MaFt spotted a nasty pirate trying to find our treasure; technically he was a farmer checking a bit of fence that had been wind-damaged but that's not as much fun for a four year old! We quickly hopped over the stile and sat on the other side to get the cache all packed away safely without it being seen.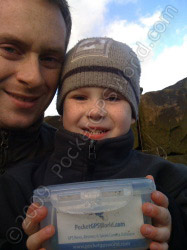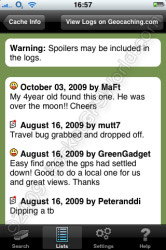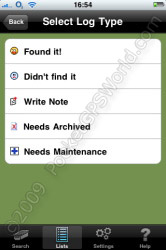 By this point our hands were numb and the next nearest cache was half a mile away down a steep hill and in the wrong direction from home. So we headed back to warm up and get some food.
Round Up
Pros
Easy to get the hang of
Great integration with geocaching.com website
Option of different map sources
Free Intro version available as a trial
Cons
No option to cache map tiles for offline use
Lack of photo upload
Conclusion
Groundspeak's Geocaching App for the iPhone is well suited for both beginners and long-time geocachers alike. It is easy to use, has plenty of options and I did not notice any bugs or slowdown either. There is some room for improvement though as seeing as this is v2.3.1 it is clear that the app is being worked on and improved over time. While £5.99 may seem like a lot for an iPhone app, it is a very good app and well worth the price. If you're still not sure then why not try the free Intro version?
Comments
Posted by dunk090 on Thu Oct 08, 2009 8:15 pm

Great combination of app review & trip report, but maybe I'm biased!
Welcome to the addiction

---
Posted by Darren on Thu Oct 08, 2009 9:00 pm

I used to Geocache back in the early days of Garmin GPSII but haven't for many years.

However the iPhone App is so polished and well implemented that the bug has bitten again!

As soon as I'm fit and leg is mended I'll be out to visit a few, can't wait!

---

Darren Griffin - Editor
Posted by MaFt on Thu Oct 08, 2009 10:45 pm

you should add the cage as a trackable - see where it can get to!!

maft

---
Posted by Oldie on Fri Oct 09, 2009 8:16 am

Yes the iPhone app is good as it is possible to look up new geocaches when away from home. I have only just started geocaching and I too was surprised to see how many had been set up in my local area of Weybourne, Farnham. Although the iPhone app is good I prefer to use my Garmin Oregon, but you need to prepare beforehand and it is worth becoming a Geocaching Premium member to get all the details in the GPX download.

---

Various TomToms, Garmin eTrex Legend, GPSMAP 60CSx, Oregon 550t, Forerunner 405