Reviewed by Darren Griffin
There can be few of us who have not at one time or another screamed in frustration when trying to find the correct charger to inject some power into one of your gadgets. They inevitably run out at the most critical of times and the chargers are all so similar that identifying the one you need amongst a nest of anonymous cables and plugs is difficult at best and almost impossible on occasion. Or perhaps you are a regular traveller and have to pack half a dozen or more chargers to ensure your camera, PDA, MP3 player, SatNav etc can be charged whilst away from home?

Ezipower has a solution with a revolutionary type of universal multi-standard charger which can cope not only with the most common international socket types but will also switch automatically between 120v and 240v standards.

The Ezipower products come with a range of plug 'tips' that allow them to be connect to a wide range of cellphones, PDA's, MP3 players, cameras and portable gaming devices. When the correct tip is attached to the charge it automatically adjusts the output voltage to suit the device to which it is connected. This means that it is now possible for one single charger to replace all the chargers you currently have lying about the house or knotted together in draws and cupboards. As each unit comes with a handy storage bag that also holds the charger and all the charger tips ready for use it is ideal for trvallers and takes up little space.
GPSForLess, the UK suppliers of Ezipower chargers supplied us with three different units to review, two are standard wall outlet types and the third is a 12v cigarette lighter solution. Each unit has a number i.e. Wall Gear 18 which indicates it's maximum power output, in this case the 18 indicates a maximum 18 watt output.
The two mains powered devices are very similar in design. The 18 model is slightly larger and has a larger number of tips supplied as befits its higher power output which makes it suitbale for a wider range of devices.
| | | | | |
| --- | --- | --- | --- | --- |
| | AC Input | Output | Max Power | No. of Tips |
| Wall Gear 5 | 100v - 240v | 3v - 12v | 5w | 9 |
| Wall Gear 18 | 100v - 240v | 3v - 12v | 18w | 15 |
| Car Gear 18 | 12v - 24v | 3v - 12v | 18w | 15 |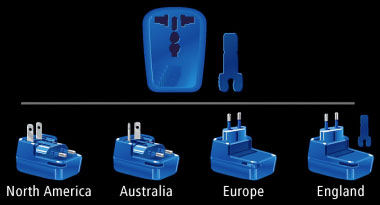 As you may be able to see from the image above, the Wall Gear has two retractable plugs, one for US/Australia and the other for Europe and UK. Supplied with the unit is the small blue plastic pin shown at the far right of the picture.
As far as I can tell this is intended to be inserted in the top pin of the UK socket before plugging in the adapter as this then releases the 'shutters' on the remaining two pins. Whilst this works, it concerns me that this may not be an approved solution and it would be better if a neater solution was designed or they supplied the 2-pin to 3-pin adapter plug.
The Car Gear 18 has a key difference to the Wall Gear units (apart from plugging into a cigarette lighter socket of course!) as it has a useful voltage indication system using LED's on the side of the plug. This is a handy check that the tip you have attached is telling the unit to output the correct voltage.

The Car Gear 18 also comes with a handy adapter that fits the power outlets in the cabins of some aircraft. For those of you that are not frequent flyers or have the luxury of flying in cabins that have power outlets you may not realise that the airlines in their infinite wisdom chose to specify a unique power plug that required either a specific charger for your laptop or the purchase of an adapter. The Car Gear 18 comes with the necessary adapter which allows you to connect the cigarette lighter plug and from there charge any compatible devices you may have with you, neat eh!
The range of tips includes those compatible with all the most popular cellphones including those from Nokia, Sony Ericsson, Motorola and Samsung. Of particular interest to GPS users will be the tips suitable for TomTom devices and the two USB tips, one Standard USB Female into which you can plug a standard USB lead and the other a Mini-USB plug that will charge any device with a Mini-USB socket.
Conclusion
The chargers are neat units that do exactly as they claim. My only concerns are the UK adapter pin which does not appear an ideal solution and the lack of any tell tale on the mains units to confirm the tip voltage has been correctly set.
However, as a frequent traveller I love being able to chuck one of these in my bag safe in the knowledge I have a power solution that will recharge all my essential gadgets and at £29.99 for the Wall Gear 18 or Car Gear 18 they are competitively priced.

References
| | |
| --- | --- |
| Suppliers Web site | http://www.gpsforless.co.uk |
| | |
| Pocket GPS Contributor | Darren Griffin |