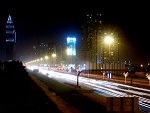 Dubai has started installing hundreds of new speed cameras on Sheikh Zayed Road, Dubai's main artery and the home to most of the United Arab Emirates' famed skyscrapers. The system will eventually more than double the current 232 cameras in action across Dubai and spread out to cover further highways.

According to Salam Hafez of The National, UAE police have confirmed the green and blue cameras will not only take still photographs of speeding motorists but will also capture film footage for use as criminal evidence.

In March this year, one of the worst road accidents in the UAE's history involved approximately 200 vehicles on the Sheikh Zayed Road. It was reported that 3 people were killed and 277 injured, many seriously, in thick fog caused by the series of accidents.

Click here to discuss...