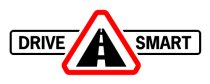 Review by Darren Griffin
Introduction
Drive-Smart's GPS based Safety Camera detector is unusual in many ways and stands out from the competition as a result. The first thing that you will notice is its design. It's huge! Compared with some of the cigarette packet sized devices available the Drive-Smart is much much larger but this is not necessarily a bad thing. The Drive-Smart uses this extra real estate to house a large automotive grade LCD display that presents a lot of information to the user. Another unique feature which we have been able to experience is the system's upgradability All the devices features are upgradable in software and during the course of our time with the device a number of new features have been added by way of firmware updates. A sizable and friendly manufacturer forum allows users to suggest features they would like to see and where this is possible these are added. So the unit actually improves over time and actually offers more than it did when you first received it! I can't think of many other systems that can boast such a feature! Finally, the database itself is free and requires no ongoing subscription.

Design
As can be seen, the Drive-Smart unit's design is not cutting edge. This is a mixed blessing, whilst some people may be dissuaded from purchase on its looks alone I personally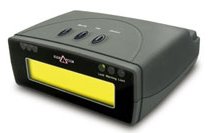 prefer it's no nonsense design which looks more like what it is, a purpose built instrument. It is clear that the greater proportion of the investment has gone into performance rather than crafting a designer case to clothe it.

Design aspects aside, what is a problem is it's size. It is difficult to ignore it's size and it dominates the dashboard. N.B. Since receiving the review unit a cradle is now supplied which enables the Drive-Smart to be secured to the windscreen, see foot of page.

Clearly the decision to use a large LCD has resulted in the large case and again this is to my mind a positive point. The LCD displays a range of information such as current speed, time, a rudimentary compass and when an alert is triggered, information on camera type, range, speed limit etc. I find this information far more useful than the more basic systems that simple flash a speed limit alert and beep.

On the front and rear of the unit is a pair of laser diodes that can detect the beam from a laser speed gun. We were able to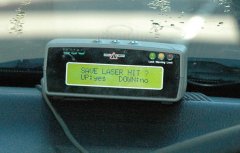 test this with a laser gun and the receptors correctly detected the laser beam and alarmed. Whether such an alert would be of any real use is a moot point as it is more than likely that your speed will have been recorded by the operator at this point.

There is discussion about laser scatter where the detector picks up scatter from a laser unit targeted at another vehicle, possibly the one ahead of you. In this case it may give you sufficient time to reduce speed before you are targeted but it has not been possible to test this in a real world scenario!
At the end of the day, I would say its better to have it than not!

On the front of the unit in addition to the laser diodes are three LED's that operate in conjunction with the audio and voice warnings whilst on the front top are three buttons used for accessing the menu system and making changes to the unit's operation.

On the rear are connections for 9-Pin Serial, External Antenna (the Drive-Smart does not contain an internal antenna so must have an antenna connected), power and a further connection for an optional external laser detector. The external antenna is an excellent solution as it caters for those installations where GPS reception is difficult i.e. athermic windscreens, heated windscreens etc. Although the unit comes supplied with a 0.5m cable, the manufacturers will happily exchange this for a longer 2m one if preferred.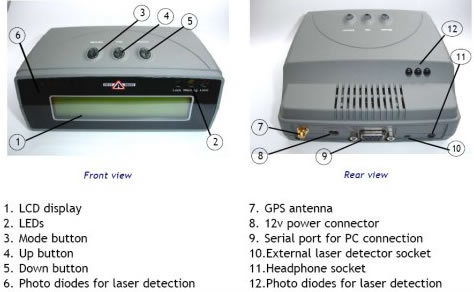 Updating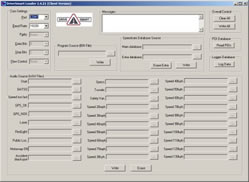 The Drive-Smart comes with a PC Client Loader Application that allows you to update the safety camera database, replace individual voice alerts, access the user POI's and logger data. I found this to be a little 'clunky' and unintuitive but with reference to the manual I was able to update the unit. Everything worked as it should but I did feel that those less comfortable with such matters may find it a little confusing initially!
Connecting the Drive-Smart to your PC is also a mixed bag. The unit comes complete with 9-Pin Serial to USB lead so compatibility with most PC's should not be an issue but it does mean that every time you connect the unit you need to discover which virtual Com Port your PC has assigned to the Serial-USB cable.

Armed with this information you then need to configure the application with the correct COM Port and set the Baud Rate to 115,200. whilst this is the default port speed required to communicate with the Drive-Smart, frustratingly the Loader application defaults to 19200 every time it is launched.

Once this is done you connect the serial-USB cable to the drive smart, select the file you wish to update , click 'Write' and only at this point do you connect the Drive-Smart unit to power. If you do this in any other order the update fails.

Again this sounds far more complicated than it is in practice and the process becomes second nature very quickly but it could do with refining.

N.B. In fact it is a case in point that having mentioned this to the development team they have answered that an update is in the process of being created to resolve these issues. The new loader application now remembers the COM Port and Baud rate.
In-Use
With the latest database uploaded all you need to do is position the antenna on the dash and power on. A warning tone indicates successful GPS satellite lock and away you go. The Holux GPS chipset achieves lock very quickly and proved very sensitive managing to hold onto a fix in difficult conditions such as urban canyons with ease.

In many thousands of miles of testing we found only a very small number of camera sites that were not correctly recorded and the Drive-Smart did a sterling job of alerting us to danger areas, specs zones and the myriad of fixed and mobile sites. I particularly liked the LCD display which was a model of clarity, easy to view and read in direct sunlight and yet not distracting when driving at night.


Optional Accessories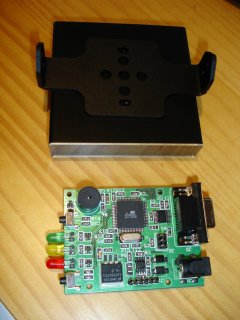 Pulse Master
The Pulse Master is an external laser detector that can be remotely mounted under the bumper or behind the radiator grill etc. It offers much improved detection capabilities.

As the spread of a laser beam is so small and operators are taught to aim that beam at the number plate it follows that the optimum location for a detector is in this general area.


Laser Defender
The Laser Defender is a controversial piece of equipment. What it does is listen for laser beams. When it detects one it sends a response which has the effect of causing an 'error' on the laser gun and prevents it from calculating a speed.

I was witness to a test of this system using an early prototype and it worked spectacularly well. It was able to detect beams from a laser gun over a mile from the target and responded with a cloaking signal that successfully defeated the laser gun!

The problem is the use of such a device is very much a grey area. Although no prosecutions have been successful there is the possibility that the use of such a device will attract the attention of the Police who may decide to prosecute for 'Perverting the Course of justice' or other offences concerned with the interference of Police etc.

Future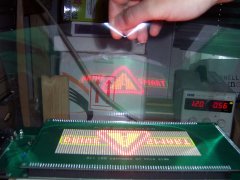 The team behind Drive-Smart have a number of other devices nearing production or in development. One of these is a Head Up Display (HUD) unit. The prototype of this was displayed at the Basingstoke PocketGPSWorld Show and looks very promising indeed.

The finished unit will be able to interface with the Drive-Smart and project alerts and other information onto the windscreen. The intention is to make parts of the software Open Source so that other programmers can produce drivers to accept data such as navigation instructions, vehicle performance data etc and have this projected onto the HUD.

The team appear genuinely interested in answering customer suggestions and producing devices that work well and a quick perusal of their forums indicates a high level of satisfaction with the device and the company.
Pro's
Fully featured
Large LCD Display
A Laser Alert system that works!
Customisable Voice Alerts
Subscription Free database with European coverage
Con's
Large Case may not be to everyone's taste
Updating not as simple as it could be
USB support clunky
Conclusion
The Drive-Smart performs its duties superbly and offers a clear easy to read display, excellent warnings and superb configurability. The database appears concise and the manufacturers are open to and indeed welcome suggestions from users and add new features regularly as a direct result.

If you can overlook the size and design which may not be to everyone's taste the Drive-Smart does an excellent job and offers unparalleled warning capabilities. A mounting cradle is now supplied with every unit (see below) which allows it to be secured in any vehicle now.

The proof is in the pudding as they say, I have a Drive-Smart in my car and choose to use it over all the alternatives, function over form but superb function and a solution that ticks all the boxes and performs as promised.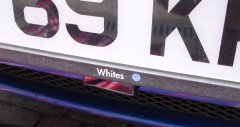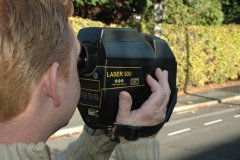 Pulse Master Laser Detector Installed and Laser Gun Tests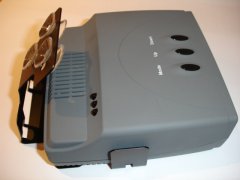 A mounting bracket is now supplied with all units which resolves the installation issues in some vehicles.