Article by Lutz Bendlin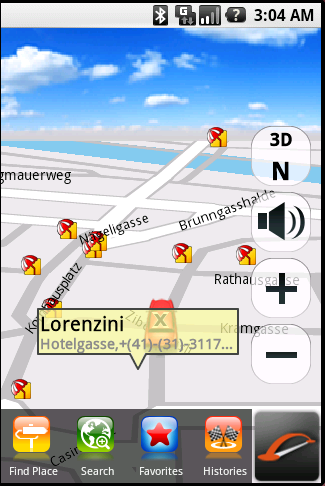 Some of you may still remember the Destinator navigation software that had quite a big market share in 2003/2004, only to disappear somewhere around 2006. Well, the engine itself never really disappeared, it just laid dormant for a few years, waiting for someone brave enough to use it again.
On the occasion of the upcoming release of Destinator 9 (jumping a few versions as you can see) I had the opportunity to talk to Mr. Souheil Gallouzi, head of the Mobile Products group at Intrinsyc.
That's the company that bought the Destinator engine and a few of the assets of the previous companies. Some of the original development team from Tel Aviv, Israel has been retained, but most of the development is now done in Beijing, China. The previous Destinator offices in Germany were not part of the acquisition.
Intrinsyc is positioning Destinator mostly as a plugin for OEMs. This means you won't necessarily be able to purchase Destinator 9 for your existing Pocket PC or smartphone. Instead, it will be bundled with new phones and PNDs, and the OEMs can customize the look and feel to their needs. For example, at the last Mobile World Congress in Barcelona LG Electronics announced that they had selected Destinator 9 for some of their future devices.
As I understand it the majority of these PNDs will feature some kind of connectivity.
This connection will then be used for some modest online data exchange. Things like online activation of existing maps, searches via Google, current fuel prices in your area, available parking and other event related information etc. Intrinsyc have no immediate plans however to let you download entire maps over that connection. For that you are still supposed to use your PC.
Speaking of maps - Intrinsyc have decided to focus on the Destinator Navigation engine, and leave the map management to their OEM partners. While this may be good for Intrinsyc - they can focus on their core competency - it is not so good in the area of map updates. Sure, you may get your half yearly general map updates, but on-device corrections or even community updates are difficult to impossible with such a business model.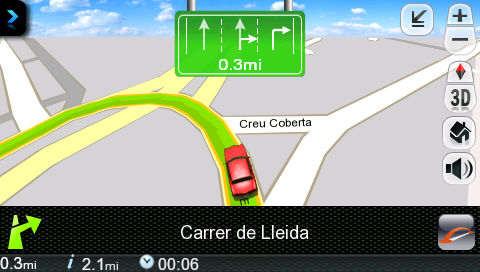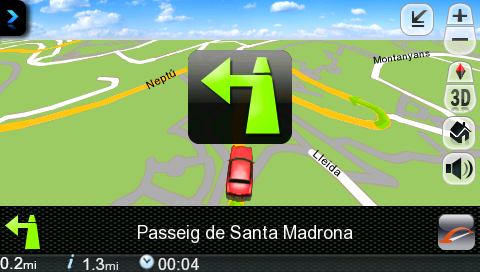 As you can see from the screenshots the Destinator engine is running on quite a few platforms. Windows CE, Windows Mobile, Symbian, Linux, Android. (There are no immediate plans for a Windows (laptop) version, or for an iPhone version.)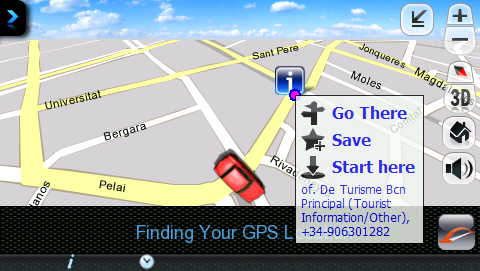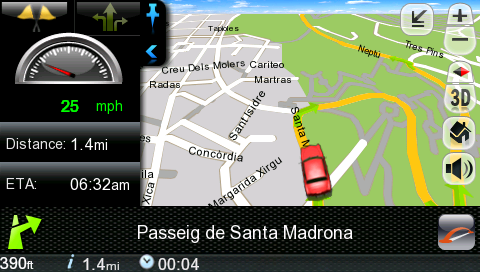 The user interface of Destinator has received a facelift too. Some of the more remarkable features of Destinator 9 are
- a simplified user interface. Intrinsyc claim that their version needs the fewest taps (amongst programs on the market) to start the most frequently used functions.
- a NavStrip launcher that brings the shortcut menu directly to the main screen
- "Sticky POIs" - allowing you to quickly select which POIs to display on the map. Depending on your current needs this can be gas (petrol) stations, restaurants, or maybe a police station.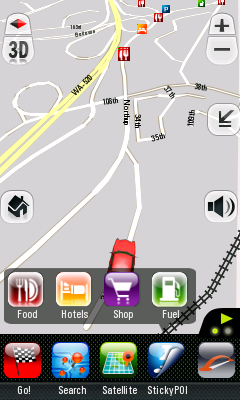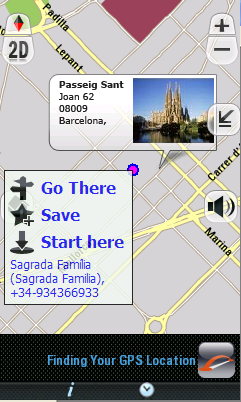 Apart from that Destinator 9 also offers standard functions like lane guidance or the ability to call a POI or send your position via SMS.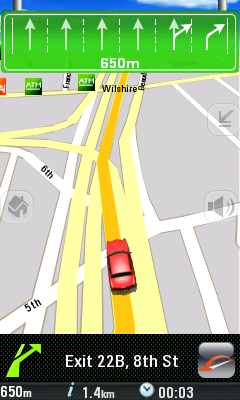 For a bit more of a preview have a look at the demo video on the Intrinsyc website.
The Destinator engine and the surrounding technology is also offered to system integrators. One interesting example of such a solution is a french company called GoodKap! Here are some excerpts from the press release:
"Goodkap! plans to offer a series of connected personal navigation devices and wireless handsets capable of delivering in real-time a unique set of location-based aware services in France later this year... Intrinsyc will provide a complete solution that includes the Soleus® Transit platform and Destinator® navigation software customized specifically for Goodkap!. Intrinsyc will also provide its ToBe™ Gateway server technology to enable the aggregation and delivery of various real-time content and location based services (LBS)... Aimed at car manufacturers, fleet operators, and service partners, the Goodkap! devices will offer live traffic reports via GPRS, speed traps, guidance towards the least expensive fuel, and several live helpline services, including concierge, hostess, lawyer, 24/7 road assistance, available parking, car sharing, geo-localization, fleet management, and mileage reports... Goodkap! has a fresh, innovative approach to delivering real-time GPS and location-aware services that consumers will value enough to feel it is worth paying for them"
So the solution is squarely aimed at providing location based services and charge users for these services through the online connection. An interesting concept for sure - it remains to be seen if the services add enough value for the money. Here is the full press release.