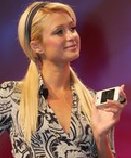 The worlds of wireless, communications and entertainment are preparing to converge on San Francisco next week. CTIA Wireless I.T and Entertainment 2007, the best attended mobile data convention in the wireless industry, attracts over 15,000 attendees, 300 exhibitors and over 600 media representatives and analysts. It takes place October 23-25.

Billed as one of the most important global technology events ever, past speakers include US Presidents George H.W. Bush, Bill Clinton and Jimmy Carter and luminaries such as Mikhail Gorbachev, Arnold Schwarzenegger and Bill Gates. And of course the most important one of them all, Paris Hilton, (no really, she told me) even showed up at last year's event (pictured above) to promote a mobile video of one of her songs... and probably managed to grab the most attention!

Steve Ballmer, the CEO of Microsoft and Dustin Moskovitz, the co-founder of Facebook are among those giving the keynote speeches this year.

PocketGPSWorld.com will join other attendees from the satnav industry which include Garmin, Magellan, Becker, Navteq and Teleatlas.

GPS industry showcasers this year include:
Becker who'll be introducing its new line of premium portable navigation devices to the U.S.
Garmin will show its Garmin Mobile products that turn smartphones into high-end GPS navigators with turn-by-turn, voice prompted directions and free real-time traffic, fuel prices, and more.
INRIX will be showing how real-time, historical and predictive traffic information is the killer app for the mobile wireless industry .
Magellan will be showcasing its next-generation line of Outdoor and Auto GPS systems: Triton 500, Triton 2000, Maestro 3210 and Maestro 4250.
Networks In Motion will be demonstrating its newest GPS-enabled mobile phone navigation services.
Palm will be showing Centro, its smallest, most competitively priced smartphone along with upcoming accessories including a new GPS Navigator.
TeleNav will be showing all the new features of its mobile phone GPS navigation service, TeleNav GPS Navigator, on the latest consumer and enterprise devices.
The CTIA (Cellular Telecommunications & Internet Association) show acts as a global marketplace for the wireless industry to connect to entertainment and communications businesses. With worldwide wireless usage revenues reported to generate 100's of billions of dollars annually from over 2 billion users, they'll be plenty of high-level tail wagging going on the expo floor this year!



Send this Story to a Friend

Comments?

Have any comments about this review ? Post them here.