We've been using and reviewing Carcomm cradles for some years now and have always found them to be great solutions. I reviewed Carcomm's CNM-160 TomTom x20 cradle in December of last year and it has been my de-facto cradle of choice in-car ever since.
Not only does it give you an OEM type cradle that would not look out of place in any car but it provided support for the TMC antenna with a pig tail lead that allowed for a much tidier install.
Now Carcomm have gone one step further with the CNM-167, an entirely new design that loses a lot of the bulk of the original model and even better, they have added support for TomTom's HD Traffic Receiver accessory AND the new revised RDS-TMC antenna unit which now connects via mini-USB whilst retaining support for the current antenna design.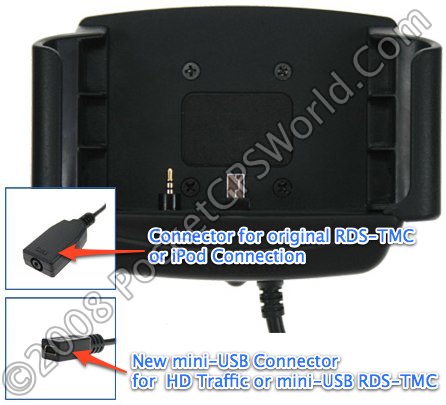 I'm sure I'm not alone in hating all the wires that drape across your dashboard when you use a Satnav. Power wires, TMC antenna wires, iPod connection cables etc. The new RDS-TMC antenna design that TomTom are now phasing in makes matters worse. Because it uses the mini-USB connection on your device rather than the dedicated socket on earlier models, you now need to run power to the antenna 'dongle' which then daisy chains and connects to the bottom of your TomTom.
So now you end up with an unsightly tangle of leads and antenna. So unsightly that I avoided using it completely and kept my original antenna.
TMC Pigtail
If you read my earlier review of Carcomm's previous cradle here you will already know that Carcomm employed a neat pigtail lead that allowed you to route much of the 'gubbins' behind the dash leaving only the actual TMC antenna showing.
The new cradle still has the original TMC connection pigtail (also used for iPod Connectivity) but adds a mini-USB pigtail specifically designed for TomTom's new RDS-TMC antenna or the alternative HD Traffic option. The neat thing is that if you connect the newer USB RDS-TMC antenna into this pigtail lead it does not require a 12v power supply, instead it draws power from the cradle making for a much neater installation! The same apparently applies to the HD Traffic Receiver option which is built around a cigarette lighter charger. Carcomm assure me that if you use this cradle the HD Traffic unit no longer requires to be plugged into a 12v socket and can therefore be tucked out of sight!
Installation
As soon as I received the cradle I immediately swapped it with the older model in my car. Thirty minutes or so was all that was required to ensure all the power and other cables were neatly hidden behind the dash and the RDS-TMC antenna routed behind the dash and up to the windscreen.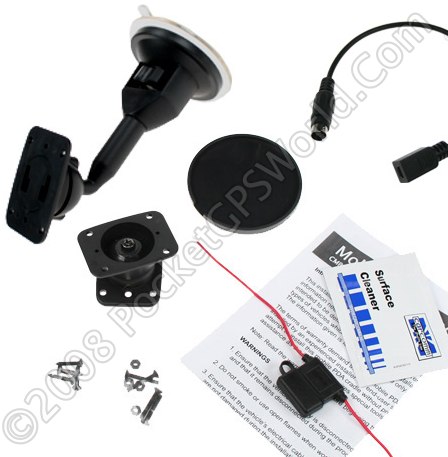 A complete kit with all the accessories you might need!
Although this cradle is primarily designed for a permanent installation in your vehicle, carcomm supply a comprehensive kit complete with a windscreen suction mount should you prefer a temporary install. all the screws required to affix the cradle to the suction mount are also included as well as a surface cleansing wipe and fuse for the power supply!
In-Use
No surprises here! The cradle is every bit as good as the one it supercedes, the older units bulk was the only negative comment I could make last time around and this one has been on a very successful diet and come out looking super lean!
The added plus of support for the mini-USB TMC receiver is a huge bonus reducing yet again the birds nest of cables and making for a very neat and tidy install. If you're going to use a cradle as nice as Carcomm's then this is the icing on the cake.

Conclusion
Carcomm are going to have to do something very special to beat this one! I was about to add that the only thing this misses is an Audio-Out pass thru but have just seen that there is now a cradle that offers this as well, the CNM-168!
This cradle is highly recommended and as such earns our PocketGPSWorld Thumbs Up Recommended accolade.