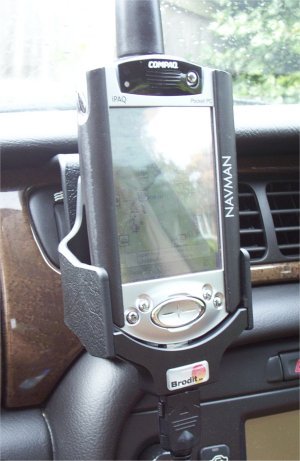 Reviewed by Darren Griffin
Website http://www.brodit.se
Brodit need little introduction, having earned an excellent reputation for manufacturing custom brackets and cradles to suit in-car communications and multimedia equipment they are well respected. More specifically for Pocket GPS readers they have a large range of GPS and PDA cradles to allow in-car installation of your unit.
Until now their cradles came in two basic flavours, passive which were supplied without power and active with a built in 12v cigarette lighter lead. Further options for users with or without expansion jackets increased your options. Whilst these were perfect for those users with Bluetooth or Jacket style GPS receivers they prevented users who had mouse type receivers from utilising the excellent mounting systems.
To overcome this Brodit have come up with a new design that incorporates a male and female sync plug directly into the cradle. This allows any accessory including power leads, sync cables or external GPS receivers to be connected to the cradles sync port. Inserting the PocketPC into the cradle automatically connects it to any device connected in this way.
Not only does this remove the requirement to manually connect and disconnect devices whenever the iPAQ is installed but it will considerably reduce wear and tear on the accessory plug.
Road warriors can now conceivably leave their iPAQ in the cradle and connect to their laptops using USB Sync leads, owners of handheld GPS receivers can use their current cable set to interface with the iPAQ in the cradle and the options are endless.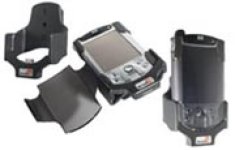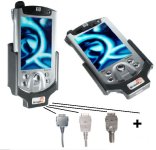 In common with every other Brodit cradle we have tested the unit is manufactured to a very high standard in ABS plastic and now comes with a Brodit badge.
The cradle has a black mottled 'leather' like finish that matches most dashboards and comes complete with an adjustable swivel bracket that allows the cradle to be adjusted vertically and horizontally to reduce reflections.

The bracket is friction adjustable and was stable in use despite carrying the weight of a 3870 and Navman Jacket.

As before, the system can be mounted in many ways, either directly to your vehicle dashboard using screws or more often in combination with a ProClip which allows a 'no holes' installation.

Once fitted the cradle looks like an OEM fitment. The correct screws are supplied to allow fitment and if you are using a ProClip then installation will take a matter of minutes.

Models available:

- iPAQ 22xx Item no. 848574
- iPAQ 54xx, 39xx, 38xx Item no. 848569
- iPAQ 54xx, 39xx, 38xx with expansion packs Item no. 848570