Review by Darren Griffin
If you are the lucky owner of an iPhone 3G or 3GS and you wish to make use of one of the plethora of satnav apps then you'll quickly realise that you need three things:
iPhone navigation app of your choice.
A solution to hold the iPhone.
An in-car power supply.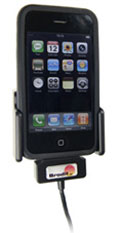 The iPhone 3G and to a lesser extent, the 3GS, have less than stellar GPS chipset's. Unlike the performance we have come to expect from PNDs, the iPhone is very fussy about its signal and so the more you can do to improve it the better.
Consequently a cradle affixed high up on your dash will ensure it gets the best possible sky view and improve your view of the screen at the same time.
There are of course many solutions available; from the budget vent mount clips and simple clamp type holders all the way up to the custom cradle, specifically designed for a device and matching the quality of an OEM car-kit.
We make no secret of the fact that we are all huge fans of Brodit and their products. Whilst far from cheap, they are well made, sturdy, secure and provide a form fitting solution that mates with a vehicle specific ProClip.
The ProClip is a no-holes 'clip' that attaches to your dash. There are models available for almost any common car and the beauty of them is they can be installed AND removed without the need for screws or the drilling of holes.
When you change your car, all you need is a new ProClip, the cradles can be carried over. Better still, if you use one of Brodit's 'MOVE' clips, you can remove the cradle from the ProClip easily and quickly. Great if you have perhaps more than one car that you use or more than one device.
Brodit have a range of 3G/3GS cradle options including models with and without power and with and without an adjustable facility. Here we have chosen to review the #521106 model which has 12v power and incorporates the adjustment facility designed to accommodate iPhone's that are protected by a skin or case.
If you do not use a case and have no need for the adjustment then #907255 is the cradle for you and offers all the same features minus the adjustment.
521106 Active Holder with Tilt Swivel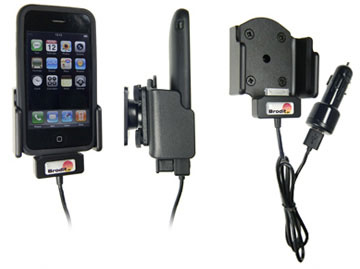 This cradle, as has been mentioned above, has a feature that allows the width to be easily adjusted to suit an iPhone in a skin or case.
I found it frustrating to have to remove the case each time I wished to use my iPhone in a cradle and so this solution was perfect.
The design has the cradle arms split vertically into two halves and a slide that allows them to slide in/out horizontally to accommodate different widths. The sides are secured by four small thumbscrews on the rear.
Two deep vertical grooves in each arm locate the iPhone securely and prevent it from falling out even when only loosely gripped.
To adjust, loosen the screws and slide the two sides apart, insert your iPhone and then slide together until the cradle holds the phone securely but not so tight as would prevent removal! Tighten the thumbscrews and you're done.
The rear also has a tilt swivel to allow you to orient the device when mounted on the dash. Although the actual range of movement is small, it is more then sufficient for most circumstances.
The swivel also permits usage in both Portrait and Landscape orientations. Perfect if you prefer your navigation delivered in Landscape.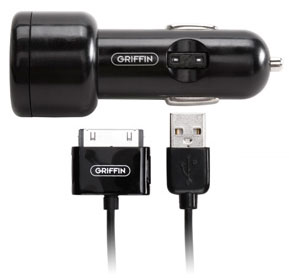 Supplied with the cradle, and actually built into it, is a Griffin PowerJolt USB lead and cigarette lighter charger. The iPhone, being an Apple device, is very fussy about what chargers work and so Brodit are to be commended on choosing a Griffin solution as these are widely regarded as one of the best iPhone power chargers.
This also has an added benefit if your car is a newer model that offers USB connectivity to your head unit. In that case you can plug directly into the USB socket and forgo the Griffin charger. The unit would instead draw power direct from the USB socket.
To install in your car you will of course require a ProClip but the solution works as well as ever. The iPhone is easily dropped in to dock, securely held in both Portrait and Landscape modes and the Griffin charger is able to supply power and top up the battery even when navigation is running. Many other chargers struggle to power a 3G and even suffer power drain when the GPS is active.
Verdict
Brodit's solution is the only one I have yet found that offers an OEM style drop-in cradle that can accommodate an iPhone in a case and provide power. The design also allows quick and easy adjustment to cope with the vast range of iPhone case designs available.
The choice of a Griffin PowerJolt charger is also to be commended. With the iPhone being a very fussy beats where chargers are concerned this choice offers the widest possible compatibility and an output sufficient to keep the handset topped up even when GPS is running. And if you have a car equipped with a USB port then you can easily integrate the iPhone into the audio system.
At approx £52 this isn't cheap but if you value your iPhone and use it in-car, treat yourself to a Brodit cradle, you won't be disappointed.