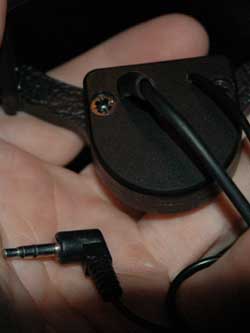 The Brodit amplified mount is constructed to the highest standard which is typical of all Brodit products that I have reviewed. I reviewed the iPAQ 5450 holder with expansion jacket.
As expected the PDA fitted perfectly, with no movement in any plane, forming a nice snug fit. The mount has slots in the sides which keep the PDA held tightly with no movement, and moe importantly no chance of your expensive PDA falling out the first time you hit a bump.
At the bottom of the holder is a small semi-circular grille. This covers the speaker, which is about 1.25 inches in diameter. At the back of the speaker enclosure two cables are located. One terminates in a small jack plug which is for the audio output from the PDA, the other is the power cable which has a standard cigar lighter plug. With the 5450 and 5550 the audio connector is located on the bottom of the PDA. This has caused problems in the past connecting external amplifiers. Not so with this mount. Brodit have molded the base of the mount to allow for the insertion of the audio cable.
The audio cable itself is about 9 inches long. That's 230mm to those of us who speak metric. This is a bit of an overkill as the actual distance (when mounted) is about 1.5 inches, so a 3 inch cable would have been sufficient. This length does let you connect the PDA easily well clear of the mount then slide it into position.
Now I think I have known Lutz for too long because one of the first things I did was to unscrew the speaker housing and take a peek at what was inside. Not that it means too much to me, but there are 2 circuit boards in there, one handling the PDA connection, and the other has a small chip (which I assume is an amplifier) on it.
The two pictures below give a good indication of the internals of the speaker housing, and PDA connector.