Article by Peter Bailey
These notes are in response to forum questions on making your GPS/PDA car kit more flexible.
For those who enjoy hiking, sailing, flying, or any activity away from the car, a lightweight portable power source is required. This can be a low cost DIY project, provided you, or a friend, can solder simple joints.

I have made and tested a variety of 'packs', using NiMH batteries as well as 'leak proof' lead acid (as used in burglar alarms).

PROVIDING A FEED TO AN IN-LINE CAR ACCESSORY SOCKET.

My test combination includes a Leadtek 9531 antenna, iPAQ 3850 PDA with Memory Map software (OS maps and CAA VFR aviation maps) and continuous illumination.

Practical tests indicate that 4 AA NiMH ( each rated at 1600 mAh) batteries (4.8volts) will power up for about 2 ½ hours. By this time the PDA battery will be running out as ALL the auxiliary battery power 'appears' to go to drive the antenna.

8 AA NiMH batteries (9.6volts) will power both antenna and PDA and last for about 4 hours, leaving the PDA battery well charged. 10AA (12volts) 5hrs plus.

The cost of the components from Maplin is:-
Car accessory socket 99p
4 AA box 49p (58mm x30 x27) or long type (107 x 25 x17)
8 or 10 AA box 69p (58 x57 x29) or (74 x60 x29)

Assembly is simple. The only thing to remember is to take the POSITIVE output to the CENTRE connection of the socket.

PROVIDING A 5 VOLTS DIRECT FEED

The problem with the above circuits is the voltage regulator contained within the normal car accessory plug supplied with PDA/antenna leads. This will reduce any input voltage to the 5volts required by both 9531 and 3850. This voltage reduction is electrically inefficient. Energy is lost in heat generated which is not a problem with a car battery but energy wasteful with small NiMH cells.

My latest setup uses the same supply lead BUT split between accessory plug and Y junction.
The 2 ends of the lead are connected to 2.5mm Maplin in-line plugs and sockets, i.e. providing an in-car setup with the car socket connected and a portable unit with a 5volt battery pack connected.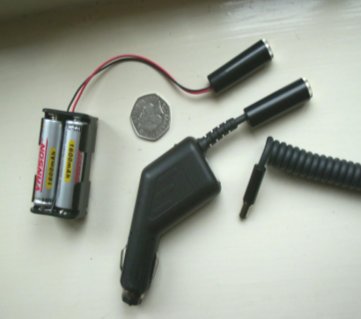 My standard 'Widget' lead actually had 3 wires but the red and yellow were connected. Simply solder the black lead to the outside connector of plug and socket and the red/yellow to the center.

The run time is EXTENDED to 4 hours for a 4AA battery pack AND the whole setup is more compact.
(The PDA battery is about half run down)

It looks as if this latest one is now due for test flights soon!!!!!!!!!!