Review by Darren Griffin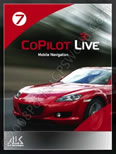 Introduction
ALK Technologies are well known for their CoPilot navigation application. Having been around in many versions since the inception of affordable end user navigation solutions it has progressed to become a respected and popular package.
The latest version to be released, CoPilot Live 7 is a fully featured navigation application for PocketPC. ALK have redesigned CoPilot Live 7 from the ground up and it bears little resemblance to its predecessors.
CoPilot 7 is available in many guises, you can purchase it in software only form which is supplied pre-installed on a memory card for easy and quick installation on your own hardware or you can find it bundled and pre-installed on GPS equipped PocketPC Phones from providers such as O2 and T-Mobile in the UK.
For the purposes of this review I am testing the UK Map software only version and our thanks go to ALK Technologies for providing the software.
Installation
CoPilot Live comes in a small folded DVD slip case. Inside you will find a printed installation guide and introduction to using CoPilot. You will also find the pre-loaded memory card (in this case a 1GB Micro SD card which is accompanied by Micro to MiniSD and MiniSD to full size SD Adapters should you need them), a product key card and a DVD containing the installation files for CoPilot Central, ALK's desktop management software.


Package Contents
Because the software comes pre-loaded on a memory card, installation is very straight-forward. All you need do is insert the memory card (using whichever adapters you need!) into your PocketPC. For this review I am using my faithful old XDA Exec which uses standard SD cards. So like a Russian doll I needed to insert the tiny MicroSD card into its adapter and then the MicroSD adapter into the full sized adapter!
As soon as the card is inserted, the installation will auto start. First you see the license agreement page which you will need to accept in order to proceed. You will then see a quick page that explains that your device needs to have the correct time and date set for GPS to function correctly.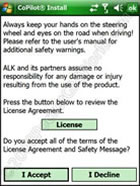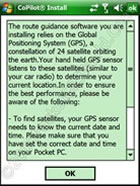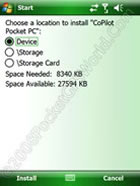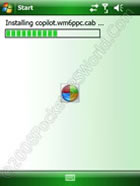 Installation Screens
Installation will then proceed as normal. You will need to decide where you wish the application itself to be installed. The CoPilot application requires approximately 10Mb and for optimal speed and efficiency I chose to install it to the device itself. The map data resides on the memory card where it can remain.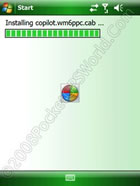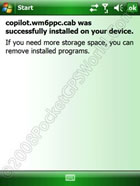 Install Complete
Once installed you need to activate the software. If you are unable to do so at the time (you require either direct internet access from the device or via a PC) then you can postpone activation for 4 days. After the 4 days has passed though you must complete activation in order to continue using CoPilot.
Activation is a simple procedure, scratch off the security strip on the supplied product key card, enter the key into the activation dialogue and if you choose to activate using the internet it is completed very quickly. Activation using a PC requires you to enter the product key on ALK's web site and then type in the resulting activation key on your device, again a simple procedure.
Happily ALK have chosen a straightforward procedure that allows you to move the activation from one device to another, all you need do is deactivate the current installation before installing on another device, there are no limitations on the number of activations or the number of devices you install to other than the application can be installed to only one device at a time. If you're a PDA warrior and prefer to use your nice large memory card then you can copy the contents of the supplied card to it. All very nice and simple and something others should take note of!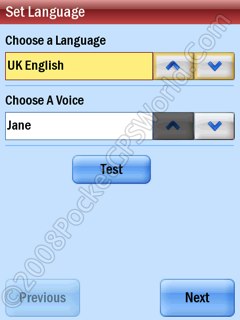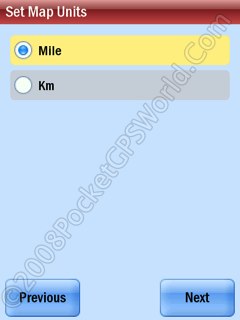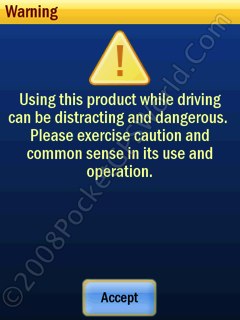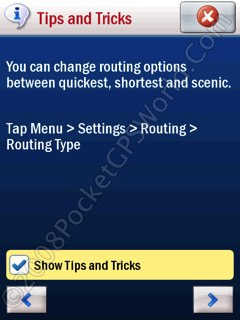 Initial Setup
Initial set-up requires you to choose your voice and unit preferences and then comes the obligatory safety disclaimer (ALK are a US company and we know how they love disclaimers!)
GPS Setup
For this review I am using a Bluetooth GPS, below I will take you through the steps required to configure CoPilot for a GPS.
From the menu I selected Settings -> GPS -> Setup GPS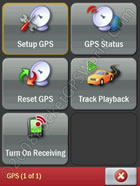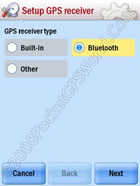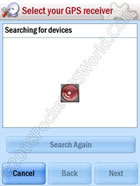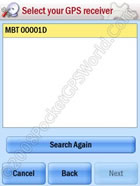 GPS Receiver Setup
The Setup GPS receiver page (shown above) allows you to choose the type of GPS receiver you are using. As we are using an external Bluetooth receiver I selected the Bluetooth option and clicked Next
I had previously paired the Bluetooth GPS with my Exec, CoPilot does not require you to input any settings such as Com Port or Port Speeds, it automatically searches for a suitable paired device.
My Bluetooth GPS has the instantly forgettable name MBT 00001D as can be seen in the screen-shot above right. Selecting the GPS and clicking Next completes the procedure.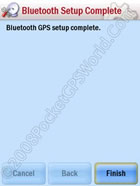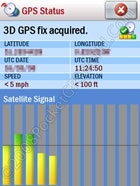 GPS Setup Complete - Data Received
And that's it. A quick check of the GPS Status page shows that CoPilot is receiving position data, in the short time that had passed whilst I configured the system a satellite fix had already been obtained.
In Use
CoPilot installs a Today Screen shortcut to enable quick access to launch the application. Starting CoPilot launches the splash screen and a 'Welcome to CoPilot Live' announcement followed by the main screen.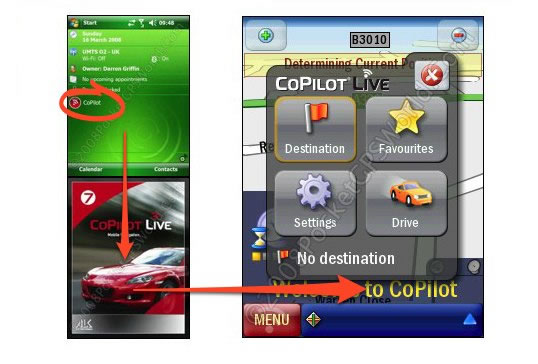 The opening page displays a menu overlay that gives you fast access to the most used functions of Destination, Favourites, Settings & Drive.
The main screen layout is explained below: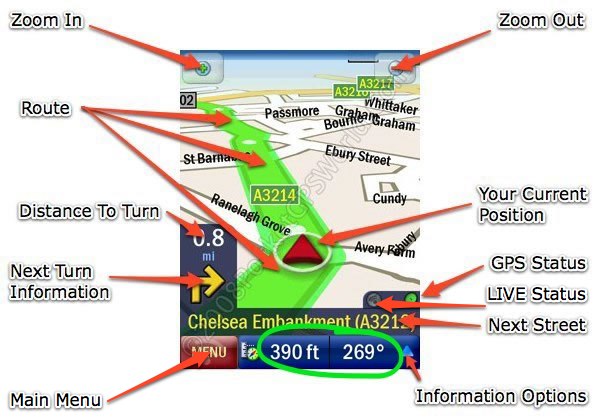 Clicking the Information Options button allows you to choose which information is presented in the two information fields in the lower most bar (circled in Green above). The options available are shown below: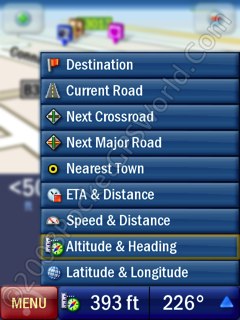 On-Screen Data Display Options
(Note: background map blurred by PocketGPSWorld to highlight menu options)
ALK have dramatically improved the look and feel of CoPilot 7. The interface is very clean and simple and the bright graphics make navigation of the menus and appraisal of on-screen information very easy. Helpfully there is no need to use a stylus when using CoPilot, owners of sausage sized fat fingers will find the on-screen buttons generously sized and easy to access.
The images here really don't do CoPilot Live 7 the justice it deserves, it is very bright and cheery and has a crisp look and feel that makes it stand out from the competition.
Inputting a destination is straightforward and I'm pleased to find it does not require studious reference of the manual!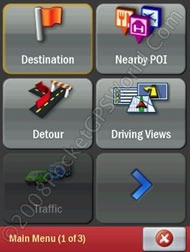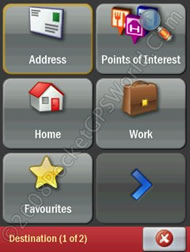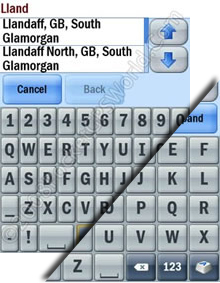 Open the menu and Select Destination, the choose Address. Using the on-screen keyboard. As can be seen in the image above right, the keyboard is configurable between ABC and QWERTY layouts.
As you begin inputting a City/Town or Postcode the results are displayed on screen and narrow down as you type. You do not need to type in the full name if you see the result appear, just select it to move to the next stage. CoPilot 7 support full 7-digit UK Postcodes.
One minor issue here is that owing to the use of large finger friendly buttons there is little room left for the pick list. You can see from the example screen shots above and below that there is room only for two choices and you need to use the scroll bars to see the other choices that match your entry. It isn't a big issue and given the option of more room for the pick list or larger buttons I think ALK have chosen wisely. But I do wonder if there may not be a better solution such as an option to minimise the keyboard temporarily?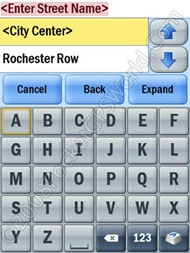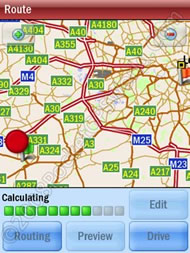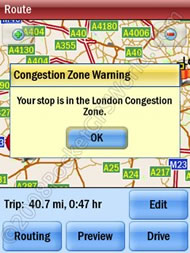 Once you have completed the address entry you are shown an overview map that displays the start and end locations whilst CoPilot calculates the optimum route. This is a useful feature as it allows you the opportunity to double check the destination is in the general area you expected it to be.
In the example above you can see that the destination is located within London's congestion zone. Because of this you receive the warning, another useful reminder that there will be a charge that needs paying!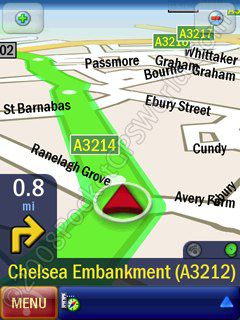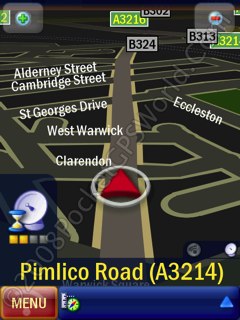 As I have already said, the display is crisp and clear with 'most' of the information you need presented on screen. However I would have liked to have a little more information available. Although ALK provide many options for what information can be displayed, you can only have 1 or 2 of these items on screen. Personally I like to have at least speed, ETA, and remaining trip time but with the implementation here that isn't possible.
This is a personal preference though and others may have a different view of this and prefer the lack of clutter.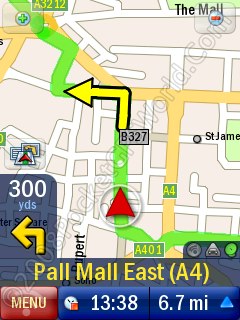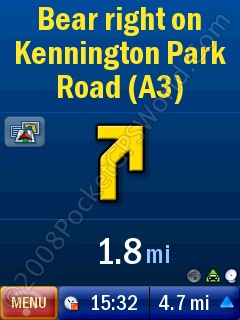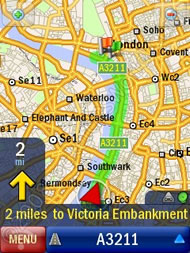 The usual 2D and 3D display options are present as well as a nice feature which allows you to have 3D for the main display with the view switching to 2D as you approach a turn. Often it is much simpler to visualise a complex junction in 2D mode and this feature is a novel solution to that problem. There are also 'safety' views where the maps are hidden and instead replaced by simplified turn arrows and the last example above shows 'Destination View'.
CoPilot 7 is also fully 'Landscape Aware' i.e. it will reformat and display correctly on any device capable of switching to Landscape view.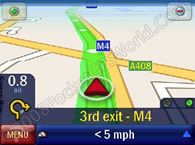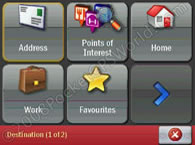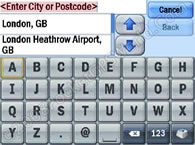 Routing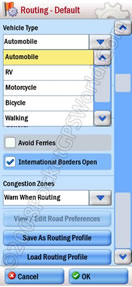 CoPilot has always rated highly for the configurability of its routing and version 7 does not disappoint.
There are numerous options for vehicle type (Automobile, RV, Motorcycle, Bicycle, Walking & Straight Line), Routing type (Quickest, Shortest & Avoid Motorways), Toll Roads (Use, Always Avoid & Avoid If Possible) as well as options to avoid ferries.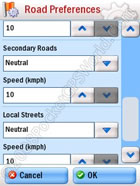 I did not test the bicycle profile but this would assume you could not use Motorways but can use cycle paths. Likewise for the Walking option, it will allow navigation against the flow of traffic such as along one-way streets and will also include footpaths where they are actually mapped. However it must be remembered that this is primarily a solution for vehicle navigation.
The maps will not have concise details of non-vehicular routes and so with cycling as an example you should not expect CoPilot's maps to be aware of cycle paths and other routes if they are not running alongside roads themselves.
The route type you choose will affect the calculated route. For example, the same route has been calculated below using, from left to right, Quickest, Shortest and Avoid Motorway route options.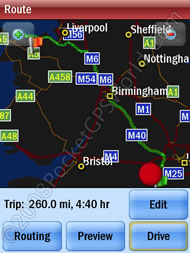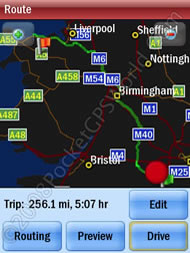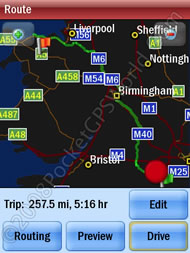 During testing I found the routes suggested to be acceptable and almost always what I would expect. The differences where they did occur were mostly down to the use of Navteq map data. I have found that some local test routes will always differ dependent on whether Navteq or TeleAtlas map data is being used regardless of the device itself.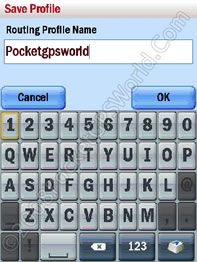 A very nice feature is the ability to create and save/load custom routing profiles.
This allows you to finely tune the settings to suit your vehicle type, route preference etc and each custom profile can be quickly recalled as you need it. To activate this feature do the following:
Choose the option Save As Routing Profile.
Give your custom profile a name and then select OK.
You will now see the View / Edit Road Preferences button is no longer grayed out. Selecting it will give you access to all the options shown on the left.
You can now finely tune your routing preferences, configure road speeds for all the road classifications and set which road types should be given preference when calculating routes.
This facility is very well implemented. CoPilot has always been a popular choice for those who want additional control over routing preferences and ALK have not disappointed in their implementation of is in CoPilot Live 7.
Audio
Although CoPilot 7 lacks a Text To Speech (TTS) option, the provided voices are excellent, both loud and clear. There is a large selection of male and female voices to choose from and there are more to download from ALK's web site via CoPilot Central. Even the voice of London Underground, Emma Clarke, famously sacked by LU for making disparaging remarks about the tube has recorded a navigation voice!
I am also given to understand that TTS is something ALK are working on and hope to make available at a future date.
Speed cameras & Traffic
CoPilot 7 has full support for safety camera POIs. ALK now use the .ov2 file format which means users can utilise our safety camera database. There is little scope for customisation, the warnings displays and alert sounds are not configurable for example but the alert system as supplied is acceptable. It also takes a special csv format available from us which allows it to use heading data.
The good news if you bought your device pre-loaded with CoPilot 7 from O2 is that every device comes with PocketGPSWorld.Com Safety Camera data pre-installed so you can be assured you have THE best data possible!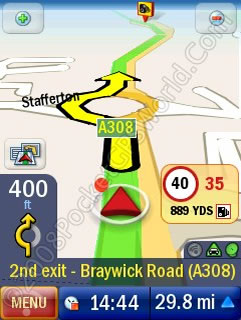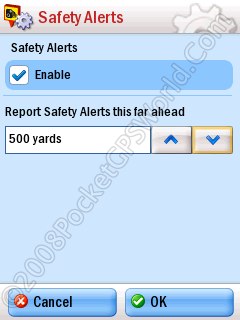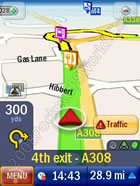 Traffic information is an extra cost option with a subscription fee of £34.99 for 24 months. To take advantage of this service you need a PDA that has a data connection or a mobile phone that can be paired with the PDA to supply a data feed.
The usual options are available and you can choose to be automatically re-routed around problems. I did not have access to this feature so cannot comment on it in detail.
Live
Live is where CoPilot really excels. The Live interface allows others to log-in via a web page and view your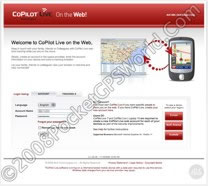 location,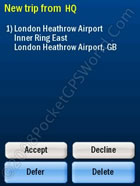 send short messages and even send you a destination.
For safety reasons you cannot initiate a conversation on the device but you can reply with yes/no answers.
To send another person a tracking link you must send it from within CoPilot via the device.
The recipient will then receive a link which allows them to see where you are and where you are going. They could if they wished divert you to the chip shop on your way home or ask you to pick up some last minute groceries. Privacy is controlled by you and you have complete control over who can track you and when. Even the response buttons can be cpnfigured by the message sender e.g Do you want Steak Pie or Spaghetti fo tea? With response buttons configured as Steak, Spaghetti, Neither or Not Hungry !
Live Search
Although not yet available to end users, Live Search is such a useful tool that it is worthy of a mention in advance! ALK recently announced that this service will be coming to CoPilot 7 so what is it?
Live Search allows users with web connected devices to perform 'live' searches using Microsoft's Live Search platform. Using this facility you can search for a POI or location regardless of whether you have it loaded as a POI or not.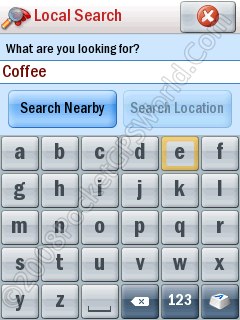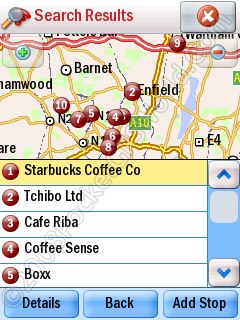 Using the example above, should you fancy a shot of caffeine whilst out and about you can call up Local Search and a list of all the coffee shops nearby will be displayed. You can then choose to be directed to any one of these.
This is one of those ideas that is so simple yet incredibly useful. Because CoPilot knows where you are it can refine the results quickly to include only those matches that surround your current location and you are no longer restricted to the data contained within your device but instead have access to the data contained within Microsoft's entire Windows Live service.
CoPilot Central
CoPilot Central is the desktop PC management software that allows you to manage your device, download and install software updates, safety camera updates, buy new maps etc.
CoPilot Central will alert you to software updates, new POIs, safety cameras, maps etc and greatly simplifies the process of installing them.
In addition you can use CoPilot Central to plan trips. This feature allows you to plan, create and save trips on your PC and then upload to your device. Personally I find it easier to sit on the couch with my PocketPC and plan trips but I know many value the ability to plan routes on a PC and so here you can!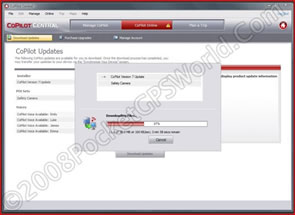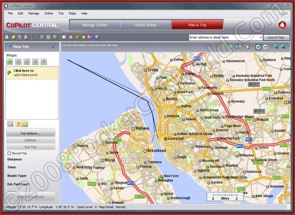 The only issue I had with CoPilot Central was a compatibility issue with Vista. Hardly a surprise as Vista hasn't exactly covered itself in glory. Thankfully a patch from ALK resolves this issue and the software shipping currently has the update.
Menus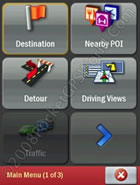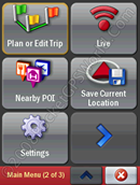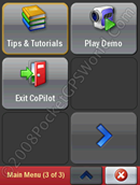 Main Menu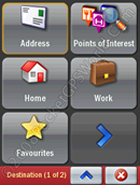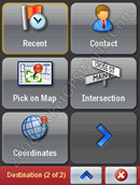 Destination Menu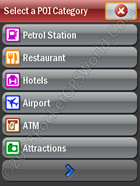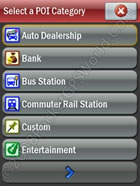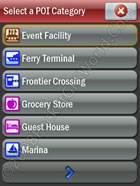 POI Menu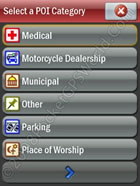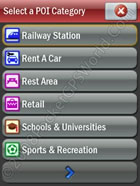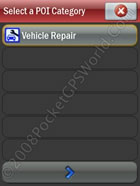 POI Menu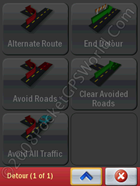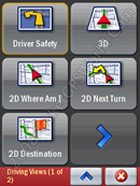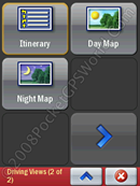 Detour Option & Driving Views Menu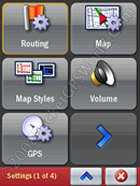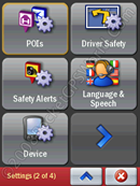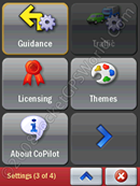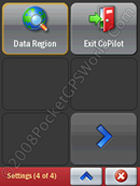 Settings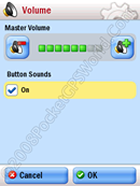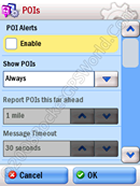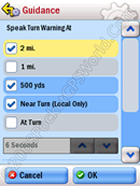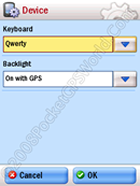 ---
Conclusion
CoPilot 7 is an excellent solution for PocketPC users. It has been completely redesigned from the ground up and it shows. Gone is the tired looking display and complicated unintuitive interface to be replaced by a much more modern and easy to access design which looks superb.
CoPilot Live 7 has all the features you would expect of a PocketPC navigation application, it is a capable performer and one that earns it a place at the top of the list when it comes to a purchase. TomTom, whose PocketPC solution has been on the market for over over 18months without news of a replacement should be very worried.
TomTom owners looking to upgrade would be well advised to give CoPilot Live 7 a whirl, they will not be disappointed and so it justly earns a PocketGPSWorld.com thumbs up and my recommendation.

---
Pros
Cons

Easy installation
Much improved user interface
Simple Menu Structure
Routing is highly configurable
Navteq map data
ov2 Format POI Support
Simple activation system
Large Menu and keyboard buttons
Desktop route planning

Amount of on-screen information limited
No Text To Speech option (coming)
More control over custom POI alerts needed